How to build a simple website to help your cleaning business grow
Building a simple website can add legitimacy for your cleaning business and help you acquire more clients. Use these tools and techniques to build a website for your cleaning business.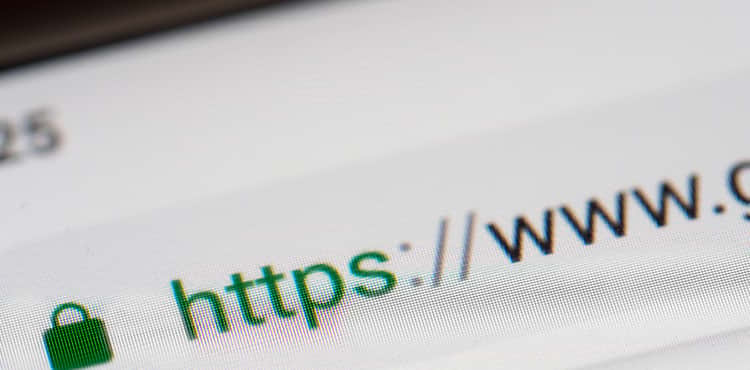 Owning a cleaning business can be very lucrative. However, it's also an extremely competitive market. To set your cleaning company apart from the rest, having a business website is essential. A cleaning services website drives leads and helps potential customers find your business. It also provides information that customers want to know, such as pricing and types of services provided.
Building a good cleaning business website doesn't require advanced coding or technical skills. You can create a simple yet effective cleaning company website with little experience. Before you get started, though, you should learn about the basics of creating a high-quality business website, including what information you should publish and what tools are available to help you.
Why is it important for a cleaning business to have its own website?
There are lots of reasons why a cleaning company should build a website. A website can benefit your business by:
Attracting new customers
One of the most important reasons to create a cleaning business website is to attract new customers. When a potential customer searches Google or another search engine for a local cleaning company, your business's website appears in the search results. The customer goes to your website to learn more about your house cleaning services, and hopefully, decides to schedule a cleaning.
Marketing your business
Great cleaning company websites serve as excellent marketing tools. Having an effective website allows you to advertise your cleaning services with little financial investment while also showing customers what sets your business apart from other local cleaning companies.
Showing your credibility
Before a customer hires your cleaning company, they want to know that you have a credible business. Having a website shows customers that you run a legitimate company that offers a high-quality service. A maid service website is also a great place to showcase customer testimonials. These reviews show potential customers that current clients are satisfied with your business which builds trust and improves your reputation.
In addition to customer testimonials, your website is a good place to show proof of insurance. This will also help to build trust with your customers and boost your credibility.
What should I put on my cleaning business website?
To build an effective cleaning company website, it's important to follow the right formula. A good cleaning business website should be clean, user-friendly, and easy to navigate, with eye-catching graphics and consistent branding.
Your website should also be mobile-friendly, as many customers search the internet on their phones. In addition, you'll need to include the right information on your website. When potential customers are on your website, you want to answer their questions and help them learn more about your business (and why they should hire you).
1. List of services
When a potential customer goes to your website, the first thing they'll want to know is what services you offer.
Do you offer residential cleaning, vacation rental home cleaning (e.g. Airbnb), or office cleaning? Also, do you offer specialty services, like carpet cleaning or window cleaning? You should explain what services are included in a standard cleaning package and which services cost extra.
2. How you work
Your customers may also want to know more about how your cleaning team works and what to expect after hiring your team. For example, do you require an in-home evaluation before the first cleaning? How many cleaners typically work in each house? About how long does a standard cleaning take, and how often do you recommend cleanings?
3. Online booking
If your cleaning business allows customers to book online, that could give you a big advantage over competitors. Online booking is more convenient for customers, allowing them to schedule cleanings at a moment's notice, even when your business is closed.
There are many different types of appointment scheduling software that can integrate into your maid service website.
You should include pricing information alongside with your online bookings. Being transparent about your pricing makes it easy for a customer to decide if your business is within their budget, without having to pick up the phone.
Online booking is more convenient for customers, allowing them to schedule cleanings at a moment's notice, even when your business is closed.
4. Online payments
The best cleaning websites allow customers to pay online. There are a couple ways to do this.
You can send customers a digital invoice after a cleaning or send a link that directs them to make a payment online. Either way, you'll need to find a digital payment processor, like Square, Stripe, or PayPal, which seamlessly integrates with your website template.
5. About the business page
Customers want to know what makes your business unique and why they should hire you. You should write a small blurb on your "about us" page that includes background on your company, such as how long you've been in business, how many customers you have, what areas you serve, and what types of insurance you have.
You might also include photos of you and your team, and mention any awards or certifications you have.
6. Contact information
Make it easy for new clients to contact you if they want to hire your cleaning business. Include your phone number, email, and business hours at the top and bottom of your website, as well as on a separate contact form page.
You could also offer live chat or instant messaging, which is easy to install on many website templates.
To stay connected with your customers, consider adding an email newsletter signup on your cleaning website. Once or twice a month, send an email to your customers with new house cleaning services you're offering, discounts or coupons, or new blog posts. As a small business, communicating with your customers via email keeps your business top of mind.
7. Social media pages
If your business has active social media pages, like an Instagram, Twitter, Facebook, or Yelp account, it's a good idea to link them to your cleaning company website.
Many customers today are vetting businesses by looking at their social media accounts, which offers a more personal side of your business. Additionally, your social media accounts allow potential customers to read comments and reviews about your business.
8. Testimonials and reviews
Your cleaning business website is an excellent place to showcase positive customer testimonials and reviews. When potential customers are able to see praise for your business, it gives them confidence that you'll provide the same quality services for them.
9. Frequently asked questions (FAQ) page
Having a frequently asked questions (FAQ) page on your cleaning business website will help customers find answers to basic questions, such as:
How much do you charge for a residential cleaning?
What areas do you serve?
How to book an appointment?
Do you have cleaning business insurance?
What types of cleaning products do you use?
Do you offer any discounts?
10. Call to action (CTAs)
Building a great website is only effective if you get visitors to take action. Throughout your web pages, make sure to integrate strategic call-to-action buttons (CTAs).
This could be a "get a free quote" button on the homepage, a "book now" button on your services page, or a "claim your coupon" button on your pricing page to direct customers to enter their email for a one-time discount.
Find policies that meet your cleaning business insurance needs
How do I build a simple cleaning business website?
Now that you understand what information should go on your cleaning services website, you can start on the website design. There are plenty of online templates that can help you design a professional-looking website by yourself without any formal web design experience. You can also create a cleaning business website for free with the use of certain platforms.
Follow these steps to help create a website for your cleaning business:
Buy and register a domain name
Before you can create your website, you'll need to buy a domain name. Start by visiting a domain name registry, like GoDaddy or Google Domains, to search for your preferred domain name. Once you choose a domain name (and have made sure that it's not already taken), you'll have the opportunity to purchase it and register the domain name under your business name.
Choose a platform
There are dozens of website builder platforms that can help you create a professional-looking website with no prior coding skills, such as WordPress, Squarespace, and Wix. Some website builders are free, while others will charge a monthly fee. It's worth doing some research to compare a few website builder platforms to find the one that meets your needs based on your design requirements and your budget.
Pick a theme or design
Most website builder tools have templated designs, which are also called themes, that you can choose. These templates are plug-and-play. The web pages are already designed and laid out for you. All you have to do is insert your own web copy and add your own images. There may be some room for customization (such as layout and color scheme), but most features are pre-set.
Add content and images
After the template is set, you can start adding your webpage copy and images. You can make these changes in edit mode and preview a published version before the website goes live. You might need to play around with the typeface size, length of content, size and quality of images, and placement of text boxes and images on the page.
Optimize for SEO
In order for potential customers to find your cleaning website, your website has to rank on the first few pages of search engines. This is done through a process called search engine optimization (SEO).
Many website builders have a built-in SEO tool, which shows you which keywords you should include in your webpage copy, what headers to use, and what questions to ask in an FAQ section. Some SEO tools also give you a score, which makes it easy to see how optimized a webpage is.
Launch the site
Once your website has been built, designed, and optimized, the final step is to hit publish. For the best visibility, you should link to your new website from your social media pages and other affiliates, like Yelp or the Better Business Bureau (BBB).
Continue to update your website every time you add a new service, change your pricing, offer a limited-time discount, get a new type of janitorial insurance, or receive a new certification.
You may also like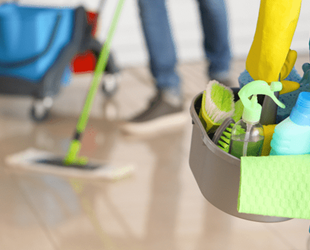 4 steps to get your cleaning business bonded and insured – and how much it costs
Getting your cleaning business bonded and insured can lower risks and help you grow your business. Learn what you need to do, and how much it will cost you.
Go to article
How can small business insurance help protect my website?
Once your website has been launched, it is important to make sure it is well protected, both structurally and legally.
It is important to include a privacy policy and terms of use to help customers understand when and how the information they are about to provide will be used. It is equally as critical to ensure that you take efforts to protect any personally identifiable information from any external threats. Most website builders will provide security tools as part of their service, but you should look into additional options as well to help prevent the risk of data breach.
In the event that a cyberattack occurs and your customer data is compromised, cyber insurance can provide additional coverage for expenses such as customer notification, credit monitoring, legal fees, and fines.
If a competitor sues your company for stealing their image or branding, general liability insurance can help cover legal expenses for accusations of copyright infringement and other advertising injuries.
Find the right insurance for your cleaning business from trusted carriers with Insureon
Complete Insureon's easy online application to compare insurance quotes from top-rated U.S. carriers. Once you find the right policy for your small business, you can begin coverage in less than 24 hours.