Who needs professional liability insurance?
Professional liability insurance is a must-have for many businesses, especially if you provide a service. Read on to see if this coverage is right for you.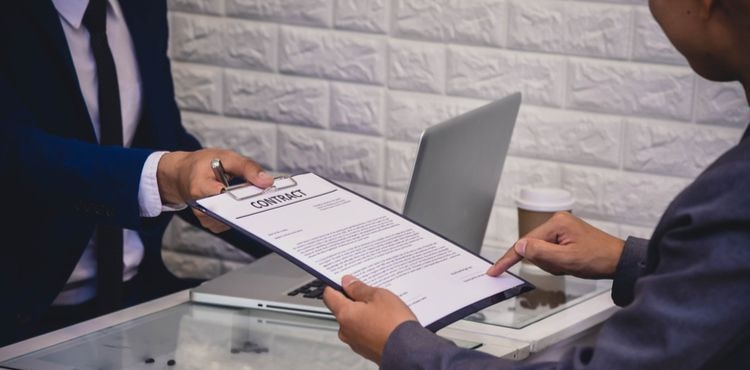 Every small business faces risks. But if you earn your living offering a service, dissatisfied clients can also cost you.
Any business that sells its expertise should consider professional liability insurance.
Also known as errors and omissions (E&O) insurance, this coverage protects your company and your bottom line from customer claims of late, incomplete, or unsatisfactory work.
Accusations like these can lead to costly lawsuits. As a small business owner, you must understand the unique risks you face and the insurance coverage you need to protect you.
Let's take a look at the difference between professional liability and other liability policies and which ones might make the most sense for your business.
What is professional liability insurance?
Successful business owners typically have happy clients. But what if an upset client decides to sue? That's when you'll need professional liability insurance.
Professional liability insurance protects small businesses by covering the costs of client lawsuits claiming substandard work.
A client may claim your negligence caused them financial harm. And a client that thinks you cost them money may take legal action in hopes of recovering their losses. Professional liability insurance can cover the costs of lawsuits over:
Work errors or oversights
Undelivered services
Missed deadlines
Budget overruns
Incomplete work
Breach of contract
Accusations of negligence
If you miss a project deadline and your client takes you to court, E&O coverage can protect you so that you won't have to pay the legal costs out-of-pocket.
And even if you didn't miss a deadline, E&O coverage can still protect you. After all, you don't need to be at fault to be sued.
Successfully defending yourself in court can be expensive. Professional liability insurance will cover those costs and help ensure your business stays afloat.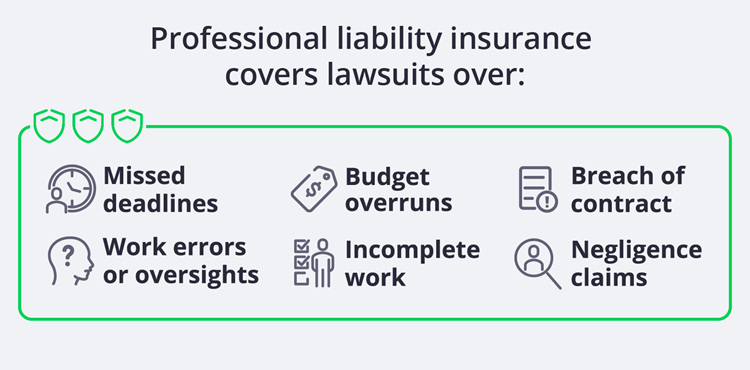 If you already have a general liability insurance policy, you might wonder how it differs from professional liability insurance. In short, a general liability policy protects you from third-party claims like:
For example, general liability would cover the medical bills of a client who came to your office for a meeting and slipped on the bathroom floor.
Is professional liability insurance required?
Many small business owners may wonder, when is professional liability insurance required? You're not alone.
The short answer: It depends on your business.
Some states require legal or medical malpractice insurance for lawyers and certain medical professionals.
Professional liability coverage isn't required by law for other service-based jobs. That doesn't mean it's not important.
Which businesses should consider carrying professional liability coverage?
Any business that provides professional services should look into professional liability or errors and omissions coverage. Some businesses that may need this coverage include:
It's more common to hear "errors and omissions" insurance rather than "professional liability" for some professions, including IT and tech, bookkeepers, tax preparers, and financial advisors.
For service-based businesses, professional liability coverage protects you from client lawsuits.
Your clients may require a policy to be in place before they'll agree to do business with you. They want to know that they're protected if your company fails to deliver on promises or breaks the terms of your contract.
If you're an independent contractor, your clients may also require you to have professional liability coverage before agreeing to work with you.
If a client requires professional liability coverage, you'll need to provide a certificate of insurance that serves as proof of coverage and outlines your policy limits. If you have employees, you may also need a fidelity bond to cover criminal acts by workers, such as fraud.
Find the right professional liability coverage to protect your business
How does professional liability insurance protect different types of businesses?
Professional liability insurance protects your business from the costs of negligence-related lawsuits, such as lawyer fees and judgments.
Reasons for client lawsuits differ based on your business. And if you have employees, their errors or oversight can also trigger legal action by a client.
Here are some common causes of client lawsuits by profession, and how professional liability insurance can help:
Consultants
Consultants are often hired to strategize for clients and make predictions and projections based on performance metrics. But if your miscalculation or poor advice leads to financial losses for a client, you may be sued. Professional liability insurance will help cover the costs.
Accountants
Accountants are in the business of crunching numbers for clients. That creates plenty of opportunities for human error.
If a client sues your accounting firm for mistakes like inaccurate reporting or incorrect data entry, a professional liability policy will cover your business's legal fees.
Advertising agencies
Advertising agencies face several liabilities, especially over what you publish. For instance, a client or competitor may accuse you of copyright infringement or negligence. Or, you may find yourself in a situation where there are mistakes in an advertising campaign.
A professional liability insurance policy would cover legal defense costs related to the quality of your work and advertising injuries.
Architects
Architects have many details to mind as they draft building designs to comply with local regulations and construction specifications. If you make a mistake and a client sues, professional liability insurance will pay for the legal defense costs.
Engineers
Engineering liabilities often come in the form of budget issues, missed deadlines, and delivery delays. If you fall behind on an important project, the client might decide to sue for negligence. In that case, professional liability insurance would protect your assets.
No matter what service you provide, there's always a chance of errors and unhappy clients. Professional liability coverage is a small price to pay to prevent lawsuits from damaging or destroying your business.
Insurance professionals
Property and casualty
insurance agents
and other insurance professionals are especially prone to lawsuits and legal defense costs related to work performance. For example, if a client sues a P&C agent for negligence in a claims dispute, professional liability insurance would cover your legal expenses.
Real estate agents or brokers
Real estate agents and brokers
deal with a lot of moving parts in their work, exposing you to a variety of liabilities. For example, if you are experiencing property listing disputes, disclosure negligence accusations, or inspection and documentation discrepancies, professional liability coverage will help you.
Top professions we insure
How much does professional liability insurance cost?
The cost of professional liability insurance varies since it takes into account the:
Type of business and level of risk
Coverage limits and deductibles
Number of employees
Daily operations
Claims history
Typically, businesses that face a high level of risk spend more on their professional liability coverage. Premiums are lower for low-risk businesses.
For example, an accounting business will likely pay less for insurance than a building design company. From an insurance company's view, accountants are less likely than architects to make mistakes that lead to lawsuits.
Based on our data, the average cost of professional liability insurance is $61 per month. Most of our small business customers (71%) spend less than $100 per month on their errors and omissions insurance, and 32% spend less than $50.
Talk to an insurance agent to see what type of liability policies can protect your business from lawsuits and legal fees.
Insureon's licensed agents can help you find the right insurance coverage at the best price. We can answer any of your questions and provide expert guidance to help protect your business.
Compare professional liability insurance quotes with Insureon
Complete Insureon's easy online application today to compare quotes for professional liability insurance and other policies from top-rated U.S. carriers. Once you find the right policy for your small business, you can begin coverage in less than 24 hours.
You may also like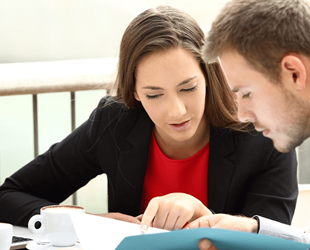 Occurrence vs. claims-made insurance: Why it matters
Occurrence and claims-made insurance policies differ both in coverage and in cost. Find out what each type of policy offers before you buy insurance for your small business.
Go to article