What is builder's risk insurance?
General contractors who own and operate a business should invest in builder's risk insurance for a number of reasons. Learn how it works and why it's so important for your business.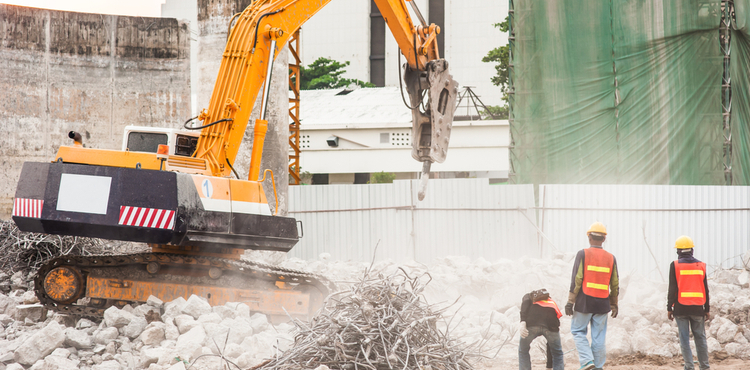 Last month, a tornado plowed through parts of the Midwest, leaving several hundred homes and businesses in ruins. According to the International Code Council's online damage report, 250 to 500 residential buildings were classified as either damaged or destroyed in the town of Washington, Illinois, alone. The report indicates that several commercial properties were also leveled.
Most small business owners understand the necessity of property insurance coverage for their commercial real estate, especially when it comes to staying afloat after a major disaster. But what if the damaged real estate in question is only technically yours?
Let's say you are a general contractor in Washington when the tornado hits. Are your clients' buildings and structures that are still under construction covered under your commercial property insurance policy?
In short, the answer is no. That's why builder's risk insurance is such a good investment for your general contracting business.
Why do I need builder's risk insurance?
Builder's risk insurance is a type of property insurance for general contractors and other professionals who have "insurable interest" (money to lose) in materials, equipment, and fixtures used in construction projects, should those items sustain physical damage.
Thanks to a common law (a law that makes it into the book by a court's decision) precedent, new construction, renovations, and other improvements only become the landowner's property once the land is "improved" by the structure's presence. Until then, a general contractor can be on the hook for damages due to perils such as fire, wind, theft, and vandalism.
Builder's risk insurance can protect business owners from the high costs of these losses. Since tornado (wind) damage is typically a covered loss, your Illinois-based contracting business would receive some reimbursement for those damaged residential buildings, which were still under construction when the storm hit. (Note: If you live in an area that's prone to tornadoes, be sure to check about special deductibles or coverage limits for wind perils.)
Because the risks associated with construction sites are fairly large, it's not uncommon for contractors to be required to carry builder's risk insurance – either by their contracts or local and state building codes. Always make sure to double-check your contracts and your local laws to see if you need proof of insurance.
How does builder's risk insurance work?
If you've bought insurance before, you may be wondering whether builder's risk insurance is another policy you must keep active for the life of your business. After all, it's unlikely that you will need this special protection 100% of the time.
Good news: Builder's risk insurance is a temporary insurance policy. It is issued on a project-by-project basis and should only last as long as the construction period of your project. Insurance providers recommend that contractors set up their policies so that they start before your materials arrive at the construction site and end when the building or structure is ready to use.
But let's say the property you've developed sells or closes before your policy's expiration date. In that case, the policy would be void once the sale or closing is complete. In other words, as soon as a property is ready for occupancy, it's no longer your responsibility. Homeowners should make plans to protect their property with their own insurance as soon as possible.
Because every contractor's needs are different, there are many types of builder's risk insurance policies. Keep the following in mind when deciding on a policy:
Location, location, location
Beachfront property development can mean big bucks for contractors, but be aware that many perils in "beach zones" are not covered under typical builder's risk policies unless you work with your agent to include them. Earthquakes, flooding, and hurricane winds are commonly excluded perils.
Potential gaps in coverage
It's not uncommon for builder's risk policies to include coverage for temporary structures, scaffolding, cribbing, and the like. However, not all of your equipment is automatically covered in a typical policy. For example, large pieces of equipment like diggers and bulldozers are generally excluded from coverage. Your insurance agent can let you know if this coverage can be written into your policy or if a separate contractor's equipment policy is needed. Additionally, builder's risk policies are for onsite coverage only. Materials and equipment in storage or in transit are generally not covered under a builder's risk insurance policy. You'll need an inland marine insurance policy for that protection.
Contractual language
Each of your contracts is different, and they may very well demand different requirements of your builder's risk policy. One common sticking point is the difference between a "structure" and a "building." A building is a structure that will be occupied, like a house. But not all structures are buildings. So if your contract requires coverage for the structure you are constructing, but your policy only covers buildings, you may run into a coverage gap if you ever need to file a claim.
Compare quotes from trusted carriers with Insureon
Complete Insureon's easy online application today to compare insurance quotes from top-rated U.S. carriers. Once you find the right policy for your small business, you can begin coverage in less than 24 hours.