Women athletes in business: interview with Sami Jo Small
In this interview, three-time Olympian Sami Jo Small discusses how playing professional hockey gave her the skills she needed to be successful in the business world. She reflects on how other female athletes can turn their athletic achievement into business success.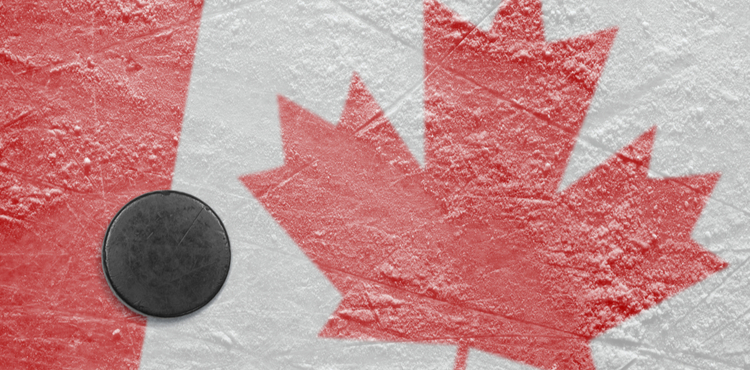 We talked with Sami Jo Small about her experience playing professional hockey and entering the business world. She describes how sports can transform young women and teach them how to succeed in business.
Please share some details about yourself. What's your background?
I grew up in Winnipeg, Manitoba in Canada with an older brother who I idolized – I basically wanted to do everything he did. Every sport he started to play, I wanted to play with him. In our family, we had to do well in school or we wouldn't be allowed to play sports. I just really loved sports, so that drove me.
How did playing hockey shape you while growing up?
When I was growing up, women's hockey was not a national team sport. There was no Olympic event. So I wanted to play in the NHL like most of my teammates (they were all boys). I love competing and there is so much ice always readily available in Winnipeg – I could play all the time. It wasn't until high school that I realized I wasn't going to get to play later in life; that's when the guys were getting drafted to the WHL (Western Hockey League).
It was at that point that I started to pursue other sports with more interest, realizing that was the ticket to getting a NCAA scholarship. I still continued to play hockey at the AA and AAA level, but without a place to play in the future, it made me realize that I was probably going to stop playing when I went to school.
How did you keep playing hockey into college?
I attended Stanford University on a track and field scholarship, but I was lucky they had a club men's hockey program and the coaches allowed me to play. Initially, the track coach didn't know I was playing hockey at the same time. I ended up making the hockey team in California. This renewed my passion for the game again – I was just playing because I loved it, but it wasn't for any end goal.
While I was at Stanford, women's hockey was introduced as an Olympic event beginning with the 1998 Winter Olympics. I feel like I was in the right place at the right time to be able to capitalize on that opportunity. Had I dreamed, as a little girl, that I would get to go to the Olympics, I would never have imagined it would be for ice hockey.
What was it like representing Canada at the Olympics?
People ask me that all the time. I think I was just a young, naive rookie because it wasn't as momentous as I thought it would be. I thought it was just another team that I got to play on; it was the first girls' team that I played on. I think that was what was so unique for me. Here I was, playing on a women's team.
At the same time, it's something special to get to represent your own country. But I think traveling the world taught me that countries are just borders, and at the end of the day, we are all the same. Hockey has provided me with amazing friendships and adventures around the world.
How did you help start a women's professional hockey league?
It wasn't necessarily something we thought were going to have to do, but in 2007, we played in the National Women's Hockey League where the owners decided to step away from the table for a year because they were losing a lot of money. As players, we were really concerned. This was May, and we wanted to start playing hockey in September. These guys were adamant they needed a full year to figure out things and make a more viable league.
When this happened, we realized we needed to create something that was viable for the long term. We decided to create a league out of necessity – not dependent on individual owners, but dependent on all of women's hockey working together to support this league.
We went out and got sponsorship money. It didn't matter where it came from – every single team got exactly the same amount of money. The first season we really flew by the seat of our pants. There were so many details that we hadn't ironed out, but we felt like it was a mini MBA experience for us.
We had smart players involved like Kathleen Kauth, Jayna Hefford, Jennifer Botterill, and Allyson Fox – these girls had Ivy League or high-level educational backgrounds. But we had never run a league before, and it was really an amazing experience for me. I think it was like being part of a startup – knowing that whatever we did would influence the future of the game. I feel so privileged to be a small part of what ultimately became this incredible league.
Did being an elite athlete help prepare you for the business world?
Sports are not life, but I think they can teach us so much about dealing with the people around us and bringing out the best in everyone. You're learning lessons that need to be learned before you're thrown into the real world. In sports, so many things happen to us that we deem to be the penultimate, and in reality, it's simply play.
In play, we learn how to interact and communicate with others, including experiencing leadership roles within a team format. Every year, I feel like I'm in a different role with different teams. I'm learning from the people around me – not only to be a better hockey player, but a better team player and person.
What's it like working as a keynote speaker?
On a weekly basis, I am placed in situations with associations and events that I didn't necessarily know existed. I do about 50 to 70 events per year around North America. Mostly, I work with companies that are going through change, companies that have cut a part of their workforce. I find those hard but very rewarding if I can make a small difference in those people's lives by sharing experiences I've had. They're going through drastic changes – seeing their friends disappear in the workplace and maybe their roles are changing.
I talk about teamwork based on my work on the Olympic team as a goaltender and learning how to play my role to the best of my ability. I try to tell stories about my Olympic experience to help people in the business world maximize results within their own team.
I think my favorite type of client is probably in the tech world. As an engineer, I relate better to people who have the same quirky sense of humor that I have so they laugh at my jokes.
How do you manage your time?
I feel so lucky I have an amazing husband who helps me with everything. I really love my job, so sometimes it doesn't feel like work. When we first started the Canadian Women's Hockey League, I probably spent 80% of my time volunteering and 20% of my time working as a speaker. That has definitely shifted as the league is now sustainable. However, it still means that I have that free time to watch my husband play (Billy Bridges, a Paralympian ice sledge hockey player) or go out and practice with him. I feel incredibly lucky that I found a job that's such a great fit and allows me to live the life I want to be living.
Have you experienced any challenges in business and sports that you think are related to being a woman?
I grew up at a time when it wasn't acceptable for girls to play hockey. I took everything in stride. I was cut from teams and told it just won't work with having a girl on the road. It wasn't fair, but my dad always said to me, "Life is not supposed to be fair." It was an important message that I got from a young age.
In business, I would say being a female hockey player has helped me in the speaking world because hockey gets me in the door. I think a lot of the people hiring me are male. They like the idea that I'm a hockey player, and many of their employees are female, so they like the idea that I'm a female speaker. Plus, female humor tends to be a bit cleaner. I don't think I've ever been passed over for a job because I was a female. I think it has really only helped me and allowed me to speak to women's executive groups and associations. I don't think I would have been able to otherwise.
Do you have any advice for women who want to own a business?
If you want to be an entrepreneur, you have to be prepared to do it 24 hours a day. It becomes your life, and having a supportive partner or spouse can be very important. Billy knows I am available to hang out 9 to 1 o'clock during the day, but from 7 to midnight, I might be off doing an event. Things are never set or secure; it's one of those things. You have to be flexible and prepared to deal with the setbacks that come along with it.
There is always going to be mountains and valleys. You have to be ready to ride the wave and manage your finances so that you always have a nest egg. You never want to live in excess because you never know when that valley is coming. Make sure you do something that you love because you are going to spend a lot of time doing it.
Compare quotes from trusted carriers with Insureon
Complete Insureon's easy online application today to compare quotes for general liability and other kinds of insurance from top-rated U.S. carriers. Once you find the right policy, you can begin coverage in less than 24 hours.
Sami Jo Small is a three-time Olympian as a goalie with the Canadian Women's Olympic hockey team. She currently works as a
motivational speaker
and facilitates the
Sami Jo Small Female Hockey School
. Small is also a cofounder of the Canadian Women's Hockey League and continues to play elite hockey for the Toronto Furies.