Best wedding photographer insurance for one-day events
Photographers often need liability insurance to work at weddings. Though you can purchase coverage for a one-day event, you may want a year-long policy if you frequently shoot special events.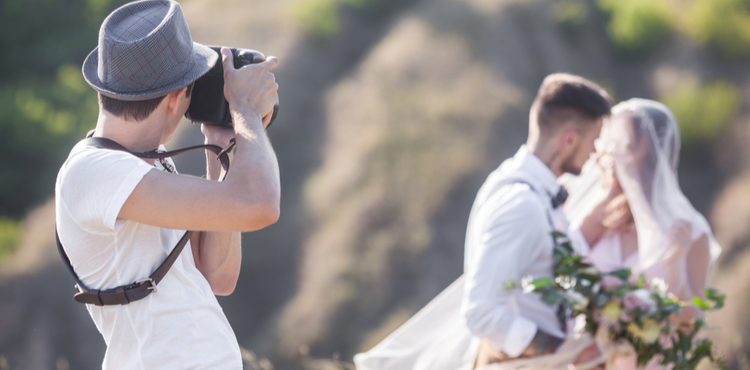 A friend notices your photography and asks you if you'd like to be the photographer for her wedding. You agree. You really haven't done weddings before, but your friend is on a budget and you figure that, at the very least, you'll get a free dinner out of it. When you ask about the details, however, you learn that the venue where the ceremony and reception are being held requires service providers – including the photographer – to carry insurance. What do you do?
First, it's probably important that you ask for some payment if you haven't already. A free dinner's great, but you're a professional now, so act like one! Besides, you can't pay for insurance with a chicken dish, unless that chicken is stuffed with dollars.
As for the insurance part? The answer depends on your situation. Are you planning on doing more work as a professional photographer or are you a hobbyist for now? Depending on your answer, it may be more affordable to purchase a year-long policy instead of multiple one-day policies. Let's take a look at both options so you can make an informed decision.
A year of general liability insurance for professional photographers
If you're a professional photographer – that is to say, you are paid for your work on a somewhat regular basis – you should absolutely consider a general liability insurance policy if you haven't already. It's a basic business insurance policy that addresses a lot of your risks and can be invaluable in the event of an accident or lawsuit.
Because you work in a relatively low-risk field, general liability is usually pretty affordable – the median cost runs about $425 for a whole year of coverage (learn more about the cost of insurance on our page "How much does photography insurance cost?"). By contrast, a one-day policy will cost you around $100 or more depending on:
The venue
Type of event
Size of event
So if you photograph even three more weddings (or any other events) in the whole year, you'll break even on insurance that you'd likely have to buy anyway.
But why get insurance if photography is a low-risk industry? First, low-risk and no-risk are two very different things. Second, an accident or lawsuit could bankrupt your entire business if you don't have an active policy. There's a reason wedding venues require service providers to carry coverage – they're trying to reduce their own liability.
General liability insurance can provide coverage for:
Third-party bodily injuries. If your equipment accidentally trips up the bride's elderly grandfather, for example, your coverage may help pay for his ER visit.
Third-party property damage. If you damage the venue's property, your policy may help compensate for its losses.
Advertising injury claims. If you're sued over a copyright infringement, your policy can help pay for the legal expenses.
General liability coverage isn't limited to wedding gigs, either. It can protect your photography business no matter where your work takes you. That's why it's a must-have for any photographer who works professionally, even in a part-time capacity.
One-day insurance policies for photographers
There are situations when a one-day insurance policy may make more sense. For example, you may not want to fully invest in a yearlong policy right away if:
You're just starting out in the photography field and testing the waters.
You only photograph as a hobby, but your friend really, really, really wants you to shoot her wedding.
If that's the case, you might want to explore the one-day policy special event insurance.
Compare quotes from trusted carriers with Insureon
Complete Insureon's easy online application today to compare insurance quotes from top-rated U.S. carriers. Once you find the right policy for your small business, you can begin coverage in less than 24 hours.