What does it take to make a photography business profitable?
If you want to turn your passion for photography into a profitable business, continue reading for a breakdown of business expenses you should expect and realistic goals to set.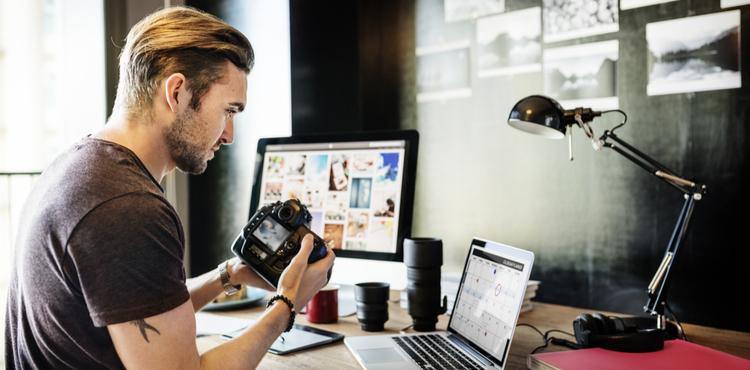 Eighty-five percent of U.S. photographers go out of business within three years. If you're like most photographers, maybe that's not a huge surprise – no one knows better than you how hard you have to hustle just to break even on your business expenses.
But sometimes, seeing those numbers in one place can give you the clarity you need to do more than make ends meet. And that's why we put together the infographic below.

Let's take a closer look at some key findings and how you can apply this information to your photography business.
The big picture of your business expenses
Chances are you didn't buy all your photography essentials in one fell swoop. Like other self-employed photographers, you probably acquired your equipment piece by piece over time, and you may still be saving up for that new lens.
Nothing wrong with that, but it's important not to lose track of how much you've invested (and continue investing) to keep your business operational. Turns out, all those bit-by-bit expenses add up to a small fortune.
For example, a photographer may pay:
For a full breakdown of common expenses, check out the infographic.
After adding up all the photography equipment costs, business setup expenses, and business training fees, the average photographer may spend about $9,530 to $14,780 just to get the business up and running.
To maintain it? That runs about $13,130 a year. If you're a wedding photographer, all those business expenses average a cool $27,730 a year.
Gig goals to offset expenses
As you can see in the infographic, if a portrait session brings in about $200 plus $387 per photo package – a total of $587 per client – studio photographers need:
23 sessions to break even on business expenses
51 sessions to make minimum wage
72 sessions to earn the median salary for a photographer
Wedding photographers make an average of $2,814 per client, which means they need to shoot:/p>
10 weddings to break even
16 weddings to make minimum wage
21 weddings to earn the median salary for wedding photographers
The takeaway? When pricing your sessions and packages, you should aim for profits of at least 35% of your gross sales to keep your business lucrative, according to a PPA Benchmark Survey.
Like what you learned here? Share this infographic on Facebook and Twitter!
Compare quotes from trusted carriers with Insureon
Complete Insureon's easy online application today to compare insurance quotes from top-rated U.S. carriers. Once you find the right policy for your small business, you can begin coverage in less than 24 hours.