What camera insurance do professional photographers need?
Professional photographers can carry commercial property insurance and other policies to protect their expensive equipment.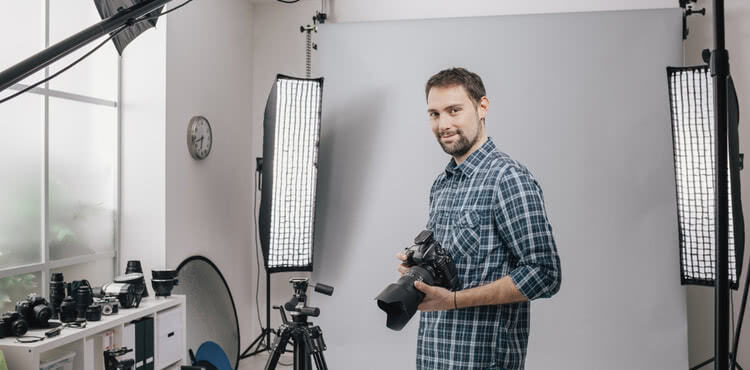 Most professional photographers and videographers invest thousands of dollars in photography gear and equipment to launch a successful business. Theft or accidental damage could significantly impact your bottom line and potentially stop you from taking on clients.
Homeowner's and renter's insurance policies typically exclude photography equipment if it's used for business purposes, so you wouldn't be covered if your photography or video gear is stolen or damaged at home. Commercial property insurance would offer this protection, but not while you're on the road or working on location.
By having the right camera equipment insurance policies and following some simple tips for safeguarding your gear, you can keep unforeseen circumstances from putting your business and income in jeopardy.
Let's take a look at what insurance policies are best for a photography business, and how coverage is an important part of risk management.
Insurance policies for professional photographers
Many photographers and videographers carry a few types of coverage as a form of gear insurance, and for the peace of mind that these types of insurance options can offer:
Commercial property insurance
Commercial property insurance coverage is a must for photographers because it protects all assets related to your business property, including your camera gear, photo processing computers, and other equipment. With this coverage, your insurance company will reimburse you for property theft, vandalism, and some weather events.
You'll also have the choice of deciding whether your equipment coverage insures your gear for its replacement value or the cash value. A replacement value on your commercial property insurance policy pays to replace your damaged or stolen camera with a brand-new equivalent. Cash value policies typically cost less but will reimburse you only for the lost equipment's current value – not its original price.
You might opt for a business owner's policy (BOP), which combines general liability coverage and commercial property insurance under one policy. A BOP is usually less expensive than buying these policies separately, which could help bring your camera gear insurance costs down.
General liability insurance
Your business could be held liable if you damage someone's property or if there's an injury at a photo shoot. General liability insurance covers third-party property damage and bodily injuries. If you are thinking about renting a photography studio or office space, most commercial landlords will require it as a condition of signing a lease.
Professional liability insurance
If you miss a photo shoot or lose a hard drive full of shots that you need to deliver to a client, you could face an expensive lawsuit. Professional liability insurance, also known as errors and omissions insurance (E&O), would cover you if a client sues you over your work.
If you store sensitive or proprietary photos or videos on your computers, or sensitive customer information, you might also consider cyber liability insurance to protect against a data breach.
Commercial auto insurance
Photographers are often on the road, and your personal automobile insurance may not cover damages if you are in an accident while driving for work.
Commercial auto insurance would cover legal bills, medical expenses, and property damage if a vehicle owned by your business is involved in an accident.
If you drive your own vehicle for work, you should consider hired and non-owned auto insurance (HNOA). It provides liability protection for vehicles that your business uses but does not own.
Inland marine insurance
If your business involves bringing expensive equipment such as cameras or drones to job sites, inland marine insurance would protect your gear while it's being transported or stored somewhere. Inland marine is a "floater" policy, which means it covers property that's easy to move around.
You likely need this coverage if you travel for photo shoots, as commercial property insurance only covers items at your business address.
Workers' compensation insurance
This coverage is required in most states for businesses that have employees, and recommended for sole proprietors too.
If you were injured on the job and unable to work, your business income would take a tremendous hit. Workers' compensation insurance would pay for your medical bills and also provide part of the wages you'd otherwise lose out on.
Tips for protecting your photography equipment
Since cameras are portable, expensive, and easy to sell online, they are a natural target for thieves.
Although photographer insurance is key to protecting your business, taking a few simple precautions will reduce your chances of being a victim.
Install a security system at your home or studio.
Lock all doors and windows in your studio and car when you leave, and don't tempt thieves by leaving pricey photography equipment in plain sight.
Keep track of keys and limit the number of people who have access to your studio and equipment.
Install motion-sensitive lights around your studio – particularly in dark areas.
Be sure to take photographs of your professional camera equipment, record all serial numbers, and store the records in a safe place. You may not always be able to recover stolen items, but having detailed information about your gear will help in the search. This information will also be helpful if you file a claim with your insurance company after theft or damage.
You may also like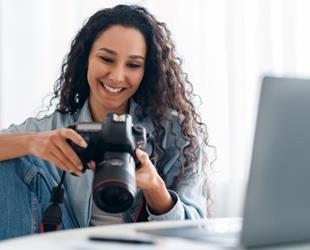 How to become a Certified Professional Photographer
Learn about the Certified Professional Photographer program, including how to acquire a certification and why it can benefit your photography business, and which business insurance policies you'll need after getting your certification.
Go to article
Compare photography business insurance quotes from trusted carriers with Insureon
Complete Insureon's easy online application today to compare insurance quotes from top-rated U.S. carriers, speak with an insurance agent, and protect your photo or video business. Once you find the right policies for your business needs, you can begin coverage and obtain a certificate of insurance in less than 24 hours.