Film equipment insurance might be cheaper than you think
Insuring your film equipment is a smart and affordable way to protect thousands of dollars of gear that often moves from location to location.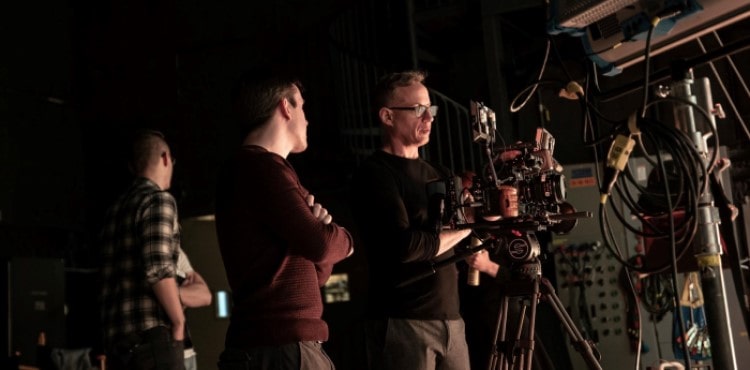 Every video shoot has risks for any video production company. Your camera equipment could be damaged, misplaced, or stolen. Replacing your own equipment is expensive, but the right business insurance and equipment coverage can be an affordable way of protecting your wallet and your business.
Whether you produce documentaries, commercials, special events, or feature films, business insurance can cover your risks of managing on-screen talent, your crew, and any support staff.
Let's take a look at the unique risks that videographers and video production studios encounter, which insurance policies meet their needs, and how much these policies cost.
Video production equipment carries high risk for small businesses
Collectively, the cost of video production equipment is one of the most significant expenses for one's business. Repairing and replacing damaged or stolen gear comes with a high price tag, which is why many in the film industry use video equipment insurance to help offset these costs.
Business insurance for video professionals will typically provide coverage for most equipment that a videographer would use, including:
Cameras
Lenses and filters
Lighting equipment, including reflectors and light modifiers
Microphones
Audio recorders
Boom poles, tripods, grip gear, and dollies
Camera rigs and gimbals
Computers, editing software, and external hard drives
Cables, batteries, and camera bags
Drones
What is excluded from film production insurance coverage?
If you rent or loan any of your video equipment to someone else, it's unlikely to be covered while it's in possession by that person. Your film gear insurance also might not cover you for equipment rentals or if you fail to secure your own equipment, such as leaving it inside an unlocked vehicle where it could be stolen.
Compare film production business insurance quotes
The cost and coverage of film production insurance
So how much can you expect to pay for video production insurance coverage? It depends on what kind of work you do, the film equipment you own, as well as your deductible and coverage limits.
Your deductible is how much you would have to pay out-of-pocket before your insurance policy kicks in. It might be tempting to choose a policy with a high deductible and a lower premium cost, but this could put you in a financial bind later if you have an expensive claim.
For example, if you manage a video production company that owns several pieces of equipment, it may be recommended to purchase a policy with a lower deductible due to the higher associated risk of equipment being damaged or stolen.
You also have two types of coverage limits:
Per-occurrence: How much coverage a policy offers on each individual claim
Aggregate: The total coverage for all claims within a year, on your annual policy
It's important to choose policy limits that give you an affordable premium, with the coverage amounts that you need to protect your bottom line.
By paying just a few hundred dollars per year, you can protect equipment that is worth tens of thousands of dollars and shield your business from common risk exposures, such as lawsuits and theft.
When it comes to selecting coverage for their business, many videographers opt for these policies:
Property insurance
Also known as "camera insurance," videography property insurance covers most of your video equipment, including cameras, lenses, computers, and editing bays, in the event that your gear gets damaged or stolen. This will help you get back on track to finish a project. In most cases, you can apply coverage to both owned and rented equipment, as well as studio spaces.
Videography property insurance starts around $35 per month, or $420 annually.
General liability insurance
General liability insurance covers lawsuits over copyright violations and third-party injuries (non-employees) that happen at your office or on set. It also provides coverage for third-party property damage, including accidental harm to another person's property, such as a nearby car getting damaged by a stunt gone wrong. This policy is especially an important consideration if you're shooting on location.
Videographers pay a median of $23 per month, or $275 per year, for general liability coverage.
Business owner's policy (BOP)
A business owner's policy (BOP) combines general liability insurance and commercial property coverage under one policy. It is usually less expensive than buying each coverage separately. Most video professionals benefit from a business owner's policy, as it will typically cover most of the associated risks with shooting with your own equipment in multiple locations.
Video professionals pay around $43 per month for a business owner's policy, or around $520 per year.
Professional liability insurance
Also known as errors & omissions insurance, professional liability insurance covers you in the event that a customer sues you over undelivered or unsatisfactory work. If you're unable to finish a project because a hard drive crashed or was stolen, your property insurance would cover the damage or theft of the equipment—but not the cost of a lawsuit from your customer. Professional liability would cover your attorney's fees, court costs, and any settlements.
Video professionals typically pay a median premium of $53 per month, or $639 annually, for professional liability insurance. The rate will depend on the type of services you offer and other key factors.
Workers' compensation insurance
If your video production company has any employees, you will also most likely need workers' compensation insurance. This policy is required in almost every state and provides essential coverage for workplace injuries and related liabilities.
A workers' comp policy costs around $55 per month, or about $660 annually, for video professionals.
Compare film production insurance quotes from trusted carriers with Insureon
Complete Insureon's easy online application today to compare insurance quotes from top-rated U.S. carriers and insurance brokers. Once you find the right policy for your small business, you can begin coverage and get your certificate of insurance from the insurance company in less than 24 hours.