Videographers and photographers pay a median of less than $25 per month, or $275 per year, for general liability insurance. This policy covers third-party property damage and bodily injury, along with advertising injury.
Insureon's licensed agents typically recommend a business owner's policy over a standalone general liability policy. A BOP combines general liability insurance with commercial property insurance to protect your cameras and other gear, and costs less than purchasing each policy separately.
Industry risk drives the cost of general liability insurance for photo and video businesses
Among photographers and videographers that purchase general liability with Insureon, 56% pay less than $300 per year and 37% pay between $300 and $600 per year. The cost varies based on your industry and risk factors, the policy limits you choose, the size of your business, and other factors.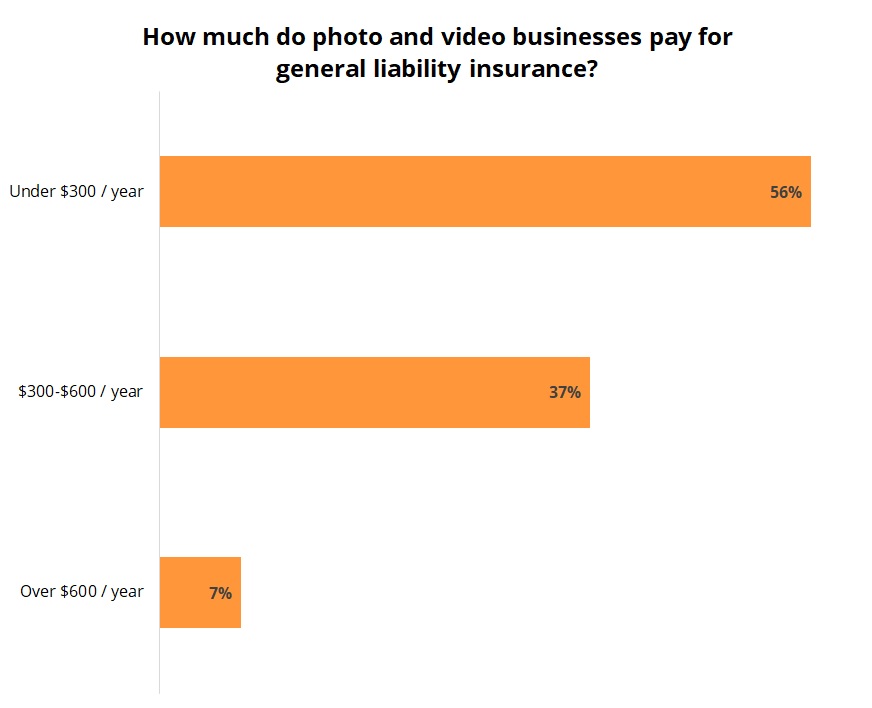 Common general liability policy limits for photo and video businesses
Policy limits determine how much your insurer will pay on covered claims. A per-occurrence limit is the maximum your insurer will pay for a single incident, while an aggregate limit is the maximum your insurer will pay on any claims during your policy period, typically one year. Higher limits cost more – and provide better coverage.
Most photo and video businesses (96%) choose general liability policies with a $1 million per-occurrence limit and a $2 million aggregate limit. As your small business grows, you may need to expand your policy limits.