Ohio firm The Voice of Your Customer shares tips for working with interns
Working with interns can be a win-win for small businesses. Crystal Kendrick, president of Cincinnati-based marketing firm The Voice of Your Customer, shares her experience employing student workers.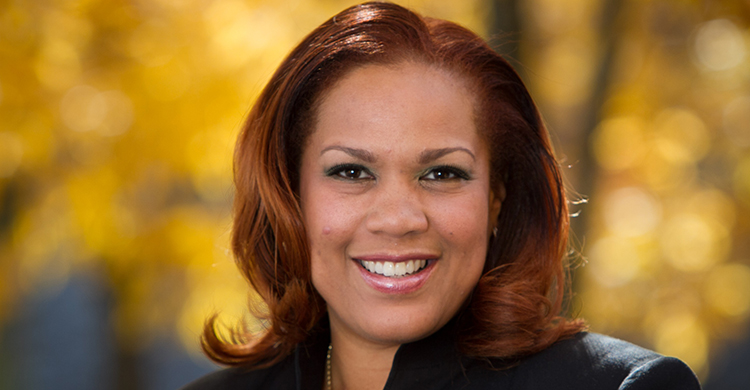 Crystal Kendrick, president of The Voice of Your Customer, often works with interns beyond the summer months.
Crystal L. Kendrick is president of The Voice of Your Customer, a marketing firm in Cincinnati that helps clients penetrate niche markets using survey research, focus groups, secret shopping, business training, and media campaigns. We talked with Kendrick about how her marketing firm partners with Cincinnati's Youth 2 Work Program to attract interns. She discusses her firm's experience working with interns and how small business owners can benefit from additional help during the summer.
Tell us a bit about yourself. What's your background?
I have more than 25 years of global domestic marketing experience, specifically targeting hard-to-reach, underserved, international, and niche populations. I have a BBA in marketing from Temple University and an MBA in business administration from Northern Kentucky University. I successfully completed minority business executive training programs at Dartmouth College and the University of Wisconsin.
When did you first start The Voice of Your Customer? Who's your typical client?
Cincinnati is home to many large, consumer-packaged goods companies and many nationally recognized marketing firms. Unfortunately, many of the larger marketing firms were not able to effectively penetrate diverse audiences. As a result, the firm was founded as a home-based business in 2007 and has experienced tremendous success in the past eight years.
The Voice of Your Customer primarily focuses on engaging diverse audiences in social campaigns and consumer buying decisions. Our clients include government agencies, nonprofit organizations, corporations, and local businesses.
When did you first decide to bring aboard interns? Why?
We engaged our first intern in 2008. As an advocate for our neighborhood and a good corporate citizen of the city, we recruited a teen from our neighborhood who worked with us for many years after her initial assignment.
How do you connect with local nonprofits in Cincinnati to hire interns?
We bring on interns through Cincinnati's Youth 2 Work Program. A consortium of city departments and local nonprofits (e.g., Easter Seals and Urban League), the program recruits, trains, and employs youth during summer through partnering businesses and organizations. Hamilton County Job & Family Services also offers a Summer Youth Employment Program.
We are very fortunate that Cincinnati and most local universities have very well advertised internship programs. Information about these programs can easily be found with a quick Google search.
Why is this program beneficial to your business and your interns?
Our summer interns help to sustain customer service levels during a very busy time of year for our small business. Toward the end of the summer, our interns also provide outreach, telesales, and administrative support to generate sales activity for the fall and winter months. Many of our summer interns continued their work with us into the school year as well. It is a win-win situation for us.
How do you manage and train inexperienced workers?
The nonprofits involved with the program provide job-readiness training, and we offer opportunities for the youth to learn various aspects of our business. Our office manager is responsible for assessing, training, and managing our interns.
Interns are young, and while they may be mature, they are definitely inexperienced and, in some instances, naive. They have never lived without Google or immediate access to everything they need. We spend quite a bit of time teaching them to use office technology effectively and emphasize patience. They learn how to act in an office environment, how to network with others, and how to manage time efficiently.
Have you seen an intern's path in school after working with your business?
Many of our interns stay with us once they return to school. We typically allow our interns to retain their supplies, Microsoft Office, and other online software subscriptions when they leave their assignment. We are thrilled to learn that their grades and engagement improve as a result of their time with The Voice of Your Customer.
How is hiring an intern different than hiring an employee?
The Voice of Your Customer works with interns who participate in programs sponsored by nonprofits, so they typically complete new hire orientations prior to their start date. They are required to complete professional development training each week. These programs make it much easier for a small business to hire and train interns.
Tips for hiring interns from The Voice of Your Customer
Work with an organization. Partner with a local youth employment project or university internship program to hire an intern or part-time help. They can help handle the paperwork, payroll, and initial training.
Offer credit or incentives. Can't afford to pay an intern? Attract prospective interns by offering school credit or a weekly stipend to offset costs.
Keep in touch. Communicate with your interns when the summer ends. You can help them network or bring them onto your staff the following summer.
Compare quotes from trusted carriers with Insureon
Complete Insureon's easy online application today to compare insurance quotes from top-rated U.S. carriers. Once you find the right policy for your small business, you can begin coverage in less than 24 hours.