What to know about electrician licenses and bonds
The licensing, insurance, and bonding requirements for electricians vary by state. Having the right insurance and bonding can help keep you financially protected and may be required for some jobs within the construction industry.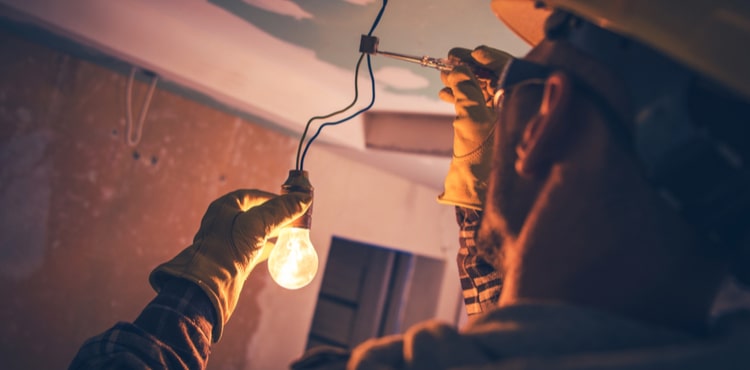 Most states and municipalities require electricians to be licensed and carry certain types of insurance. They may require specific levels of education, training, and experience to perform certain kinds of electrical work.
The usual route to becoming an electrician involves a high school diploma or equivalency, followed by a trade school or vocational college training program. You'll learn about the national electrical code, wiring electrical boards, HVAC systems, and other services that a maintenance electrician performs.
After your electrical licensing course is complete, you can start logging hours as an apprentice to a journeyman or licensed master electrician.
Electrician Apprentice Headquarters, a joint program by the International Brotherhood of Electrical Workers (IBEW) and the National Electrical Contractors Association (NECA), has information on professional licensing, education programs, and apprenticeships.
Depending on your state, you'll probably have to work for a couple of years as an apprentice in the electrical trade, performing electrical services under the supervision of a master electrician.
After gaining experience with electrical installation and electrical equipment, as well as meeting the required hours of work in your state, you can pursue a journeyman electrician license with a state board.
When do you need a license to be an electrician?
Even in states that don't require electricians to be licensed, you might still need a license at the municipal level to work as an electrician. Be sure to check with your local city or county government before accepting your first job.
Some states or cities require an electrical license before doing any kind of electrical work in residential or commercial buildings. These areas may also require a license before you bid on projects worth more than $500.
Compare electrician business insurance quotes
How do you become a licensed electrician?
You'll likely have to spend about four years as an apprentice working under a licensed electrician before taking a licensing exam within your state or municipality. There may also be continuing education licensure requirements as well. Let's take a look at the licensing requirements for electricians in a handful of states.
California requirements
A C-10 Electrical Contractor license is required from the Contractors State Licensing Board, within the Department of Consumer Affairs, before you can bid on any projects worth $500 or more.
You will need four years of experience as a journeyman electrician, a foreman, contractor, owner-builder, or supervisor. You also have to pass a trade exam, as well as a law and business exam, before pursuing a state license application.
Florida requirements
Florida requires licenses for all electricians performing commercial or residential work.
Before pursuing an electrician license in Florida, you must have at least one of the following:
Three years of experience as a licensed electrical engineer
Three years of management experience in the trade
Four years as a foreman, supervisor, or contractor within the trade
Six years of training, education, or experience with electrical contracting
Six years of experience in electrical work within the military or a unit of government
A combination of these qualifications that equals at least six years
Your experience must include at least 40 percent of your work in three-phase services. You must also pass a Certified Electrical Contractor exam with the Department of Business & Professional Regulation.
Georgia requirements
Georgia requires all commercial and residential electrical work to be done by a licensed electrician. Electricians in Georgia must obtain a license from the Construction Industry Licensing Board, Division of Electrical Contractors. You must have four years of experience working under a licensed contractor and pass a trade exam with the state.
New York requirements
New York State does not require a license to perform electrical work, but you'll likely need to obtain a license from the local government where you intend to work.
New York City requires electricians to obtain a license from the Department of Buildings. There are two license types available:
A Master Electrician License is required to perform electrical work as an independent contractor, or to obtain a construction permit to do so.
A Special Electrician License is required to perform electrical work under the employment of a building owner.
Before taking your first licensing exam, all applicants must have at least seven and a half years of work as an electrician under the supervision of a licensed electrician, as well as one of the following:
You must have completed an electrical technology or mechanical engineering apprenticeship program, or graduated from a qualified electrical engineering trade or vocational school, with at least five and a half years (7,700 hours) of electrical work experience.
Master of Science degree and 3,500 hours of electrical work experience, supervised by a licensed electrician.
Bachelor of Science degree and 4,900 hours of electrical work experience, supervised by a licensed electrician.
Texas requirements
Anyone who installs or maintains electrical wiring systems and equipment in Texas must be licensed by the Texas Department of Licensing & Regulation.
The requirements to be an electrician in Texas differ for each stage of development.
Apprentice electrician: Must be at least 16 years old, working directly under a master electrician as an electrical apprentice to gain experience. No license necessary.
Journeyman electrician: At least 8,000 hours of on-the-job training, working under a master electrician, before taking the journeyman licensing exam.
Master electrician: At least two years of experience as a licensed journeyman electrician with at least 12,000 hours of on-the-job training under a master electrician, before taking the master electrician exam.
You may also like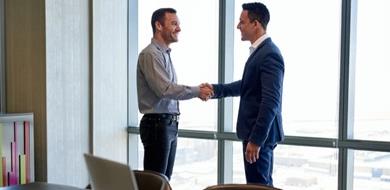 Contractor vs. subcontractor: What's the difference?
Learn about the difference between contractors and subcontractors and the types of liabilities that they face.
Go to article
What bonds and insurance coverage do electricians need?
Most states require any business with one or more employees to have workers' compensation insurance. Your state or local government might also require you to have surety bonds and general liability insurance.
To meet legal requirements and for their own financial security, electricians often buy these types of insurance:
Surety bonds
Surety bonds guarantee that the issuer will reimburse a client if you fail to deliver on a contract. These are required for many contracts, especially with government entities.
General liability insurance
A general liability insurance is often the first insurance policy that small business owners pursue. It insures you against common business risks like customer injuries, customer property damage, and advertising injuries.
Business owner's policy (BOP)
A business owner's policy bundles general liability insurance with commercial property insurance and offers more complete coverage at a lower cost than purchasing each policy separately.
Professional liability insurance
Professional liability insurance, also known as errors and omissions insurance (E&O), covers legal expenses when an electrician's mistake or missed deadline leads to a lawsuit.
Contractor's tools and equipment insurance
Contractor's tools and equipment insurance pays for the repair or replacement of your tools and equipment if they're lost, damaged, or stolen.
Commercial auto insurance
Commercial auto insurance covers your legal bills, medical expenses, and property damage to others if your work vehicle is involved in an accident.
While insurance and bonds may differ, both are key to a business's risk management strategy.
Compare business insurance quotes from trusted carriers with Insureon
Complete Insureon's easy online application today to compare insurance quotes from top-rated U.S. insurance providers. You can also consult with an insurance agent on your business insurance needs. Once you find the right types of coverage for your small business, you can begin coverage in less than 24 hours.