Small business spotlight: Through the years with Netfloor USA
Running a multi-generational family business comes with its unique set of challenges. This Q&A with the Netfloor USA team shows how to have a successful working relationship with family.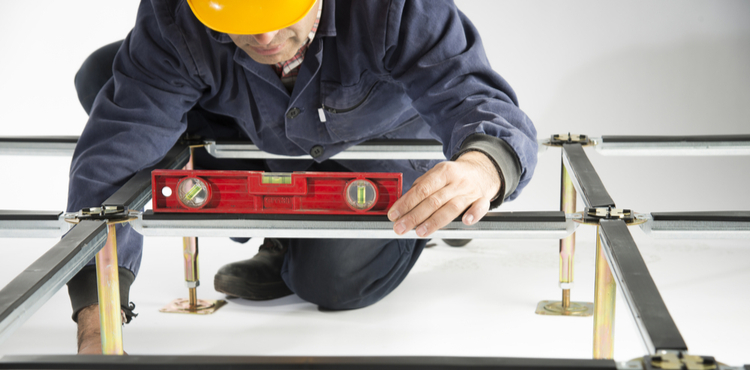 Ryan Hulland is president of Netfloor USA, a full-service design, manufacturing, sales, and installation company for a wide range of raised access floors based in Charlotte, North Carolina. We talked with Ryan about his experience working alongside his family and keeping their generational business growing.
The transcript below has been lightly edited for length and clarity.
Tell us a little about yourself. What's your background?
I'm married, and my wife and I have two incredible children. My family is the most important thing in my life, which can get interesting, considering I work with most of them.
I've been working for the family business going on two decades and have seen it change shape and complexion a lot in that time. It's been a cool combination of challenges, good times, bad times, and many learning experiences. I wouldn't change a thing!
When did Netfloor USA get its start?
While Netfloor USA is "only" five years old, I trace its lineage back to before I even worked here. There have been definite milestones, but overall, I see it as an ongoing evolution.
Netfloor USA is one of the major brands we run from the parent company (MonMan). Long before I began working here, we have been deeply involved in high tech industries. Furnishing tech equipment for data centers is a major part of what we do, and we saw a need in the industry for a better product. Opportunity lined up and we took the plunge, almost overnight becoming a manufacturer, installer, and owner of a brand of access flooring that is a big departure from the industry standard.
Sales pitch aside, the access flooring industry hadn't changed in decades. No one was innovating, and the products were only used in a few specific types of buildings. Netfloor USA has several systems that are much easier to use than the old-fashioned ways. Being more flexible has not only opened up business opportunities for us, but it has also changed the way architects design buildings, how IT managers operate their facilities, and how consumers experience their lives.
That's what we set out to do with Netfloor USA. We wanted to change the raised access flooring industry.
Who runs the business now? How do you split responsibilities and tasks?
My mom Vicky is the owner of our parent company (MonMan), and I'm vice president of that company. I'm the "second in command," so to speak. After my mother, I have the longest tenure of any other family member in the company.
As president of Netfloor USA, our biggest brand, I have significant leeway in how the company will evolve, but my loyalties and efforts will always be split between our customers, employees, and the business itself.
On a day-to-day basis, we have a very flat hierarchy. Anyone in the company can make suggestions, call someone out for a good job (or bad), and while the final decision does have to lie with a single person, we make the process as democratic as possible.
What sets you apart from companies with similar products?
We're an agile, innovative company in a mature industry, and that's incredibly valuable to our customers. Because our customers' needs are always changing, working with Netfloor USA is often the only way they can achieve the end result they envision.
Whether it's a data center for a major search engine, the largest mobile retailer in the country, or a local 911-call center, we make it easier for our customers to install and manage IT infrastructure than anyone else. We make businesses easier to run, and in the end, it makes people's lives a little bit better.
Did you ever consider a different line of work?
Even though I was surrounded by the business every day while growing up, it was a long time before the thought of working with the company crossed my mind. There was never any pressure or expectation for me to join the family business.
As a matter of fact, I feel there were times when I was encouraged to forge my own path and not join the company. I think any good parent would be torn between wanting to have their children follow in their own footsteps and hoping to see their children become something better.
How will the business adapt as time goes on?
Multi-generation family businesses must constantly ask themselves, "Who are we? What do we do? How do we want to be known?" You must continually assess your business and the marketplace just like any other company, but the pressure to stay relevant and to carry on the original mission feels much higher in a family business.
The biggest challenge to adapting is being willing to completely let go of what you've done in the past and work toward something new and exciting. It's almost counter-intuitive because many people feel a family business is all about tradition and being well known in the industry for that "one thing" you do really well. That urge must be met with an even stronger will to evolve and become better.
Does the next generation plan to carry on Netfloor USA's mission?
You not only have a responsibility to the here and now, but, if the company is to grow as a family business, you have to work to include the next generation. I have two children of my own and one of them is old enough to work part time in the office. As far as I can tell, he loves it. I wouldn't be surprised if he one day joins us full time. My other child is younger, so we aren't sure yet. But the door is open to them at any time.
Just like any aspect of parenting, you can't force your kids to do anything. The best you can hope for is to provide a strong, positive influence on them, but the choice is 100 percent theirs.
How does being a generational business affect your community?
We are very much involved in the local and regional community. For example, we've made annual donations to the same local charities for over 20 years. It's to the point to where most nonprofits don't bother to ask for a donation; they just send us the invoice because we've always donated. It's not presumptuous of them; it's just cool.
Like everyone else, we've been impacted (in good ways) by the information age. Past involvement in city organizations has grown into state and nationwide organizations. Over the past few years, our reach has extended globally. It's easy for anyone with an Internet connection to make ties around the globe, but for a generational company, the big challenge is defining your community.
What advice would you offer other small business owners looking to keep a family business afloat?
There is something about starting a business, growing it, and planning for the future well enough so you can involve your family that will be far more important than money for many people. Before you are faced with the decision to either sell your business or keep it and work hard the rest of your life, take a good look at yourself and decide what really matters to you! There's no wrong answer.
Tips from Netfloor USA on running a family business
Decide what your endgame is
Some people start a business, grow it, and then sell it to another company. You can't blame someone for wanting to cash out on their hard work. There's something to be said about not selling your company, though.
Plan ahead
Besides being passionate about what you do, it's all about planning ahead while being as agile as possible. Any business that wants to be around in five years has to do that, but it's even more important for a family business.
Honor tradition, but be ready to change course
The pull of tradition can become your company's Achilles' heel. The best way to honor the founder, even if it means changing course, is to grow the business. That's exactly what they wanted to do when they started the company.
Compare insurance quotes from trusted carriers with Insureon
Complete Insureon's easy online application today to compare business insurance quotes from top-rated U.S. carriers. Once you find the right policy for your small business, you can begin coverage in less than 24 hours.