Small business spotlight: Going green with JVM Design
Sherry Holub is creative director of Oregon-based JVM Design. JVM provides businesses with handcrafted web and graphic design, and printing services.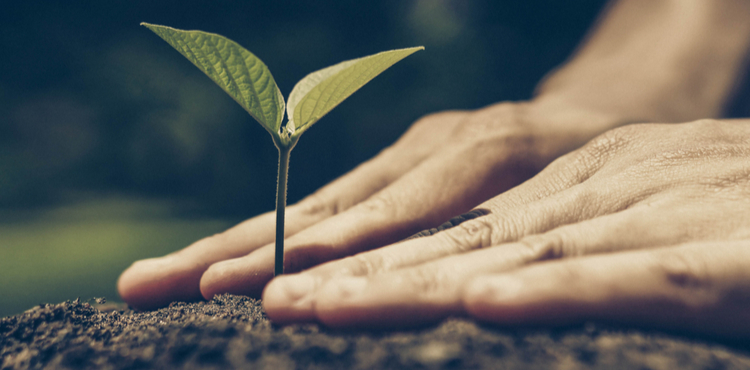 We talked with Sherry Holub about JVM Design's commitment to being a sustainable website design and marketing agency and the importance of eco-friendly business practices. Learn how small business owners can easily make the commitment to go green, too.
How did JVM Design get its start?
My background is in the visual arts and photography. I have a degree in studio art from UCLA School of Art. I started freelancing while still in college doing graphic design. Once I graduated from college, instead of taking on a full-time position as a graphic designer, I decided to form my own small agency, JV Media Design (now shortened to JVM Design).
As you can imagine, the internet was very different back in 1995 when I formed JVM. Our original focus was more on the graphic design and printing end of things. However, we did launch our first website for a client in 1995, and I knew then that the internet would pretty much change everything!
Custom website design soon became our main focus. Our clients have ranged from corporations as large as Nike to a family farm down the street from us, but we specialize in small business solutions.
What sets you apart from companies with a similar mission?
The thing we've always hung our hat on was custom design services. While competitors moved in directions such as utilizing templates or premade design, we knew that custom solutions would better meet our clients' needs and goals.
We've stayed a small company all of these years with a genuine focus on helping clients through our design and marketing services. Our client retention is excellent – that very first client we created a website for back in 1995 is still a client today, and we have many more that have been with us seven or more years.
Why did you decide it was important for your business to be green?
I've been into natural health and alternative medicine for many years, so my first awareness of environmental issues came from that arena. It was probably around 2005 when I made a more conscious effort to make JVM as green as possible.
What were the first steps your business took to go green?
Instead of renting a secondary office space, JVM has operated from a home office. In this way, I always had more control over the actual office environment. Having a relatively small footprint and allowing most of our team to also work from their home was the first step I took.
In 2007 when we relocated to southern Oregon, I was able to create an awesome space with sustainable bamboo flooring, lots of natural light, and no-VOC (volatile organic compound) paint. We're also very big on recycling – any paper, ink cartridges, and even old computers and electronic equipment get recycled.
We were also early adopters of using electronic agreements. In the early days, we had a double drawer filing cabinet full of client agreements and invoices. We were able to eliminate that by going paperless.
Did you set goals for your business or were you "all in" from day one?
I believe having a small company makes it a lot easier to accomplish the green goals. Once I knew I wanted to move in that direction, it didn't take very long to fix some of the main issues (such as eliminating a lot of the paper being generated). Other solutions came through research. For instance, purchasing renewable energy or carbon offsets.
Is being eco-friendly and green a selling point for your business?
I believe it is, but it's also something I would do even if it weren't a selling point! I think our customers appreciate that they have some sustainable / environmentally friendly options when working with us and that we're also committed to that.
Is it more expensive to take a green approach to doing business?
Technically, it does cost more to purchase green power or carbon offsets. Some of the greener printing solutions do cost a little more than non-green options. I just see these as the cost of doing business the way I feel is right for JVM.
Why do you think businesses find it difficult to be eco-friendly?
I think some businesses may think that it might be difficult or complicated to "go green," but in reality, it's pretty easy! Even small choices, such as going paperless or choosing more eco-friendly solutions for business products and services can make a difference.
We also have a history of offering first-time small discounts to other green businesses. So it doesn't necessarily have to cost more to go green.
What advice would you offer other businesses interested in going green?
Every business is different, so the specific green solutions available might be a little different. It's important to research what is available and how it can work for your own business.
As I mentioned, simple, more universal things such as going paperless or recycling are really available to everyone.
4 ways JVM Design keeps it green
This nonprofit organization awards a Green Business Certification to companies and organizations that meet or exceed its rigorous standards for environmental and social responsibility.
To earn certification like JVM, check out Green America's Green Business Standards.
2. Canvas Host
A Certified B Corporation and EPA Green Power Partner, Canvas Host provides web hosting services to customers worldwide, purchases locally produced renewable wind energy, uses energy-efficient servers, and employs conservation technology where possible.
JVM recommends Canvas Host's green web hosting services to clients.
JVM purchases renewable energy from Blue Sky. It's a local voluntary program that provides Pacific Power customers an easy way to support renewable energy in the region.
4. TerraPass
TerraPass carbon offsets support emission reduction projects (farm power, wind power, landfill gas capture, and water restoration) in communities around the United States.
JVM purchases a TerraPass for its company vehicle to make an investment in sustainability and to fight climate change.
Compare quotes from trusted carriers with Insureon
Complete Insureon's easy online application today to compare insurance quotes from top-rated U.S. carriers. Once you find the right policy for your small business, you can begin coverage in less than 24 hours.