Small business spotlight: Giving back with Elisa Contemporary Art
Many established business owners like to give back to their communities. Learn how art consultant and gallery owner Lisa Cooper lifts up her community with art-related programming for children and families in underserved communities.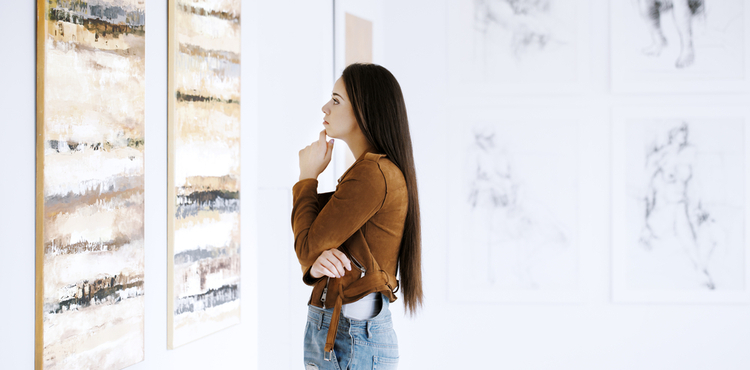 We got a chance to chat with Lisa Cooper, an art dealer, consultant, and the owner of Elisa Contemporary Art, about her business and its mission to give back to the community. Check out her advice on how small business owners can get involved in charitable work, why giving back matters to her, and how art transforms lives.
Tell us a little about your background and how Elisa Contemporary Art got its start.
I was born and raised in New York. Art, fashion, and style have always been a part of my life. My mother painted and designed jewelry, and my father worked his way up through Simplicity Pattern Company, when people to use to sew their own clothes, and had a passion for creating Nevelson-inspired wood sculptures.
Professionally, prior to opening Elisa Contemporary Art, I spent over 20 years in all areas of marketing, working in a range of small companies and big agencies before I went "client side" to Mercedes-Benz, where I managed the interactive and relationship marketing departments.
My husband, Mitch Cravens, and I were on vacation in Hawaii and as we were discussing possible new career directions for me, he said, "Why don't you open an art gallery?"
I launched Elisa Contemporary Art in 2007, and the Riverdale Gallery opened in 2008. The gallery mission from the start has been to present art that transforms our lives, and an integral part of that is helping others. A portion of gallery sales are donated to philanthropic organizations that help children and families in underserved communities heal and grow through their experience with art.
We are currently part of three to four art fairs a year in New York, the Hamptons, and Miami. We have also curated more than 15 exhibits in public and private art spaces within the Tri-State area, including the New York Design Center. The gallery is also on the e-commerce art sites Artsy, as well as 1stdibs.
I also continue to build and grow my connections in the art world. I am a member of Art Table, a co-leader of New York Chapter of the Association of Women Art Dealers (AWAD), a member of the Arts & Architecture Review Committee at Saint Peter's Church in Manhattan, and a member of the Bronx Arts Alliance.
It's fascinating that you found a way to meld your passion for art and your background in marketing by offering art consulting services. Can you describe these services – and maybe an example of a client you helped?
I think many people – especially new collectors – are intimidated by buying art. They often question their choices and selections. As an art dealer and consultant, I can provide a sense of ease and comfort with the process and introduce them to artworks and artists they may never have considered.
I believe every home should include art. It really gives you an opportunity to travel into a safe, joyful, or meditative place without ever leaving the room. And with all the stress in our lives, we all need that escape.
As an art consultant, I'll meet with a client in their home. At that time, we discuss what the client is most interested in or looking for to enhance their home or office. I take photographs and measurements of the space. During our conversation, I'll get a sense of:
Preferred artists or styles
Preferred medium (painting, photography, mixed media, sculpture, etc.)
Colors
Size
Budget
Then I'll come back with some ideas and initial selections. Some may be artists I represent at my gallery, others may be artists I work with from around the world but are not shown on my website. I also work with other galleries.
From the room photos, I'll create mockups so the client can get a better idea of how the artwork would look in their space. Based on what they like, we'll set up gallery and / or artist studio visits or in-home viewings.
I also work with artists to create special commissioned artwork. The process, which at first is intimidating to many, is not overwhelming when you work with someone you trust. My clients have been thrilled with every result.
The Elisa Contemporary Art gallery is located in Riverdale, New York. In a city that's famous for its art scene, how do you ensure the gallery stands apart from its competition?
There are two primary ways we differentiate ourselves from the competition. One is our selection of artists. As the owner, I only select artwork and artists that make me "feel" something. It can be joy or sadness, wonder or just a sense of calm. As I review portfolios and do studio visits, I take my head out of it and trust my heart and intuition. This allows me to be passionate about the work I represent.
I also enjoy focusing on artists who use materials in new and unusual ways. I am always looking for something that I have not seen before.
The other element is our philanthropic element. I know our commitment to helping others attracts different artists to my gallery, as well as a special collector base.
What's the biggest obstacle you faced when you started your art business?
The biggest obstacle was coming into this business with no collector base and having to build it up from scratch. Most people who start a gallery either come from another gallery or experience in a related art field. In some cases, they may even be an artist with a following.
The second challenge was the economic downturn, which started in 2008. At one of our first art fairs in Miami, you could feel people gripping their wallets – afraid to spend any money or buy anything. The fear was palpable! But we are still here in 2016 and building and growing every year.
Your gallery is focused on "changing the world through art." What role do you think art plays in lifting up individuals?
Art is uplifting in many ways. Art has the ability to transport someone into a different space without them ever leaving the room.
The interesting part about art is you can really tell through body language how someone feels about what they see in front of them. As we do the art fairs, we see thousands of potential clients. There are some who walk right by our space. There are others who walk in and take a deep breath. The artwork resonates with them and you can see it as it lights up their face!
Art also has a healing and therapeutic quality for those creating it. I have volunteered with Free Arts NYC and have seen the power of creating art with kids living in homeless shelters or "unseen" in other parts of their lives. When they share the art they have created, you can see how it changes their sense of self and builds resiliency.
There is also a great deal of research about the positive and healing impact of art therapy with many groups, including veterans. According to a recent Art Therapy blog, "If the human mind is stimulated properly, through an avenue such as art therapy, then the mind will progress in a healthy way towards overcoming trauma, depression, and even deeply seated guilt."
I have heard the stories from some of the clients of Art Therapy Outreach Center and know the tremendous positive results of their programs. In some cases, you can see it in the artwork's evolution over time.
Part of Elisa Contemporary Art's mission is to give back. Can you talk a little about why giving back is important to you as a business owner?
I have always believed that it is important to give back to others. When I was in corporate, I volunteered my time, and as a manager, I made sure we did at least one "give back" a year.
Because it is a foundation in my life, it naturally became a foundation in my business.
We'd love to hear more about your decision to donate a portion of gallery sales to Free Arts NYC, a nonprofit organization that works with children and their families in New York, and to the Art Therapy Outreach Center.
I had been a volunteer for Free Arts NYC when I was still in the corporate world. I worked with kids who were part of the "I Have A Dream" program in New York and parents and children in the South Bronx. I loved being a part of something that so positively impacted the lives of others. I am so impressed with the founding executive director Liz Hopfan and what she has created and how they have continued to grow over the years. As I launched my gallery, it was the first organization I aligned with.
In 2013, we started supporting Art Therapy Outreach Center (ATOC). I met with the executive director Martha Dorn, a woman I've known for over 20 years, and I was so impressed with the groups it was serving – underserved populations in the New York City area who have experienced some form of trauma, including war veterans, at-risk youth, and survivors of domestic violence or sexual abuse.
As a smallbusiness owner, how do you decide where to focus your volunteer efforts and donations?
It's critical to me to support organizations that I believe in. Those that are well run and continue to positively impact the lives of others. With every marketing piece I create, I include the names of the organizations that I support. It is also important that our efforts are noted and highlighted on their websites as well. The most positive relationships are those that are mutually beneficial.
When a client buys artwork, they are the one who decides which charity to support with their purchase. I give them information to read on each. It has also led to some new volunteers!
What are your future plans for giving back? Any upcoming charitable art events we should keep our eyes peeled for?
I have recently moved my home to Connecticut and I am keeping my eyes out for an additional charity to support in this region with the focus on art and an underserved community.
In September, we have the Affordable Art Fair in New York. I helped connect Art Therapy Outreach Center with the Affordable Art Fair, and for the past several years, they have built a strong mutually beneficial relationship.
In November, there is the annual gala for Art Therapy Outreach Center. For the past two years, I have "curated" their benefit. By using the artwork created in selected programs, it tells such a strong, compelling story – and sometimes the healing process shows in the work.
In early December, we'll be in Miami for Aqua Art Miami, sharing art and our philanthropic mission.
3 tips from Lisa Cooper for small businesses that want to give back
Make sure you do your research. Often that means time volunteering with organizations you're thinking of supporting.
Make sure the organization aligns with your business's mission statement and with your personal goals.
Make sure your support and donations are recognized. Look to create a relationship that is mutually beneficial.
Compare quotes from trusted carriers with Insureon
Complete Insureon's easy online application today to compare insurance quotes from top-rated U.S. carriers. Once you find the right policy for your small business, you can begin coverage in less than 24 hours.