Making life better with beer: The story of Temperance Beer Company
Many business owners don't take the conventional pathway to success. Get tips from Josh Gilbert of Temperance Beer Company, who turned his passion into his profession.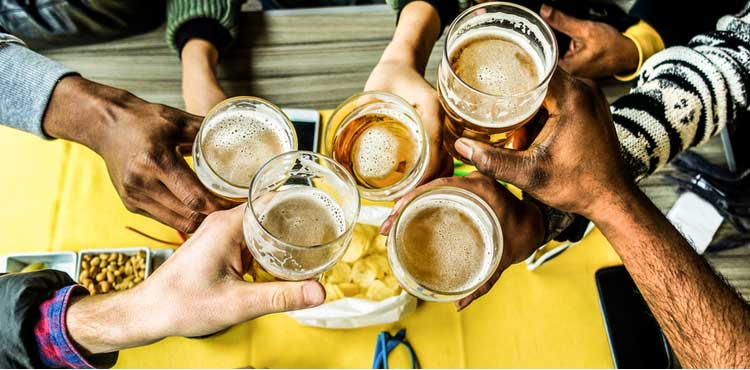 Prior to opening Evanston's first production craft brewery and tap room, Josh Gilbert worked as a professionally licensed architect and even co-founded a small firm of his own. In 2011, he decided to turn his home-brewing hobby into a business. Gilbert attended the Siebel Institute in 2011 to learn about running a brewery and opened Temperance Beer Company in 2013.
The path to small business ownership is seldom straight. In fact, it's pretty roundabout. And muddy. And full of rocks and brambles that seem to appear out of nowhere.
It takes courage to strike out on one's own, but those who do persevere are rewarded. Just ask Josh Gilbert, founder and owner of Temperance Beer Company. His journey to brewery owner started in possibly the least likely of places: an architectural firm in a city known for its dry laws.
Try something new-ish
"I am a licensed architect, and back when the housing bubble burst, I was in a two-person practice doing mostly residential projects," says Gilbert. "So over the course of 2009 to 2010, I had a lot more time to think about what I really wanted to be doing with my life."
Turns out, the thing that he wanted to do didn't have much in common with his profession.
"Beer had always called to me," he said. "I was a home brewer, so I decided to give it a go."
But while beer was his passion, he realized that he couldn't run the business and brew the beer. Luckily, he met Claudia Jendron, who was then a brewer at Goose Island.
Jendron's path to the craft beer industry was just as surprising as Gilbert's. According to a profile in the Chicago Reader, Jendron started out as a marine biologist studying sturgeon for the South Carolina Department of Natural Resources. Her science background meant she had studied organic chemistry, physics, and molecular biology, all of which are valuable to her new career as a brewer.
The takeaway: When you're striking out on your own, your instinct may be to stick with what you know. There's no harm in that, but don't forget you know more than your chosen profession.
Evaluate your interests and talents, and see which skills might transfer to a new line of work. Don't be afraid to try something new.
Make your own path
Gilbert's plan was to open his brewery in Evanston, a suburb just north of Chicago. But that created a couple of problems. The first hitch was finding a suitable location, specifically something industrial that could house brewing equipment. According to Gilbert, the low occupancy rates of 2012 helped solve that problem.
The next issue – regulatory approvals – was much thornier.
"Alcohol is regulated at every level of government, so we needed a lot of signatures," says Gilbert. "Overall, it was tough to figure out what we needed to know – there isn't a manual telling you how to open a brewery in Cook County or Evanston."
Not only was there no manual, but Gilbert found that Evanston, which didn't have any other breweries at the time, didn't offer a liquor license for a production brewery and tap room. That's when Gilbert realized he would have to work with the city to come up with the appropriate regulations.
Gilbert says, "After my initial meeting with the city's liquor control board, I worked with an assistant attorney from the city to draft an ordinance that, per the mayor, would create a liquor license suited to our business model." The process, he says, took several months.
The takeaway: If Gilbert's experience teaches us anything, it's that just because something hasn't been done doesn't mean it's impossible. If there isn't a path, make one for yourself.
Make a connection
Temperance may be an unusual name for a brewery, but Gilbert picked it because of Evanston's "tortured history with alcohol." The local government initiated dry laws in 1855 that lasted almost until 1972. In 1858, the Women's Christian Temperance Union made Evanston its home base.
But Gilbert points out that the group was interested in more than the prohibition of alcohol. The WCTU also wanted to improve people's lives and worked for women's right to vote, the eight-hour workday, and other social reforms.
"As the first brewery in the city, I wanted to tie into this rich history as sort of an end parenthesis," says Gilbert. "We see our mission as similar to the WCTU's: make life better. We just do it with beer."
The takeaway: The name Temperance does a lot of work for Gilbert's marketing efforts. For those who don't know the city's history, it's just clever enough to draw them in. But Evanstonians are in on the joke, and that makes them feel connected to their local brewery.
Look for ways to show your support of the community, and chances are the community will return the favor.
Beer isn't your drink of choice? That's okay. You can get more small business tips in "Living and working the dream: The Papapietro Perry Winery story." Cheers!
Compare quotes from trusted carriers with Insureon
Complete Insureon's easy online application today to compare quotes for small business insurance from top-rated U.S. carriers. Once you find the right policy, you can begin coverage in less than 24 hours.