Lessons in flexibility: Trepta Yoga's story
Business owners often struggle to think creatively while managing risk at the same time. In this interview, Erica Jung of Trepta Yoga talks about her journey from reluctant business owner to successful entrepreneur.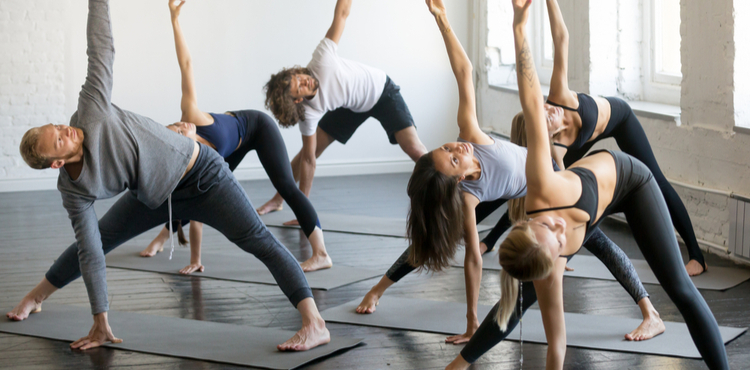 Looking at the number of CorePower and Lululemon franchises out there, you could easily dismiss yoga as the latest fitness craze. There's just one hitch: fads typically don't last 5,000 years.
Yoga is more than the workout you squeeze in before brunch; it's an ancient discipline that integrates the mind, body, and spirit. To celebrate International Yoga Day, we talked to one yoga studio owner whose work honors that history and whose story offers valuable insights for small-business owners in any industry.
Meet Erica Jung, owner of Trepta Yoga.
A philosophy of empowerment
Erica Jung originally had no interest in opening a yoga studio – even after studying the practice in India.
"I vividly remember people were like, 'Well, now that you're a teacher, do you want to have a studio?'" Jung says. "And I was like, 'No – I don't want that responsibility.'"
But within six months of her return, Jung changed her mind. In part, that was a result of working in healthcare. The more patients she spoke to, the more she realized a lot of their illnesses were stress based, and that led her to ask more questions about their daily lifestyles.
At the same time, Jung was teaching yoga, and as her practice took off, she noticed "there was a chunk of this science that was not being delivered." In the West, she says the focus is on the physical. But yoga teaches that physical health needs to be supported by spiritual and mental wellbeing. She realized she could help people live healthier and happier lives through the self-awareness yoga brings.
Empowering idea: Jung's business flows from her belief that yoga empowers people to live better lives, and that philosophy runs through every choice she makes. Follow her example by determining your core beliefs and staying true to them.
Creative solutions to age-old problems
Like most small-business owners, Jung faced challenges on her way to entrepreneurship. And like many, the first obstacle was money.
"That's a huge hurdle – taking a major pay cut and landing in the unknown for a while to see if it was going to work or if it wasn't going to work," Jung says.
Instead of taking out loans, Jung saved her own money until she could afford the studio on her own. But even then, making a go of it required some creativity.
She points out that yoga teachers have a lot of dead time in the middle of the day, and they need to find a way to make that time valuable. For Jung, that meant asking two important questions:
What other venues outside of the physical studio can be used for generating income?
How can I package and translate yoga for the mass public?
Jung realized that the people who might most benefit from yoga probably were the least likely to seek it out. This motivated her to create lunchtime zen programs, teach corporate yoga, and give talks in schools for teens and preteens. But she also knew she couldn't just walk into an office full of lawyers and start talking about om shanti, so she tweaks her message for each audience.
Empowering idea: Look for ways you can repackage your services to reach different demographics.
Small can be big
Customers usually present some degree of risk, and that's especially true when your services include physical activity. Jung manages that risk with the usual consent forms, but she says she and her staff have cultivated a culture of safety.
"In our studio, we all know each other. All the teachers know all their students' names," says Jung. "They have conversations with them, so people reveal quite a bit of their own situations."
With that information, instructors can adjust poses to suit the student's unique needs.
Jung explains that a tight relationship between teacher and student is closer to the traditional practice and allows people to feel safer. Larger facilities have massive overhead, she says, so they're going to put 30 or 40 people in a class.
"As an instructor, how are you going to manage a massive array of abilities and still keep class going?" she asks.
Empowering idea: Bigger isn't always better, especially if your growth isn't planned. Be honest about your capacity and scale accordingly.
Compare quotes from trusted carriers with Insureon
Complete Insureon's easy online application today to compare quotes for general liability and other kinds of insurance for yoga studios from top-rated U.S. carriers. Once you find the right policy, you can get coverage in less than 24 hours.
Erica Jung got her start teaching yoga after life-altering training in India. Known for her playful, challenging, intelligent, and innovative style, she encourages removing fear and obstacles through self-love and curiosity. Jung aims to inspire by showing everyone is capable. Her teachings are strongly influenced by the traditions of Ashtanga and anatomy, and she continues to study extensively under Raghunath Cappo and Tiffany Cruikshank.