Keeping track of business paperwork
In a busy office, documents can quickly get out of hand. With a few simple steps, though, it's easy for small business owners to get a handle on office paperwork.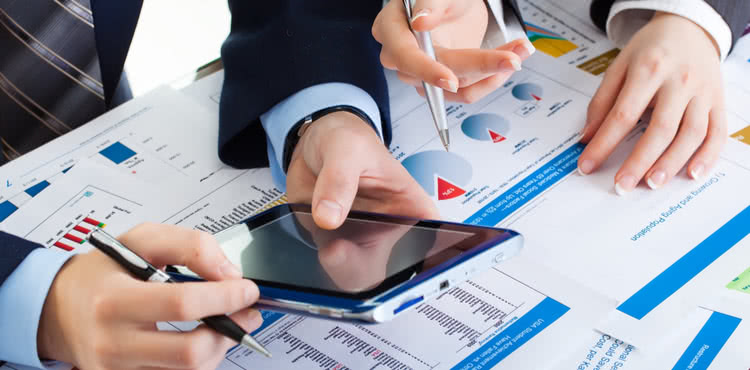 A cluttered office can make your job more difficult to do in a timely and efficient manner. It's costly, too. The average company spends $120 to recover a lost document.
Bud Roth-Porter, document management consult and owner of Porter-Roth Associates, says that searching for a misfiled document costs time to find. And if it's not found, there's the cost of recreating it. An equally important cost to consider: the loss of information in the missing document, which may lead to a business decision based on inaccurate information, he adds.
To get started on organizing your small business, try these paperwork pointers.
1. Establish a file naming convention
You've got a conference call with a client in 10 minutes, so you need to retrieve their project file for reference. Is it filed under the customer name or sales zone?
Thomas McClintock, COO of online marketing company NSI Partners, says that firms often have neither a systemized plan that specifies who is responsible for the documentation workflow, nor any documentation procedures to ensure that important records are stored, found, and managed in the same way.
To get organized, choose a naming convention style and stick to it. Consider these filing methods:
Alphabetical
Numerical
Chronological
Geographical
Don't stray from a system once you've established which method works best.
2. Keep all documents in common filing areas
Roth-Porter points to a lack of common filing areas as a cause of clutter conundrums. "In an average office, files can be filed in a file room, a file cabinet, an office file cabinet, a personal desk, and an archival storage area," he says.
All those options mean more ways to lose track of your documents.
Instead, create a common filing area for specific types of documents. For example, keep bills in a secure, accessible desk drawer for easy reference, and keep old client contracts in a filing cabinet.
Like anything else, organizing efficiently can take practice until you get it right.
"The best way to make any new filing system work is to make it a mandatory part of the daily office routine," Roth-Porter says. "If people continue to hoard documents in their office or consistently ignore the new filing schema, ensure these people are made aware of their lapse."
3. Train all employees on company organizing procedures
Once you've established a clear organizing and filing method that make sense for your business, educate all employees on these procedures. Documents can fall through the cracks when everyone isn't on the same page.
NSI Partners hired professional organizer Gina Caughey, owner of A Call to Order, to help get things in shape. As the company grows, McClintock says their need to train new employees on nomenclature and file-naming schema has only increased.
To get new hires up to speed, design a how-to guide for your employees. McClintock says that NSI Partners is developing a procedure manual to:
Save costs training new employees because their systems have become more defined and complex
Act as a reference for staff in general
McClintock also advises reviewing procedures periodically to ensure nothing is overlooked.
4. Go digital with paperwork, but don't forget to back it up
Document management and disaster planning are essential, as illustrated by one particularly harrowing story Caughey shares about a client.
The client owned a building that sustained heavy storm damage. "As if this wasn't bad enough, this particular building was used to store client documents and valuables," Caughey says. "Fortunately, eight months prior, A Call to Order had set up a disaster-sustainability system that the company was able to implement within hours."
Caughey says this allowed company officials to:
Assign priority status to key construction vendors who fixed the damage within 72 hours
Use a media plan to instruct employees on contingency plans and to conduct public outreach
Minimize downtime
An event that could have bankrupted the company ended up being a three-week hiccup.
Keep digital copies of important documents in the cloud, as well as paper-based backups in a storage facility, Caughey recommends. When disaster strikes, you'll have peace of mind that your important documents are safe.
For more on creating a disaster recovery strategy, check out "What's your business continuity plan?"
Compare quotes from trusted carriers with Insureon
Complete Insureon's easy online application today to compare insurance quotes from top-rated U.S. carriers. Once you find the right policy for your small business, you can begin coverage in less than 24 hours.