Have a website? Make sure it doesn't crash
When your website is down, every passing minute is a lost sales opportunity. Learn how to prevent a website crash from derailing your business.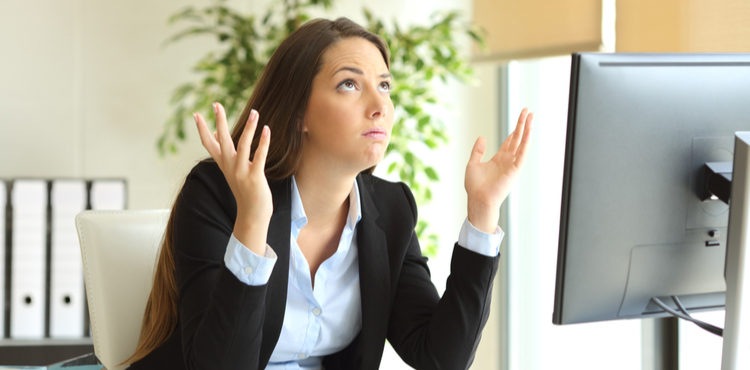 It's 2015 – of course you have a website. For many small business owners, their website is one of the first investments they make in their business, and rightfully so. Most people won't even know a business exists if it doesn't have some form of online presence.
If you sell products or services, chances are your website plays a key role in the sales process. If you run an ecommerce business, your website may be the only tool you have to close sales. In other words, there's a lot at stake when your website crashes.
Let's take a look at what we mean when we talk about "crashes" and how your business can mitigate the chance of one happening.
What causes website crashes?
A crash can refer to any unplanned or unexpected downtime your website experiences (e.g., network failures, software glitches, or power loss). According to The Washington Post, crashes can be caused by:
Natural disasters
Overwhelming spikes in traffic
Programming errors
Cyber attacks (e.g., distributed denial of service (DDoS) attacks)
Demand that surpasses the site's capacity
For example, say your small business is the target of a denial of service attack. The cyber crook uses a botnet – i.e., a network of zombie computers infected with malware – to flood your website with traffic that exceeds its operating capacity, effectively shutting down your site.
What's in it for the hacker? The criminal demands that you pay a ransom if you want your site to run again. (Good thing cyber liability insurance can cover that cost.)
Other crashes may be caused by less nefarious reasons: if a rush of customers visit your website to take advantage of Black Friday deals, the demand might be too much for your server to handle. When traffic exceeds what your server and hosting configuration was designed to handle, your website crashes.
Why crashes are bad for business
If you've planned an online sales event or product release, the goal is to get a lot of traffic to your website. But if your site doesn't have the capacity to handle that traffic, all your planning, marketing, and money may have been in vain.
Every minute that your website is down is a minute a potential client or customer moves on to a competitor whose site is working just fine. When you're a small-business owner, you don't just have to worry about corporate competitors – most of the time, you're competing with other small or local businesses. And if those businesses are better prepared than you, customers take notice.
Remember, the Internet has made smarter, pickier customers. The whole point of shopping online is convenience, and if your website isn't responding, expect to lose money. Lots of it.
How to curtail website crashes
Don't let a crash catch you off guard. Anticipate and plan not for the web traffic your site currently has, but what you want it to have in the future. Here are some ways to do that, according to the website development company Bop Design:
Test your site before a product launch or big sales event
You may need an IT professional's help for this one. They can use load-testing tools to mimic a spike in incoming traffic and locate your website's slow spots.
Use a content delivery network (CDN)
CDNs (also called "scalable cloud hosting services") offer cloud-based automatic scaling services that optimize content delivery no matter how many people are accessing your site at once. It's a reliable option for small-business owners who don't want to fuss with server configurations. Amazon, Akamai, and Windows Azure are just some of the names in the CDN business, but there are plenty to choose from. You may want to explore this option for your site if:
Your customer base is spread out over a wide geographic area (e.g., nationwide)
Your site experiences spikes in traffic after new content or products are released
You offer streaming services or downloadable content
Your website requires top speed and reliability to compete with similar businesses or services
You're concerned about denial of service attacks
Regularly back up your website's files and databases
If your site does crash, your backup allows you to quickly restore current content.
Update your website software
If your website's content management systems, shopping carts, or message boards aren't up to date, bugs and glitches can cause unexpected crashes or slow response times.
Check for data caps
Contact your web-hosting company to ensure your site doesn't have a data cap, which limits the amount of data transfer to and from your site. If you expect to get an influx in traffic on a certain day, it might be worth the extra expense to pay to remove these caps during that time.
As a last note, if you have a fear of all things technical, consider hiring an IT professional to help you get your website in shape.
Compare quotes from trusted carriers with Insureon
Complete Insureon's easy online application today to compare insurance quotes from top-rated U.S. carriers. Once you find the right policy for your small business, you can begin coverage in less than 24 hours.