How to fire friends or family without terminating your relationship
Even with the best of intentions, there are times when the friend or family member you hired isn't living up to your expectations. In those tough situations, here's how you can fire them without jeopardizing your close bond.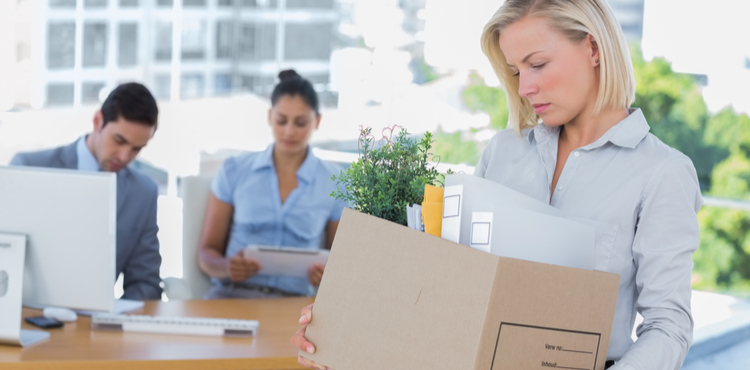 Most small businesses couldn't get off the ground without support from family members and friends. Some small-business owners even hire the folks they're closest to when first starting out. While working with family can be a successful arrangement, other times, it's just not a good fit.
Letting someone go on a small team is already hard enough. Giving a loved one a pink slip can be even more frightening. The best management strategies in the world can't take that feeling away, but these tips can help reduce the sting of firing a friend or family member.
1. Make sure the problem is them, not you
If you haven't given feedback to the friends or family members you employ, it's not reasonable to expect them to get better. Before you show them the door, make sure you give them feedback and the appropriate training first.
Derrick Mains, a small business consultant and creator of the management operating system Amplify Your Outcome, notes that can be hard. He says many people struggle to give feedback in general, but particularly when it comes to family and friends.
Jill Panall, owner of the HR consulting firm 21Oak HR Consulting, agrees.
"I often find that business owners limp along for a while with problem employees because they are afraid to upset the apple cart," Panall says.
Panall said no good can come from not telling the employee about an issue and hoping it gets better, regardless of the relationship.
Mains notes that firing someone is easier if they're clear on what they're accountable for. He recommends giving employees feedback that's "quantifiable, actionable, and motivating." When employees have clear metrics by which their performance is assessed, termination is easier for them to understand, he says.
To recap, give employees specific jobs, let them know how their performance will be measured, offer feedback and training, and give them a chance to improve.
If they don't improve, you have proof that things aren't working out.
2. Remember this is strictly business
If feedback and training falls short, chances are you'll feel more confident in your decision to cut your loved ones loose.
Larry Sternberg is a senior leader at the management consulting firm Talent Plus, and he says these questions can help you decide when it's time to fire someone:
Have you taught, coached, and given the person ample time to learn?
Have they tried their best?
Does the role require behaviors that are not in the person's repertoire?
Do you believe that additional efforts won't turn the situation around?
If you answer "yes" to these questions, it's time to proceed with termination. Learn more about navigating the termination process in "What if you can't afford your employees' salaries anymore?"
Remember: this is business. You have to act for the good of the company, even if it means hurt feelings.
3. Do it with compassion
Once you're ready to begin the termination process, start by making sure the employee understands why they're being let go, Panall suggests.
Terry Dockery, an industrial / organizational psychologist and president of The Business Psychology Company, adds that in some cases that the act of firing someone is a compassionate gesture.
"Keeping a family member or friend in a business role in which they're failing is very harmful to them," Dockery says. "On some level they know they are failing, and it damages their self-esteem and long-term happiness."
If applicable, remind them of their strengths and that even though this role wasn't a good fit, you are grateful for their contributions.
No matter how much you soften the termination talk, though, Sternberg says some damage will be done to your relationship, and that damage might take time to repair.
"It's part of the cost of making the right decision," Sternberg says. "Even if the break is done with genuine caring and compassion, it's still a heavy blow. Accept the fact that firing this person will be painful for both parties, but do not allow that to deter you from acting."
So act with compassion, and recognize that you may have to do some emotional labor outside of the office to heal the relationship, too.
Compare quotes from trusted carriers with Insureon
Complete Insureon's easy online application today to compare insurance quotes from top-rated U.S. carriers. Once you find the right policy for your small business, you can begin coverage in less than 24 hours.
About the contributors
Terry Dockery, Ph.D., is a business transformation coach and president of The Business Psychology Company in Atlanta, Georgia. Since 1993, he has helped business leaders double their revenues and happiness. His clients have won numerous national "Best Places to Work" awards, and his recent book, Leadership, Happiness, & Profit: 12 Steps to a High-Performance Business, was an Amazon #1 bestseller.
Derrick Mains is the creator of Amplify Your Outcomeand former CEO/COO in the sustainability, technology, gaming, and IOT fields. He has consulted for and invested in more than 120 companies and is a speaker, strategy advisor, and operations expert.
Jill Santopietro Panall, SPHR, SHRM-SCP, is a 20-year veteran of human resources, is an HR consultant specializing in helping small businesses, startups, and non-profits without full-time, internal, credentialed HR professionals on staff. Her company 21Oak HR Consulting is headquartered in Massachusetts, and she also works with clients across the country and with international clients who are hiring personnel in the United States for the first time.
Larry Sternberg, JD, is a senior leader at the internationally recognized management consulting firm Talent Plus. Sternberg is one the most innovative thinkers in human resources today and has held leadership positions as chair of management consulting, leadership, consulting, and client engagement, and most recently president. Now as a Talent Plus fellow, Sternberg is an often-requested speaker and consultant. Sternberg authored the book Managing to Make a Difference with Dr. Kim Turnage.