What you need to know about coronavirus if you have employees
The ongoing coronavirus outbreak is hurting small businesses across all industries. Companies with employees have even more at stake.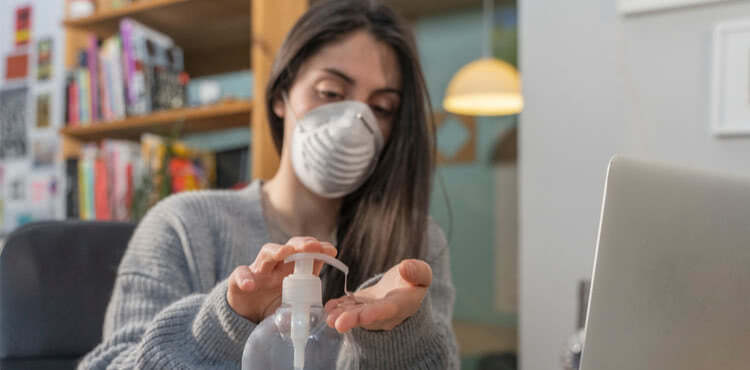 Economic uncertainty is spreading like wildfire as the coronavirus (COVID-19) worsens. And small business owners are quickly realizing that it could threaten their livelihoods for months.
This is not speculation. A recent NFIB survey shows that the pandemic is negatively affecting 23% of small business owners, and that number will surely grow as the coronavirus spreads. Business owners may naturally wonder if their insurance policies cover financial losses caused by pandemic.
Unfortunately, business insurance probably won't cover losses related to the coronavirus. For example, business interruption policies typically exclude losses due to infectious diseases (unless you have a communicable disease rider).
Sole proprietors in some industries may not have to change their business practices. But small companies with employees must take action to protect worker health and safety, consider how to assist laid-off staff, and plan for future pandemics and disasters.
Implement employee health and safety measures
As more state and local governments move to ban even small gatherings, business as usual is changing. To help keep your employees and customers safe, take these simple steps.
Suspend nonessential employee travel
Limiting close contact and crowds is key to slowing the spread of COVID-19. Postpone nonessential business travel until the outbreak is contained.
If you or your employees were planning to attend a conference or event within the next few months, it has almost certainly been canceled or moved online. Forbes has compiled a comprehensive list of canceled and postponed events.
Many airlines, hotels, and events are offering refunds for cancellations due to COVID-19. Some business insurance policies cover the costs of travel cancellations or itinerary changes.
Certain special event policies also reimburse you for event postponement or loss of deposit coverage. But to apply, those policies must have been in place prior to the coronavirus outbreak. Check with your agent to see if you're covered.
Encourage employees to work from home
Forbid employees with symptoms of a respiratory illness from coming into your business or meeting with customers or clients.
Whenever possible, allow employees to work from home and collaborate using phone, email, and videoconferencing. If they're not used to working remotely, encourage them to:
create a dedicated workspace
stick to a set schedule
routinely check in with their colleagues
regularly take short breaks
With schools closed across the country, many employees have children of all ages at home. Some workers are also dealing with sick relatives who need care.
Business owners must understand these challenges and give employees some leeway. For example, flexible hours can help employees manage work and life responsibilities more effectively.
Sanitize work equipment and surfaces
If your local government still allows employees to come to your workplace, regularly sanitize equipment and frequently touched surfaces. The Centers for Disease Control coronavirus prevention guidelines recommend sanitizing high touch surfaces like doorknobs, tables, desks, light switches, faucets, and sinks with household cleaners and disinfectants.
Employees who must travel to client offices should try to remain six feet away from others. Washing their hands regularly should go without saying.
No matter how hard you try to protect your business, your employees, and your customers, COVID-19 may still take a financial toll. Reduced revenue, closures, and continued spread of the virus may mean you'll have to let some employees go.
Assist employees who lose jobs because of the coronavirus
The coronavirus has already caused layoffs in some industries. Declining sales and shutdowns could force more businesses to reduce staff.
Government leaders have shared that in a worst-case scenario, the virus could cause the unemployment rate to skyrocket to 20%.
New forms of financial aid and changes to unemployment benefits can help employers and laid-off employees alike.
Apply for a government-sponsored loan
The U.S. Small Business Administration (SBA) is now offering disaster assistance loans for companies that have suffered financial hardship due to the coronavirus, including payroll costs. The loans offer up to $2 million in assistance, with an interest rate of about 4% payable over 30 years.
The SBA has also updated disaster loan eligibility criteria for small businesses. To apply for relief, your company must be located in a state where at least five small businesses have experienced significant economic losses.
Keep up with government financial assistance programs
In response to the wide-reaching financial impact of the coronavirus, the federal government is debating a number of fiscal options to help Americans through this outbreak.
States are also in the process of changing their unemployment and disability benefits plans.
For example, sick or quarantined workers in California can now apply for disability benefits ranging from $50 to $1,300 per week, depending on their wages. Employees who've been laid off can still apply for the maximum $450 weekly unemployment payment. The state has waived the one-week benefit waiting period.
New York, Illinois, Texas, Pennsylvania, and other states have also waived unemployment benefits waiting periods to help laid-off workers.
If you may have to lay off employees or reduce their hours, stay up to date on federal and state laws and share that info with them. Note that most states' unemployment benefits do not apply to contractors and freelancers.
How government agencies respond during this emergency may indicate how they'll react to future ones.
Prepare for future disasters and pandemics
The impact and scope of the current pandemic may be extraordinary, but unexpected events are nothing new. Events like natural disasters, armed conflicts, and diseases have all had a catastrophic impact on businesses through the years. The important thing is to prepare and plan for future risks to minimize the effects of these events.
Create a business contingency plan
The coronavirus is a prime example of why you need a business contingency or disaster recovery plan.
This plan outlines how your business will proceed when unexpected events occur. A business contingency plan typically includes:
potential risks, such as disease outbreaks, natural disasters, workplace harassment, building collapses, and civil unrest
resources needed to continue business operations, including employees, supplies, utilities, and equipment
lost revenue estimates and costs of recovery
action plan for each risk scenario
The Department of Homeland Security's Business Continuity Plan guidelines show how to evaluate your business's risks as you create your plan.
Manage finances online
Many small businesses have transitioned from paper paychecks and in-branch bank deposits. But those that haven't should consider the benefits of going digital should an emergency arise.
Bank branches are considered essential businesses and are currently open across the country, but that may change. Managing finances online allows you to move money between accounts without visiting a physical location or coming into direct contact with others.
If your business mostly accepts cash payments, now is a great time to set up accounts with online services like PayPal and Venmo.
And if you still pay employees with physical checks, talk to your bank or payroll company about setting up direct deposits. That way your workers won't have to visit a branch to deposit their paychecks.
Assemble a disaster recovery kit
Your employees will thank you for taking the time to create this kit before the next emergency strikes.
Supplies will depend on the event, your location, and how quickly authorities can respond. But in general, items to consider include:
bottled water
canned goods and a can opener
flashlights and spare batteries
first-aid kits
face masks
personal sanitary supplies
extra cell phone chargers
You can't predict or prevent viral outbreaks, disasters, or other crises. But you can prepare to give your employees a better chance of preserving their livelihoods – and their lives.
The coronavirus outbreak serves as a reminder to re-examine your business insurance coverage and what your policies will cover the next time the unexpected happens. Insureon agents can help you understand your options and how you can best protect yourself from future catastrophes.
Give our experts a call at (800) 688-1984 with questions about insurance coverage or policy options. You can also complete Insureon's easy online application today to compare quotes for business insurance from top-rated U.S. carriers. Once you find the right policy for your small business, you can begin coverage in less than 24 hours.