Best organizational apps and hacks for small businesses
These productivity boosting apps and hacks favored by small business owners will save you time and money.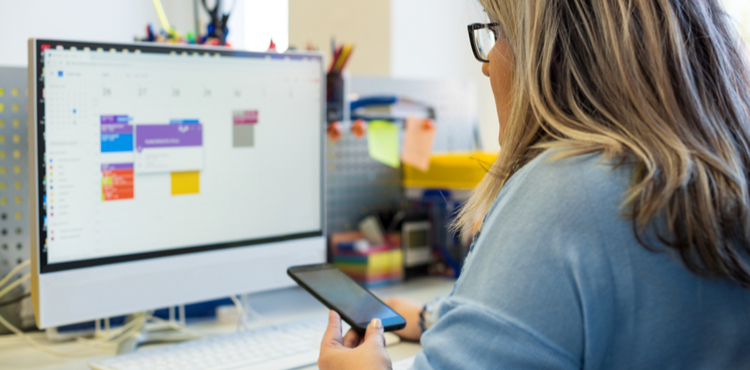 Looking to get your business more organized? There's an app for that – in fact, there are several. These apps can help maximize your time, money, and productivity.
Let's take a look at some favorite organizational apps and productivity hacks straight from the source: small-business owners.
Evernote
What it is: Evernote is an organizing app that lets users take, share, and collaborate on notes, and it syncs to all your devices.
Who swears by it: Mike Veny, mental health speaker and founder of TransformingStigma.com, says that taking notes is critical to staying organized and saving time. "I've recently saved time through downloading an app that can scan documents to PDF files in Evernote," he says. "It works faster than most scanners."
What it costs: The basic app is free, but paid accounts have even more features.
Forecast
What it is: Brought to you by the folks behind time-tracking app Harvest, Forecast is all about time management.
Who swears by it: Mark Tuchscherer co-founder and CEO of Geeks Chicago, says Forecast allows them to track developers' projects and forecast upcoming ones.
"It helps us see if we have some people scheduled for too much work and lets us know when other people will be free," Tuchscherer says. "Project managers (and others) can view and update our info in real time. We used to track developers in a shared spreadsheet and it took a lot of time."
What it costs: You can try Forecast with a free 30-day trial.
FreshBooks
What it is: A cloud-based accounting solution designed for service-based small-business owners, FreshBooks can help you track time, log expenses, and create invoices.
Who swears by it: Entrepreneur and business operations strategist Alaia Williams says the latest version of FreshBooks is the best to date. "If I'm seeing more than one client in a day, it is so handy to be able to track time in the app," she says. "I no longer have to worry about waiting until I am able to get to my computer to recreate my day and log time."
What it costs: You can try it for free for 30 days.
Insightly
What it is: Insightly can help with customer relationship management (CRM) and project management – whether that's handling client leads, sales opportunities, or generating reports.
Who swears by it: Marc Prosser co-founder and managing partner Fit Small Business, says Insightly makes it convenient to handle both projects and contacts in the same software.
"The key to keeping your small business organized is breaking projects into small, well-defined, and repeatable steps, and then assigning responsibility from there," Prosser says. "That way, you can turn complicated processes into manageable tasks."
What it costs: Insightly offers a free 14-day trial and multiple price plans.
Trello
What it is: Visual collaboration app Trello uses a kanban system to make it easy to manage and assign tasks.
Who swears by it: Aytekin Tank founder and CEO of online form building company JotForm, organizes tasks based on priority and level of progress with Trello. "It's the first thing I log into every day," he says.
Additionally, it gives Tank's team the ability to add checklists, documents, and links to certain projects.
"We break up Trello boards by team," Tank says. "It allows me to check the progress on our marketing, development, and design team really easily."
What it costs: Trello is totally free.
Wunderlist
What it is: Wunderlist is an all-in-one organizing app to help you keep your business – and life – in order.
Who swears by it: Shannon Steffen founder and CMO of Daymark Digital, hails Wunderlist as "the best task manager ever."
"You can keep track of client projects, assign tasks to team members, keep running conversations, and even remember to pick up bread on the way home," Steffen says. "Share projects with team members or clients for even more flexibility without breaking the bank."
What it costs: You can create a free account or upgrade to the pro account for more features.
Additional Hacks to Help Your Business Save Time & Money
Technology and apps are a great way to work more efficiently, but they can also be a distraction. Jacques Bastien digital marketer, professor, and entrepreneur, offers two tips for preventing distractions and increasing productivity:
1. Only check your email at set times. It ensures emails that appear important and urgent don't distract you until you're ready to give them your full attention.
2. Use your browser in full screen or presentation mode. With a single tab open, you'll be able to focus more on what's in front of you.
These hacks can potentially help your business save time, which can ultimately help you save money. Another way to save? Hack your small business insurance with these tips:
Classify employees correctly for the lowest Workers' Compensation Insurance rates.
Estimate your revenue conservatively your first year in business to avoid overpaying for coverage.
Bundle your policies to get more coverage for less (e.g., Business Owner's Policy).
For more productivity boosting inspiration, check out "Home office hacks for higher productivity."
Compare quotes from trusted carriers with Insureon
Complete Insureon's easy online application today to compare insurance quotes from top-rated U.S. carriers. Once you find the right policy for your small business, you can begin coverage in less than 24 hours.