13 ways to be a better boss to yourself
There are many perks of being your own boss, including setting your own schedule and having the freedom to make decisions. With the following tips, you can become an even better boss to yourself.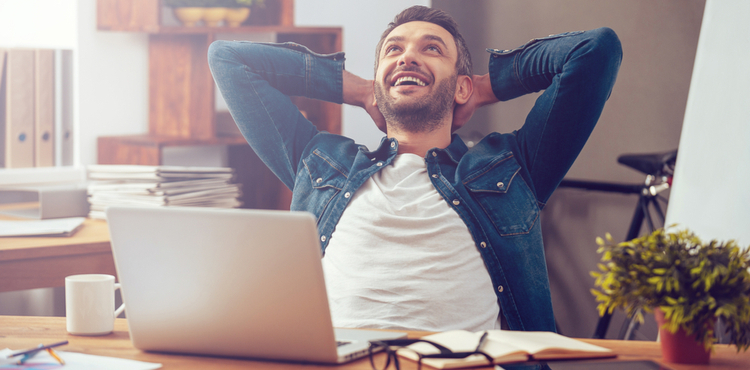 Back when you were an employee, you probably spent more than a few hours daydreaming about being your own boss. But running the show isn't easy, even when you love what you do. Rather than letting your expectations drive you crazy, check out these pointers from people who have been there before. They offer tips on improving your discipline, finding balance, and being a better boss to yourself.
1. Find balance in the big picture
"If you work too much on being balanced in a given day, you'll have a hard time establishing the deep focus needed for success in your work, relationships, or hobbies," says psychotherapist and emotional intelligence coach Steve McCready.
Your better option, he says, is to carve out space in your quarterly or yearly plans for the important parts of your life.
"Put them on your calendar and honor them," he says. "Whatever you're doing, embrace it fully and dive deep."
2. Learn to say no
"Don't feel compelled to say yes to others' demands on your time," suggests corporate executive coach Susan Gilell-Stuy of the Leadership Compound. "Simply say no, and you'll find the other person responds with, 'That's OK, thanks.'"
3. Make a do-not-discuss list
According to Gilell-Stuy, rehashing the past doesn't benefit anyone – especially you. She says you're better off gathering the right resources, fully vetting the root cause of the challenge, and formulating a plan to move forward.
Once these are decided, the issue goes on your do-not-discuss list. Gilell-Stuy recommends you "only talk about new developments or forward movement."
4. Let others lead
"Promote key staff members and allow them to lead teams with you on them," says Hajmil Carr, CEO of B2B digital publishing and marketing firm TrueLine Publishing. "This will help cultivate their strengths, as well as give you an inside look at how things work from a different perspective in your organization."
5. Go outside
"I think it's important to reset by getting away from the internet, screens, and the rush of everyday living," says Robert Ellis, the owner of Massage Tables Now. "As a business owner with a lot of responsibility, you need to prioritize your physical and mental health. Spending time outside in nature helps both."
6. Define your workspace
Lana Moore, founder and CEO of the online community MarTechExec, says that moving into an office space helped her find balance.
"When we moved into office space, work became more defined," she says. "It became much easier to separate work from personal life."
Before you move into your own space, read "New office checklist for small businesses."
7. Get a second phone
"I have a phone that is completely dedicated to work," says founder of The Babysitting Company Rachel Carlupski. "When I am not working, that phone is off. I do not work on my personal phone. It has changed my life!"
8. Read books
Owner of EcoEnclose Saloni Doshi says, "We are constantly inundated with digital content, which can be stressful and distracting. It's easier than ever before to get pulled into multiple directions by email and online material."
Her tip? Read good old-fashioned books to help you relax and exercise your mental muscles.
9. Manage your attention
"The key to self-discipline is attention management," says speaker and trainer Maura Thomas. "Attention management means you decide where to direct your focus at any given moment based on your priorities."
She suggests using stream of conscious writing to get your head in the game. Grab a pen and paper and write whatever comes to mind without censoring or organizing it.
"Our brains are much better at creative, strategic thinking and problem solving than they are at remembering details," says Thomas. "If we clear our mind of the minutiae (mental clutter), the 'good stuff' often appears."
10. Hire well
"You need to choose your team wisely," says Kostis Mamassis, founder and CTO of online inventory management system Megaventory. "I ended up leaving the first business I founded because I was fed up with the daily operations and my team."
For hiring tips, read "5 HR pros reveal the secret to hiring the right employees the first time" before you do.
11. Stop beating yourself up
President and owner of American Image Displays Charles Dugan reminds us that nobody is perfect.
"Don't beat yourself up over mistakes you make," he says. "Negative thoughts can impact your productivity and work environment. Have a positive attitude and outlook, even if things aren't going as you planned."
12. Set your schedule
According to Ajay Prasad, founder and president of GMR Web Team, "Being your own boss and having so much more freedom can be dangerous to someone who once lived in the corporate world."
To find balance, Prasad reverted back to his old 9-5 habit: setting a schedule and sticking to it.
13. Take time for yourself
"Do something that is soul satisfying and that will nourish your inner self – meditate, run, listen to music, read, work in your garden, work out – whatever brings you joy and helps you to recharge and re-energize," says Tom Ingrassia, founder and CEO of the coaching firm The Motivact Group. "Even if you can find just 30 minutes in the hustle and bustle of your daily life, take that time just for you."
Compare quotes from trusted carriers with Insureon
Complete Insureon's easy online application today to compare insurance quotes from top-rated U.S. carriers. Once you find the right policy for your small business, you can begin coverage in less than 24 hours.