Answers to your coronavirus (COVID-19) business insurance coverage questions
The coronavirus outbreak has left many small business owners wondering if their insurance covers losses caused by the pandemic. Insureon experts answer the most frequently asked questions.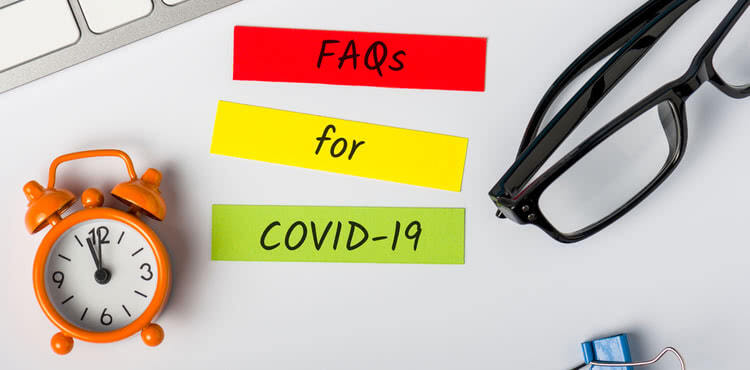 Insureon is as committed as ever to working with your business during these tough times. We're continuing to deliver services, products, and support no matter where you – or we – may be working.
Our team is continuously monitoring the spread of the coronavirus (COVID-19) to ensure we have the latest facts and coverage information. We're dedicated to minimizing any disruptions to you while ensuring the safety of our employees.
We know you have many coronavirus business insurance coverage questions, and we'll continually update this webpage with the new developments. Insureon customers with an existing policy should contact their insurance carriers directly to verify coverage and exclusions.
Contact us at (800) 688-1984 if there's anything we can do to help. Our normal business hours of 8 a.m. - 5:30 p.m. Central, Monday - Friday, have not changed. You can also visit the Insureon blog for other timely coronavirus articles.
Can I get business insurance coverage (such as a business owner's policy) after a coronavirus-related loss occurs?
No. Just as you can't purchase collision coverage and expect the insurance company to cover a car accident that already happened, you can't buy coverage for a pre-existing business loss.
Insurance carriers require you to sign off that you have "no known losses" before they will issue coverage. A claim filed for an event that took place before the policy was in effect (also called "in force") will be denied.
Is my insurance carrier offering any discounts or payment relief for COVID-19? How long are these options available?
Depending on your policy type, your insurance carrier may offer special exceptions to payment, reinstatements, and cancellations.
Since March 2020, many insurance carriers haven't assessed late fees or canceled policies if customers did not make their monthly payments. Some carriers are now phasing out these relief options. Check your carrier's website for more information and to see what payment options are available.
Does my business income policy protect me while my business is temporarily closed due to COVID-19?
Generally speaking, the answer is no.
Most business income policies require physical damage to the building covered on the policy to qualify for business income benefits. Business income loss from a virus, bacterium, or other microorganism is not usually a "covered peril."
Though it's not included in standard coverage, you can purchase a communicable disease rider for some policies – but never after the fact.
What does a business income policy normally cover?
Also called business interruption insurance, business income coverage is a standard endorsement that can be added to a business owner's policy.
Business income is part of a property policy that would cover an insured for loss of income resulting from a "covered loss." For example, if a business's office burns to the ground, the company will not be able to generate revenue. Business income would provide a level of reimbursement, which is detailed in the policy itself.
Am I covered if the government forces my business to temporarily close? What if my geographic area is affected by "shelter in place" rules?
Most policies do not cover a "civil authority" (any branch of federal, state, or local government) forcing your business to temporarily close. Unless direct physical damage occurs on your property or adjacent properties, coverage is usually not triggered.
However, disaster relief loans were previously offered to small businesses affected by mandatory closings due to COVID-19. While few of these SBA-sponsored programs are currently accepting new applicants, additional developments and policies are continuously being considered by congress, along with continuous relief efforts from other organizations, and we'll update our blog with more information once it's available.
What if I shut down my business as a preventive measure? Will any policy cover this?
Most policies do not cover business losses from a temporary closure of this nature, whether it's due to a mandate from a civil authority or done as a preventive measure.
Will my policy cover loss of income from reduced foot traffic from the coronavirus?
Business interruption and contingent business interruption insurance will not cover reduced foot traffic. Since the drop in potential customers is not due to a covered peril, these policies won't compensate for the loss of income.
I had to cancel travel plans and/or purchase new tickets to get my employees home due to coronavirus. Does my policy cover these unexpected travel costs?
Travel cancellation or itinerary changes coverage depends on your specific policy. Most policies do not provide this type of coverage due to coronavirus or any type of communicable disease. Since the extra expense is not related to a covered peril, coverage is unlikely.
Certain special event policies will reimburse for event postponement or loss of deposit coverage. But that coverage would have needed to be in place prior to the coronavirus outbreak. For more information on event cancellations in these circumstances, you can read our recent article "What you need to know about coronavirus and special event insurance."
Liability policies may cover claims involving a suit. They may also help with a claim involving allegations of negligence in exposing third parties to the virus. A virus exclusion is applied to certain classes of business in certain states.
Does my business interruption policy cover losses related to COVID-19?
No, COVID-19 is not listed as a covered cause of loss under a standard business interruption endorsement.
If an employee contracts coronavirus, is my business responsible for related costs? If so, am I able to claim this?
All workers' compensation claims require an employee to show that the injury or illness arose both (a) out of and (b) in the course of their employment. If they can't demonstrate this, they will not be compensated.
Because workers' comp statutes vary quite a bit by state, each situation should be examined on a case-by-case basis. These reviews must consider the statutes of the relevant jurisdiction(s).
We recommend contacting your carrier's claims department to begin a formal claims process if you're curious about coverage.
In the unfortunate circumstance that an employee becomes infected, it is also important to remember to notify all close contacts of that employee to help mitigate the risk of infection for other employees, clients, or additional individuals.
Learn more about a few steps that you can take in order to keep your business safe and reduce further lost costs when an employee contracts coronavirus.
What does Insureon recommend for coronavirus coverage?
Right now, the small business insurance marketplace doesn't offer any policies explicitly covering coronavirus.
We recommend noninsurance ways to limit any losses, such as:
adjusting to changing demands by shifting your business model to new service or product offerings, new customer segments, etc.
allowing employees to work from home, canceling travel, and other methods of social distancing
implementing safety precautions to guard against exposures
enforcing strict employee safety guidelines
offering services such as delivery
For more ideas, read our recent article "How to protect your small business's bottom line from coronavirus."
Claims, coverage, and certificate resources for Insureon customers
How is my insurance carrier responding to COVID-19?
Each insurance carrier is handling the coronavirus differently. We encourage you to visit your carrier's website to see how they're responding to the outbreak.
How can I file a claim?
You can file a claim directly with your insurance carrier. Several of our most trusted carriers are available at the phone numbers and email addresses listed below:
Where can I obtain certificates of insurance?
To request a certificate of insurance or policy change, please log in to our customer portal at www.insureon.com/login.
How can I add or change my coverage?
To apply for free quotes or access your account, please log in to our customer portal at www.insureon.com/login.