6 Twitter accounts for photographers to follow
There's so much useful content for professional photographers on Twitter that sifting through it all can be overwhelming. If you're searching for inspiration and guidance as a photographer, these six Twitter accounts are a great place to start looking.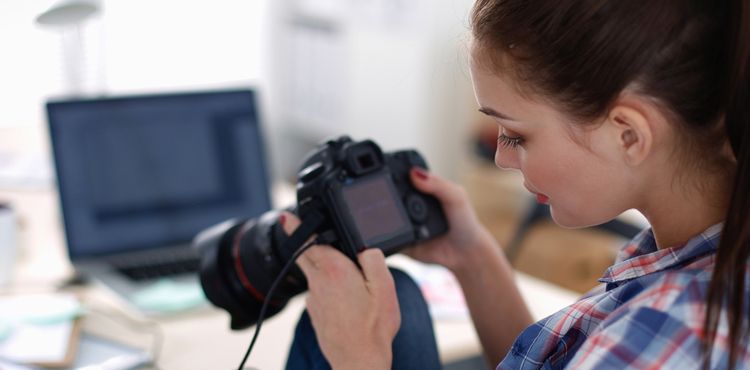 Every second, 6,000 new tweets hit the Twittersphere – and you can bet there's a lot of bad photography in them. But let's focus on the good stuff. Check out these six Twitter accounts photographers should follow and see what they can offer your business.
B&H Photo Video is a first-in-class site and Twitter account for gear-minded photographers. While primarily an e-commerce site, B&H also has videos for everything ranging from virtual reality and time-lapse photography to product reviews for newly released lenses.
Sample tweet:
Unveiled: Canon EF-M 28mm f/3.5 Super Macro Lens for EOS M Series https://t.co/lErw4tyFP2 pic.twitter.com/kMK1zYiYFi

— B&H Photo Video (@BHPhotoVideo) May 11, 2016
PetaPixel is the uber popular photography blog that keeps you current on up-and-coming photographers, offers business tips for freelance photographers, and of course, takes deep dives into gear.
It doesn't hurt that PetaPixel included us in a roundup of photography insurance options. Thanks for the hat tip, PetaPixel!
Sample tweet:
Infographic: The difference between CMOS and CCD sensors: https://t.co/j02S5o3UgK pic.twitter.com/mQar0Bzc4W

— PetaPixel (@petapixel) May 10, 2016
LensCulture is an industry-leading magazine that offers a heavy dose of accessible high-art photography from around the world. With online collections of urban, fine art, documentary, and black and white photography, LensCulture curates the best new photography out there.
LenCulture also promotes the photography of young and emerging artists with the Magnum Photography Awards. The contest runs until May 24, 2016, so get your portfolio together and submit!
new form personal documentary w/ photos + poetic chilling diary notes: EVIDENCEhttps://t.co/u80EK9oCkl Don't miss! pic.twitter.com/5MtLrnfLhb

— LensCulture (@lensculture) May 10, 2016
Based in Austin, Texas, Suzanne Cordeiro lives a photographer's dream life: she snaps shots of world-class musicians that come through the Texas capital for gigs like Austin City Limits and South by Southwest.
Coderio's account doubles as a case study of social media done right. She's funny, engaging, and excellent at promoting her recent work. If you're looking for ways to improve your social media presence, take a lesson from her.
Sample tweet:
Legendary Robert Plant earlier tonight at @acllive ~ Bucket list shoot for me <3 @RobertPlant #Austin @acltv pic.twitter.com/ivLx12NQOd

— Suzanne Cordeiro (@SuzanneCordeiro) March 21, 2016
The Twitter account for the New York Times blog Lens has the visual and verbal goods, including essays about the impact of photojournalism and its place in politics. But you'll also see the photos that bring the newspaper life.
Lens is a compelling reminder of how effective photography can be as a storytelling device and an instrument for social change.
Sample tweet:
Reclaiming the photographic narrative of African-Americanshttps://t.co/uixn9cS5Ib pic.twitter.com/LBy7sZXX14

— NYT Photo (@nytimesphoto) May 10, 2016
Okay, this last one is a gimme. There's not much we can say about the gold standard in photography that hasn't already been said. National Geographic still brings it.
With its patented dose of adventurous photography, stirring photo essays, revealing portraits, and wild landscapes, NatGeo is a reminder of why you got in the photography business in the first place.
Sample tweet:
Meet a man who survived a grizzly attack— and holds no grudges. https://t.co/NaOaOJDfGT pic.twitter.com/jYn6bDRn0e

— Nat Geo Photography (@NatGeoPhotos) May 11, 2016
A word of warning about social media and photography liability
Social media is an incredibly useful way to promote your photography business, but it's not all sunshine and hashtags. In some cases, your online activities could lead to lawsuits. For example:
A client could sue if you say anything disparaging in post. So maybe don't post that errant tweet about the annoying client – it could be construed as libel.
You could be sued if someone claims you infringed on their copyrighted material. Always attribute where your media posts come from.
If you have any questions about your photography business liability, check out our page on general liability insurance, which covers the two lawsuit risks listed above.
Compare quotes from trusted carriers with Insureon
Complete Insureon's easy online application today to compare quotes for general liability and other kinds of business insurance from top-rated U.S. carriers. Once you find the right policy, you can get coverage in less than 24 hours.