19 resources to help veterans start a business
The organizations listed here can help veterans transition from service member to small business owner.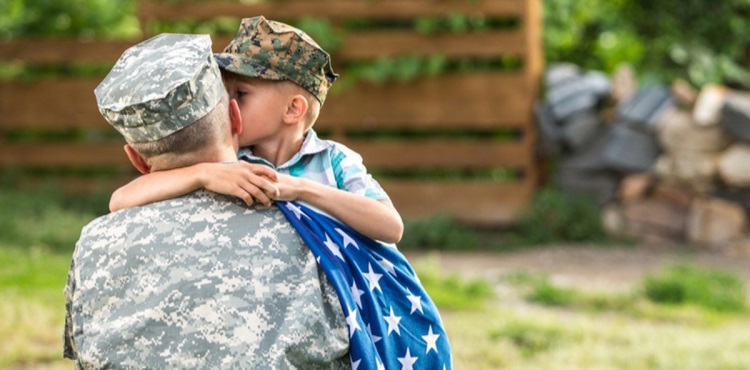 The transition from service member to civilian is tough, but these organizations give veteran business owners the tools they need to succeed.
1. Veterans Business Outreach Center
The Veterans Business Outreach Center Program, run by the Small Business Administration, has 19 locations across the United States that offer…
Pre-business planning workshops
Comprehensive feasibility analysis
Mentorship
Entrepreneurial training and counseling
The VBOC is only the beginning of the SBA's resources. Check out the Office of Veterans Business Development for more resources.
2. Veteran Entrepreneur Portal
Find federal services for veterans, best practices, and other information you need to start a business through the Veteran Entrepreneur Portal at the U.S. Department of Veterans Affairs.
3. EntreSkills
EntreSkills offers a free, interactive web-based tool that helps veterans start or improve their business. Perhaps the best part is the tool was designed by veterans who know how the lessons learned in uniform apply to the business world.
4. Support Warrior Project
A veteran launching a new business can turn to the Support Warrior Project for help with LLC formation, website landing pages, and more. Plus, it offers financing opportunities for vets who want to buy a franchise.
5. U.S. Veterans Magazine
Granted, U.S. Veterans Magazine isn't solely focused on entrepreneurship, but the articles that do offer tips for business-minded vets are worth the read.
6. VetFran
Veterans interested in buying a franchise can turn to VetFran for news and opportunities, including financial discounts, mentorship, and training. Be sure to check out their franchise toolkit section for additional resources.
7. Kabbage
Veterans with less than perfect credit may be able to find funding at Kabbage.com. Kabbage offers loans to small businesses that have been around for at least one year and have $50,000 in annual revenue without requiring a minimum credit score.
8. Street Shares
The founders of Street Shares are former military, so it makes sense they specialize in business loans for vets. Veterans with a credit score of 600+, no bankruptcies for three years, and at least one year in business may qualify for loans.
9. Hivers and Strivers
Securing a loan is tough without some experience. Vets who are true startups can turn to angel investors like Hivers and Strivers. The group provides early-stage investments for companies founded and run by U.S. military academy graduates.
10. Veteran Fast Launch Initiative
SCORE's Veteran Fast Launch Initiative is a package of free software and services combined with the organization's mentoring program. The goal is to accelerate business ownership for vets.
11. Institute for Veterans and Military Families
The Institute for Veterans and Military Families out of Syracuse University has tons of resources for former military members and their families, but take a look at its resources for starting and growing a business. The Virtual Pitch Competition and Vets Small Biz Growth Challenge might be of particular interest.
12. National Veteran Small Business Coalition
Vets interested in scoring federal contracts may want to check out the National Veteran Small Business Coalition. In addition to advocating for greater access to these opportunities, the NVBC recently initiated a counseling program so senior-level individuals can share their business knowledge with new entities.
13. FedBizOpps.gov
Nothing says "healthy business" like a big, fat government contract. Sign up with FedBizOpps.gov to find opportunities in your industry.
14. National Veteran-Owned Business Association
In addition to training and mentorship, the National Veteran-Owned Business Association also advocates on behalf of vetrepreneurs so they get the opportunities they've earned. Be sure to list your business with its directory at BuyVeteran.com.
15. Patriot Boot Camp
Patriot Boot Camp is a nonprofit organization that equips veterans and their spouses with the means to build technology companies. Programs include tech boot camps and alumni conferences, plus the group offers community support and access to resources.
16. Bunker Labs
Aspiring vetrepreneurs near a Bunker Labs location can take part in a weekly Braintrust session. The sessions offer a mix of thought leadership, networking opportunities, and real-time problem solving.
17. Trust Vets
Registering your business with Trust Vets connects it with the business professionals and consumers who want to support vetrepreneurs. The organization also offers monthly networking meetings.
18. Honor Courage Commitment, Inc.
HCC offers an intensive program where vets learn about entrepreneurship, develop networks, and work with mentors to become leaders in business and their community. The program is free to veterans but is limited in class size.
19. G.I. Jobs Magazine
G.I. Jobs eases the transition to civilian life with tips for finding the right job, school, and vocational training.
Compare quotes from trusted carriers with Insureon
Complete Insureon's easy online application today to compare insurance quotes from top-rated U.S. carriers. Once you find the right policy for your small business, you can begin coverage in less than 24 hours.