How to protect your business from wind and hail damage
Having adequate small business insurance in place will help your business recover from wind and hail.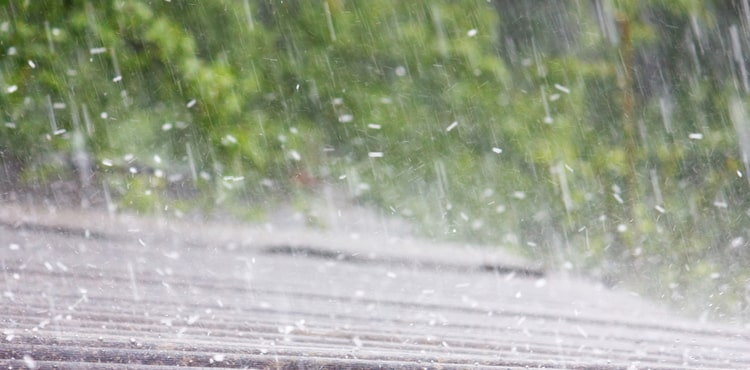 Strong winds and hailstorms can cause significant damage in very little time to a business's property, resulting in costly repairs and potentially a lengthy business disruption. Beyond the typical structural damage from a storm, gale-force winds can push trees or projectiles onto buildings, and hail can shatter windows and damage your exterior.
Ensuring you have adequate small business insurance in place will help your business recover in the aftermath of a storm. But it's also essential that you take steps to protect your property before a severe weather event. From regularly inspecting your roof to securing equipment and valuables, the following actions will help you reduce the risk of damage to your business in the event of a storm.
1. Inspect your roof
Examine your building's roof for damage after storms, or annually in regions that are less prone to storms. Replace any worn materials or other weak areas to ensure that leaks don't occur during future storms. Check flashing (a type of sheet metal used for waterproofing) and gutters, and clean out any debris that may be blocking drainage. Remove branches or leaves that may have accumulated during prior storms.
2. Install impact-resistant windows
Impact-resistant glass has been specially treated to help prevent shattering and to provide an extra barrier to safeguard your building from severe weather. While it's still possible for it to break, it's less likely to shatter completely, offering better protection from flying glass and debris during a hurricane or hailstorm.
3. Secure equipment and valuables
If you live in an area prone to strong winds or hail, keep an eye on the weather forecast so that you can protect your valuables before a storm hits. Ensure any high-value items are in a safe and secure area, stored up high and away from windows. Any outdoor equipment should be securely fastened so it's not lost or turned into a projectile during a storm.
4. Keep your employees safe
In the event of a storm, safety is of the utmost concern. Stay away from windows, and take shelter in the safest part of your property. If your building doesn't have a designated storm shelter, have employees take shelter in an area devoid of windows, such as a lavatory or break room.
Prepare an emergency plan ahead of time and communicate it with employees, so they'll know what to expect. Practice an emergency drill if possible, so that everyone will be prepared if weather conditions are threatening your safety.
5. Protect your business with adequate wind and hail insurance coverage
A destructive storm can hit anywhere, but certain areas of the country are more likely to experience windstorms – a fact that may be reflected in your business's insurance coverage. Wind and hail insurance claims are covered through commercial property insurance, which can help you pay to repair or replace damaged property, including equipment, supplies, and structures. A business owner's policy (BOP), which is specifically designed for small businesses, bundles commercial property with general liability insurance at an affordable price, and can also potentially pay for business property damage in the event of a storm.
If you're in an area with a high risk of windstorms, review your policy language carefully with your Insureon agent. If you're located in a high-risk zone, you may be able to purchase coverage as an endorsement to your standard small business insurance policy. This could mean a higher premium but more coverage in the event of a serious storm.
Compare quotes from trusted carriers with Insureon
Complete Insureon's easy online application today to compare quotes for commercial property and other kinds of insurance from top-rated U.S. carriers. Once you find the right policy for your small business, you can begin coverage in less than 24 hours.