How to start a consulting business
More companies than ever are relying on consultants to execute a variety of jobs.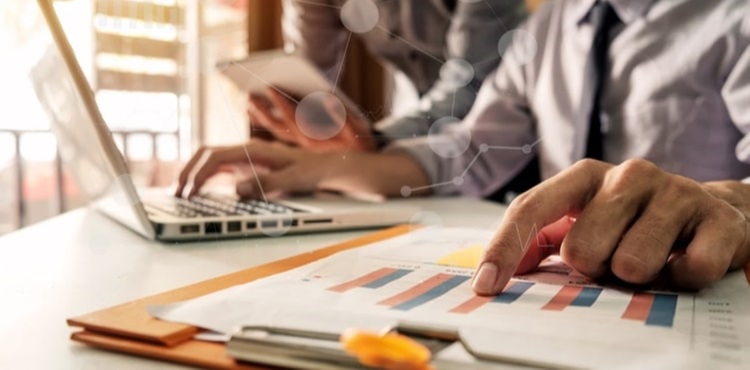 Are you thinking about starting a consulting business? If so, you're not alone. Each year, more and more people are leaving their day jobs and turning to start consulting or freelancing careers. In addition, more companies than ever are seeing increased turnover and relying on consultants to execute a variety of jobs.
There's never been a better time to start your own consulting firm. However, there are several factors you'll need to consider before you start a consulting business, including creating a consultant business plan, assessing the benefits of creating a small consulting firm, and addressing risks you will encounter along the way.
Use this checklist to start your own consulting business:
1. Develop your area of expertise
Now that you've decided you're going to be a consultant, what will be your area of expertise? If you want to stand out to companies, you'll need to have a specialty and to be an expert consultant in your area of expertise. Clients aren't looking for a consultant who wants to do everything for everyone. It's better to be a specialist, which will make it easier for you to get noticed and shows what you bring to the table.
Consider specialties that best match your experience and marketable skills. Then narrow it down to a specific niche by evaluating what you're particularly interested in and which skills fit best with your financial and career goals.
2. Write a business plan
Now that you've decided on a niche, it's time to put your ideas into writing by drawing up a consultant business plan. You'll need to ask yourself several important questions first, such as:
What are your objectives?
What are your strengths and weaknesses?
Who are you targeting?
As with any business endeavor, research is critical. Learn everything you can about the industry, your target market, and competitors. Determine the demographics of your potential clients and how much they are willing to pay, then factor in your financial data such as the expenses required to keep yourself in business.
3. Determine your consulting fees
When you're just starting a consulting business, it can be difficult to determine how much your services are worth to your clients. But it's essential to have a pricing structure in place so that you can fully assess your finances and know whether or not you'll have sustainable revenue.
To help you create your pricing structure, analyze how long a standard project will take you, and then factor in the cost of outside materials and any further expenses required to operate your business.
It can be tempting to set your prices low in the beginning to draw in new clients, but this is a mistake. Not only does that devalue your worth in the eyes of clients, but it's difficult to recover from a rate that is priced too low. Once one client is quoted a certain fee, others will expect the same from you.
4. Prepare a boilerplate consulting proposal
Have a proposal template on hand that you can customize for each client. A proposal will include a description of the job you're planning to do, goals, terms, consulting project duration, pricing, and other details.
Be sure that you only send a proposal after you've talked to a prospective client first. Once you've had a conversation and the client has signaled interest, you can dive deeper into details with your proposal.
The proposal can serve as the foundation for your final scope of work agreement and contract, which are crucial for avoiding work-related liability lawsuits for consultants. You'll want to consider professional liability insurance, sometimes called errors and omissions (E&O) insurance, to protect yourself from legal risks. We'll discuss insurance in more detail below.
5. Network online and offline
To get your consulting business off to a good start – and to keep your income steady – you'll need to network like crazy. Online platforms, such as Facebook, Twitter, and LinkedIn, are a great place to start. LinkedIn, in particular, makes it easy to network with professionals since your qualifications are already part of your profile.
While it's easy to connect with people in the social media sphere, don't forget to network offline as well. Face-to-face interactions are much more likely to land you a consulting job than any amount of social networking.
Research important conferences for your industry and find events that match up with your target audience. Be sure to also reach out to former employers. Companies are much more likely to hire a consultant if they know and trust you and they're already familiar with your work.
6. Protect your business with consultant insurance
Before you sign your first client, consider purchasing consultant business insurance to protect yourself, your clients, and your employees if you are planning to hire part-time or full-time help. Here are some important policies to consider:
General liability insurance for consultants
General liability insurance is often the first policy consultants purchase. This insurance typically covers customer injuries or damages to customer property at your place of business, regardless if you work at home or rent an office. Most commercial leases also require this policy.
Business owner's policy for consultants
Many small consulting firms find savings by combining general liability and commercial property insurance under a business owner's policy.
If you're like most consultants, you'll be starting your business from your home. Having a home office is typically more cost-efficient than renting a commercial space. However, keep in mind that homeowner's insurance doesn't necessarily cover business activities and property in your home.
For example, if business equipment, such as laptops and other electronics, is stolen from your home office, the property insurance component of you BOP would cover the losses since most personal property policies don't cover commercial use.
Professional liability insurance for consultants
Consultant professional liability insurance can protect your assets if a consulting work mistake results in legal action from a client.
If you make a decision that negatively impacts a client's revenue or employees, the client could file a lawsuit to recoup any lost expenses. Professional liability insurance can help cover legal expenses and some damages if you are held legally accountable.
Compare quotes from trusted carriers with Insureon
Complete Insureon's easy online application today to compare insurance quotes from top-rated U.S. carriers. Once you find the right policy for your consulting business, you can begin coverage in less than 24 hours.