What business consultants need to know about consulting certifications and licenses
In addition to obtaining a business license, consultants are strengthening their credentials with professional consulting certifications.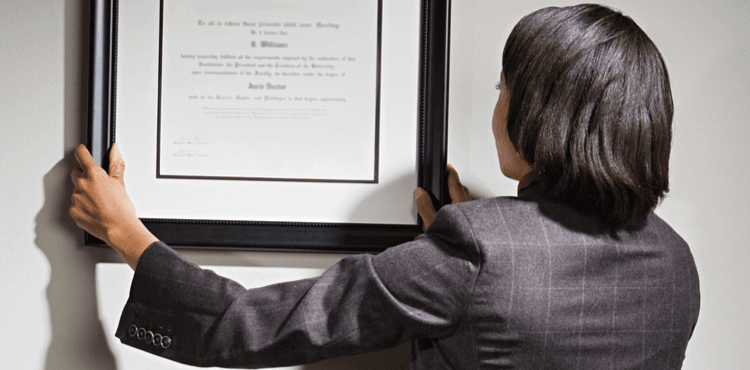 Business consulting is an attractive career path, drawing more people to the profession every year. The number of management consultants in the U.S. has been growing every year reaching 734,000 consultants in 2020. This growth also means increased competition, making it tougher for you to stand out from others in your field.
For your own consulting business to thrive, you'll need every competitive advantage you can find. Beyond obtaining a business license, you'll also want to consider becoming a certified business consultant in your specialty to demonstrate your reliability and expertise.
Here's why you may need a business license as well as consulting certifications, what certification options to consider, and how consulting insurance can protect your growing business.
Why you probably need a business license
A business license is a stamp of approval from your county, city, or state that offers advantages to your consulting firm. Top reasons for getting a business license include:
Most local governments require a business license for consultants
In most states, a consulting business must have a license to legally operate. You'll need to apply for a business license when you choose your business structure. Governments handle licenses at different levels from state to state. In some areas, you'll apply through your city or county government, while others may direct you to a state office.
You may also need a special permit or industry-specific certification, depending on your state and the types of clients you work with. Your local chamber of commerce is a good resource for learning what may be required in your area.
A business license comes with financial benefits
When you apply for your license, you'll also register for an employer identification number (EIN) with the IRS. Your business license is used for business taxes, and helps ensure you're compliant with applicable tax laws.
Your EIN also enables you to apply for business bank accounts, business credit cards, and other business-related perks.
A business license lends you credibility
A business license reassures potential customers that your consulting business is legitimate. Credibility can attract new customers, which is especially important when you're just starting your consulting business.
Some clients may even require you to be both licensed and insured before they'll do business with you.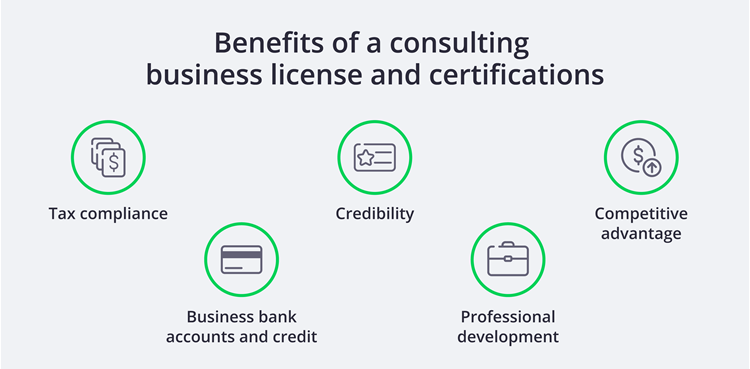 Why you should consider consulting certifications
There are business consultants in almost every industry, providing expertise to clients on a range of subjects, including HR consulting, research consulting, and marketing consulting.
Whatever the focus of your consultancy, continuing education is a great tool to aid your professional development, grow your skill set, and keep up-to-date with the latest trends in your field. Business consultant certifications showcase your expertise to prospective clients, and help set you apart from the competition.
What consulting certifications should you consider?
Professional certifications are not required for consultants. However, you should still consider using some professional development time to earn a certification even if you don't legally have to. Many certification programs offer online courses, and let you complete your coursework at your own pace.
Not sure which certification is right for you? Here are several examples across a range of industries that can help you become a better consultant.
Certified Management Consultant
The Certified Management Consultant (CMC) certification is for management consultants with at least three years of consulting experience. You should pursue this certification if you want to demonstrate your expertise and commitment to your profession.
The Institute of Management Consultants USA awards the certification to those who pass its rigorous written and oral certification exams over ethics and business competency.
Management consulting certification
The CMC isn't the only certification applicable to management and business consultants. If your work focuses more on employee engagement and retention, you should consider the Talent Optimization Certification. This certification program trains you in both hiring and people management so you can build a healthy and high-performing work environment.
It's a good option for management consultants who are just starting their consulting practice and wish to add to their credentials.
Project management certification
Project managers can become certified Project Management Professionals (PMP) through the Project Management Institute (PMI). The PMP certification shows that you have the skills to effectively manage projects using three different approaches: agile, waterfall, and hybrid.
IT consultant certification
As an information technology consultant, you can choose from a large variety of certifications to both deepen your technical knowledge and demonstrate your expertise. Most programs focus on a certain specialty — like big data, Amazon Web Services, Microsoft technology, or web app development.
While there are a ton of different programs for IT consultants, you'll want to choose the ones that match your expertise and consulting focus.
Consulting certifications showcase your expertise to prospective clients, and help set you apart from the competition.
Risk management consulting certification
Earning a risk management certification may help you win the trust of customers who are looking for a consultant who can help mitigate risk and maximize profitability. Which certification course you apply for will depend on your industry. Many programs, like the Chartered Enterprise Risk Analyst (CERA) certification, are for specific industries like finance or insurance.
However, there are some certifications that risk managers in all industries can earn, like the Professional Risk Manager or Certified Risk Manager certifications.
HR consulting certification
If you have a bachelor's degree and at least 10 years of experience in human resources, you can become a Certified Human Resources Consultant through the Human Resources Management Institute. This certification will prove your HR expertise in multiple areas, including:
Compensation and benefits
Employee productivity improvement
HR audits and standards
Marketing consulting certification
The American Marketing Institute (AMA) offers several professional certifications that will help any marketing consultant master new marketing strategies to stand out from their competition. In digital marketing, you can become either a Digital Marketing Pro by completing 30 hours of online learning or a Digital Marketing Expert when you finish 120 hours of advanced online training.
The AMA also trains Professional Certified Marketers (PCM) in marketing management, content marketing, and sales management.
Education consulting certification
Education consultants can earn a professional certification from the American Institute of Certified Educational Planners. Becoming a Certified Educational Planner (CEP) shows your expertise and builds trust with the schools and families you help in your business.
Agricultural consulting certification
The American Society of Farm Managers and Rural Appraisers offers four different professional designations for agricultural consultants — each focusing on a different specialty:
Accredited Farm Manager
Accredited Rural Appraiser
Real Property Review Appraisers
Accredited Agricultural Consultants
Earning one or more of these accreditations will prove your credibility as an expert agricultural consultant. As the agricultural industry grows and evolves, you'll stand out as someone with proven expertise.
How to protect your business and attract new clients
Along with the right business licenses and professional certifications, consulting business insurance will show your clients that you're running a reputable and dependable business.
Business insurance also protects you from many of the risks consultants face. Like certifications, there are many options that cover a wide range of risks, but the policies consultants commonly purchase include:
While adding licensing, professional certifications, and insurance to your consulting business to-do list may seem like a lot, it could be worth it. Demonstrating your expertise and dependability can attract new business and help you create loyal and lasting customers.
Complete Insureon's easy online application today to compare quotes for business insurance from top-rated U.S. carriers. Once you find the right policy for your small business, you can begin coverage in less than 24 hours.
You may also like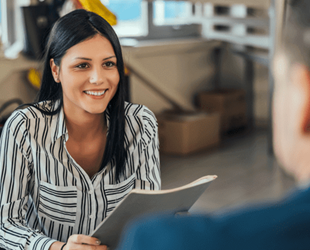 6 business insurance policies you may need as a consultant
Consulting businesses face a variety of risks. Here are six common insurance policies that consultants should consider to keep their business protected.
Go to article