Can certifications give business consultants an advantage?
While you only need a business license to open a consulting practice, earning additional consulting certifications can help you separate yourself from your competitors.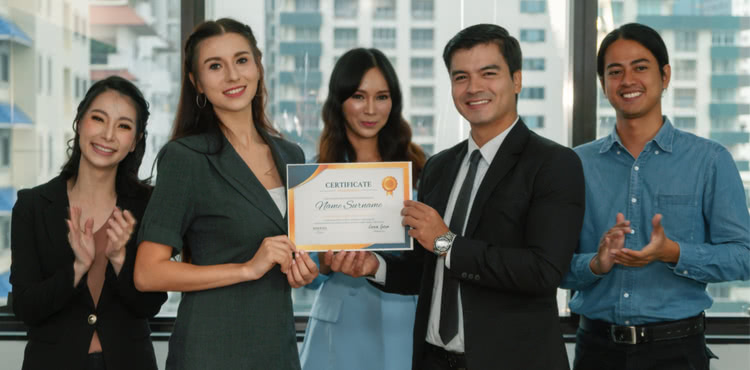 Business consulting is a crowded field, and you could be up against numerous competitors when trying to win new clients. As you seek to separate yourself from the pack, consultant certificates or licenses can help give you an advantage.
When you file to operate your consulting business as a sole proprietorship, an LLC, or an S corporation, you will need to obtain a business license in your state. But other than that, there is no official consultant certification or license requirement, regardless of your business's area of expertise or your geographic location.
Build client credibility with industry certifications
While industry-specific certifications and licenses are not mandatory when operating a consulting business, clients tend to look favorably on such accreditations and might see it as one more reason to hire you instead of another consultant.
Before you spend the time and money to earn a consultant certification, do some research on other consulting firms in your area and see if they have any professional licenses that you don't. If most have earned an industry-standard certificate, consider the benefits to your business if you follow suit.
Below are just a few examples of certifications and licenses that consultants can pursue. A variety of other options are available online and through community colleges and continuing-education organizations. Note that professional certifications are not available in every field in which consultants work.
IT consulting certification
Professional IT consultants have a wide variety of certification options at their disposal. Certifications are available in dozens of IT categories, including big data, cloud computing, mobile application development, and computer forensics.
Management consulting certification
The International Council of Management Consulting Institutes is a global community that offers five professional certifications. Management consultants are admitted based on their expertise in HR, strategic planning, finances, operations, IT, and marketing and their adherence to the organization's ethical standards.
Risk management consulting certification
The Society of Actuaries accredits risk management consultants as Chartered Enterprise Risk Analysts. Consultants with degrees in finance, economics, and business are the most likely to be accepted into the program, and applicants have four years to complete the coursework.
HR consulting certification
The Human Resources Management Institute can make you a Certified Human Resources Consultant if you have at least a bachelor's degree and 10 years of experience in the field. The Society for Human Resource Management has two levels of certification, and several online branches of Ivy League universities also offer programs for HR professionals.
Marketing consulting certification
Marketing consultants who want to fine-tune their skills in marketing management or content marketing can obtain certifications from the American Marketing Association. If search engine optimization (SEO) or search engine marketing (SEM) are your areas of expertise, you can earn certifications on tools such as Google Analytics and Google Ads.
Education consulting certification
A number of certification options are available for education consultants, including those offered by the American Institute of Certified Educational Planners and several prominent University of California colleges. The Independent Educational Consultants Association and the Higher Education Consultants Association are also good resources for education consultants considering earning additional credentials.
Agricultural consulting certification
If your business specializes in agricultural consulting, the American Society of Farm Managers and Rural Appraisers offers four different levels of accreditation. Earning this certification requires a four-year college degree and four years of agricultural consulting experience, and applicants must complete 100 hours of coursework and pass oral and written exams.
Protecting your consulting business
All small businesses need insurance to protect themselves from unforeseen circumstances, and consulting practices are no exception. Consulting business typically purchase the following policies:
General liability insurance
This essential type of insurance protects your consulting business from client injuries and property damage. General liability insurance also covers lawsuits caused by advertising campaigns, including those on social media.
Errors and omissions insurance
Also known as professional liability insurance, this policy covers you in the event you are sued for a mistake or missed a deadline when working on a project.
Commercial auto insurance
If you're driving your own vehicle to a client meeting and you get in an accident, your personal auto insurance may not cover the damages. Consider adding hired and non-owned auto insurance for yourself and anyone you employ.
Compare consulting business insurance quotes with Insureon
To protect your consulting business, complete Insureon's easy online application today to compare insurance quotes from top-rated U.S. carriers. Once you find the right policy for your small business, you can begin coverage in less than 24 hours.