The 11 most in-demand consultant jobs
Finding a niche is essential to a new consulting business. Narrow down the options with our list of the most in-demand jobs for consultants.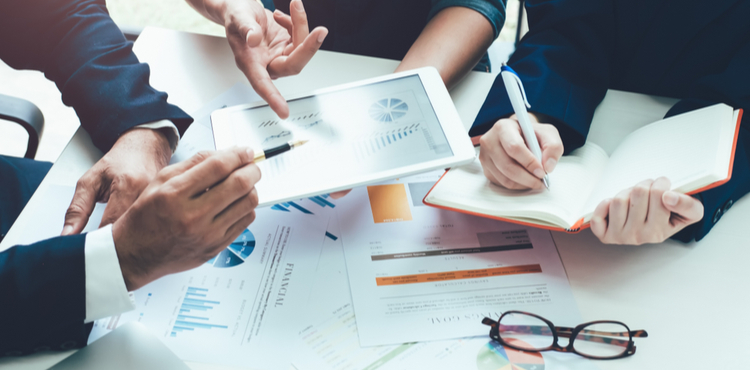 You're thinking of becoming a consultant, but what does that mean, exactly? As a consultant, you use a specific set of skills that you've developed to provide guidance to other businesses that need those services. As more companies turn to consultants to develop and execute job functions, it can be an appealing decision to work more independently.
If you are ready to start a consulting business, it's important to find your niche and share your expertise with new clients.
Which consultants are in demand?
All kinds of companies are looking for consulting services, so the key is to determine your expertise and how you'll sell your skills.
There are 5 broad categories of consultant jobs that are most in demand:
Operations consulting
Financial consulting
Human resources consulting
Risk and compliance consulting
Strategy consulting
Within those categories, we identified the 11 most in-demand consultant jobs based on search demand:
1. IT consultant. An IT consultant specializes in computer programming, data, and analysis. Within IT consulting, there are a variety of subspecialties, including software developers, network architecture, computer systems analysis, and more. Many IT consultants work for a firm, but you can also work independently as a consulting adviser. An IT consultant salary is typically between $41,000 and $91,000, with the average around $62,161 per year. Like any salary, your pay will be influenced by where you live and the market economics in that area.
2. Marketing consultant. A marketing consultant is usually hired to improve brand strategy and customer acquisition for clients. In most circumstances, the consultant will help define or execute marketing messages to attract a particular demographic. This role can include developing a brand voice, customer relationship management (CRM) strategies, marketing events, and other strategic marketing tactics.
3. Financial consultant. Similar to other consultant roles, financial consultants offer a variety of services depending on client needs and the consultant's expertise. Typically, financial consultants work directly with individuals to advise on investments, retirement, education costs, and personal or business finance matters.
4. Legal nurse consultant. A legal nurse consultant is a nurse who provides medical advice to lawyers, courts, and other professionals about medical issues and evidence in legal cases. This role could involve independently evaluating injuries or illnesses, reviewing records, or preparing reports.
5. Management consultant. Businesses hire management consultants to look for ways to increase profits, reduce waste, streamline operations, and improve performance. This role might include finding staffing solutions and brainstorming more efficient processes for productivity. The average management consultant salary is $105,461 per year, ranging from $77,000 to $143,000.
6. Tax consultant. A tax consultant is different from a financial consultant, though there is some overlap. A certified public accountant (CPA) or accountant works with individuals or businesses to manage filing taxes and IRS requirements for employees. A tax consultant, on the other hand, works with larger portfolios to ensure you're reducing your tax burden within legal parameters. A tax consultant can also help you place your money in funds or accounts that would minimize the tax burden.
7. Social media consultant. If you're intending to work as this kind of consultant, be sure to market yourself as an expert on creating a social media strategy in a way that will increase conversions for a business. Being an influencer is great, but to grow a social media consulting business, you will also need to understand and communicate how your expertise can fit into your client's marketing strategy. Be prepared to track metrics and demonstrate increased engagement, web traffic, and conversions.
8. Leasing consultant. Interested in the real estate market? Larger companies that own a variety of apartment complexes and commercial spaces often turn to leasing consultants to show the property to prospective renters, process paperwork associated with applications and background checks, and negotiate terms for commercial spaces. You might continue to work with the renter once the lease is signed as a liaison between the renter and the owner for any issues that arise with the property.
9. Education consultant. If you have a background in education but don't want to spend your career in the classroom, pursuing a role as an education consultant might be a good fit. Education consultants often develop curriculums and work with educators and administrators to enhance educational experiences.
10. Small business consultant. A small business consultant would fill the same role as a management consultant, but with attention to the unique challenges of operating a small business. Small businesses face different financial and staffing constraints than larger companies and often work with few resources.
11. Security consultant. There are hundreds of disciplines within the security industry, and your background and training would determine what you're qualified to do as a consultant. If you've been trained as a police officer, homeland security professional, or have another traditional security background, you could consult with businesses on how to protect against fraud, workplace violence, natural disasters, and other emergencies. If your background is in IT, there's a huge demand for cybersecurity professionals. A cybersecurity professional can earn between $49,000 and $118,000, with the average being around $85,427.
Protect your consulting business with commercial insurance
Regardless of your area of emphasis, as a consultant, you will likely advise clients to minimize risk. But you will also need to consider your own risks and protect yourself with consulting business insurance.
The type of insurance you will need depends on the level of risk in your industry.
Most businesses purchase general liability insurance for protection from common risks such as slip-and-fall accidents and damage to client property.
Professional liability insurance (also known as errors and omissions, or E&O, insurance) can protect you from legal action if a work mistake negatively impacts your client's business.
Cyber liability insurance is an increasingly popular coverage for businesses that handle sensitive electronic information.
Consultants that work with high-value equipment should also consider commercial property insurance, or a business owner's policy that combines property insurance with general liability coverage.
Compare quotes from trusted carriers with Insureon
Complete Insureon's easy online application today to compare insurance quotes from top-rated U.S. carriers. Once you find the right policy for your consulting business, you can begin coverage in less than 24 hours.