The 12 most in-demand consultant jobs
A successful consulting business starts with finding the right niche. This guide to the most in-demand jobs for consultants can help.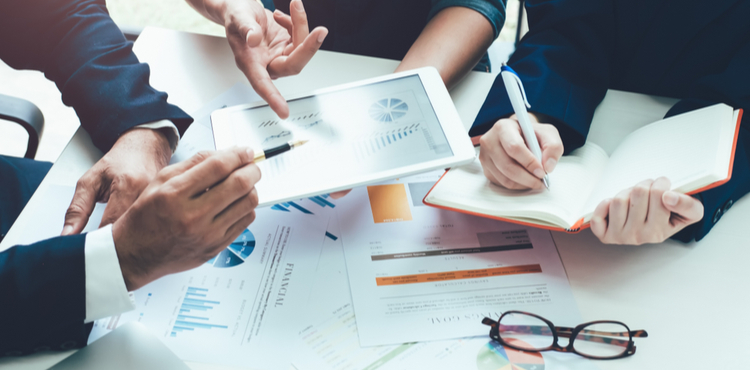 The consulting business is booming, as more and more companies look for expert advice in diverse areas like management, technology, marketing, and more. As a consultant, you can leverage your skills and experience in a wide range of fields to provide guidance to businesses that need it.
Consultants can help companies fill a specific need on a short-term project or to achieve a longer-term goal, rather than hiring a full-time employee. The consulting industry also offers independent contractors greater flexibility and the chance to chart your own career path.
If you are ready to start a consulting business, it's important to find the right niche that fits your skill set and know how.
Which types of consultants are in demand?
There are many types of consulting services in high demand today. If you're launching your business or interested in exploring new markets, the first step is to identify what consulting expertise may attract potential clients.
We identified the 12 most in-demand consultant jobs based on search demand:
1. IT consultant
An IT consultant helps clients leverage information technology to optimize processes, improve performance, and achieve objectives. They may provide advice on computer programming, data, and analysis, and help companies adapt to new technology. Within IT consulting, there are a variety of subspecialties, including software developers, network architecture, computer systems analysis, and more. Many IT consultants work for a firm, but you can also work as an independent consultant.
2. Marketing consultant
A marketing consultant is usually hired to improve brand strategy and customer acquisition for clients. In most circumstances, the consultant will help define or execute marketing messages to attract a particular demographic. This role can include developing a brand voice, customer relationship management (CRM) strategies, marketing events, and other strategic marketing tactics.
3. Financial consultant
Similar to other consultant roles, financial consultants provide individuals and companies with advice to help them meet a variety of financial goals. A financial consultant may specialize in a number of areas, such as investments, retirement planning, education costs, or corporate finance management.
4. HR consultant
An HR consultant advises management on hiring decisions, human resource planning, and processes. In addition, the role may be involved in analyzing current programs, suggesting solutions, and creating new policies. Given that many companies have downsized HR departments, a consultant may be in much demand to help with workload.
5. Legal nurse consultant
A legal nurse consultant is a licensed nurse who provides expert advice to lawyers, courts, and other professionals about medical issues and evidence in legal cases. This role may involve independently evaluating injuries or illnesses, reviewing medical records and testimony, or preparing reports.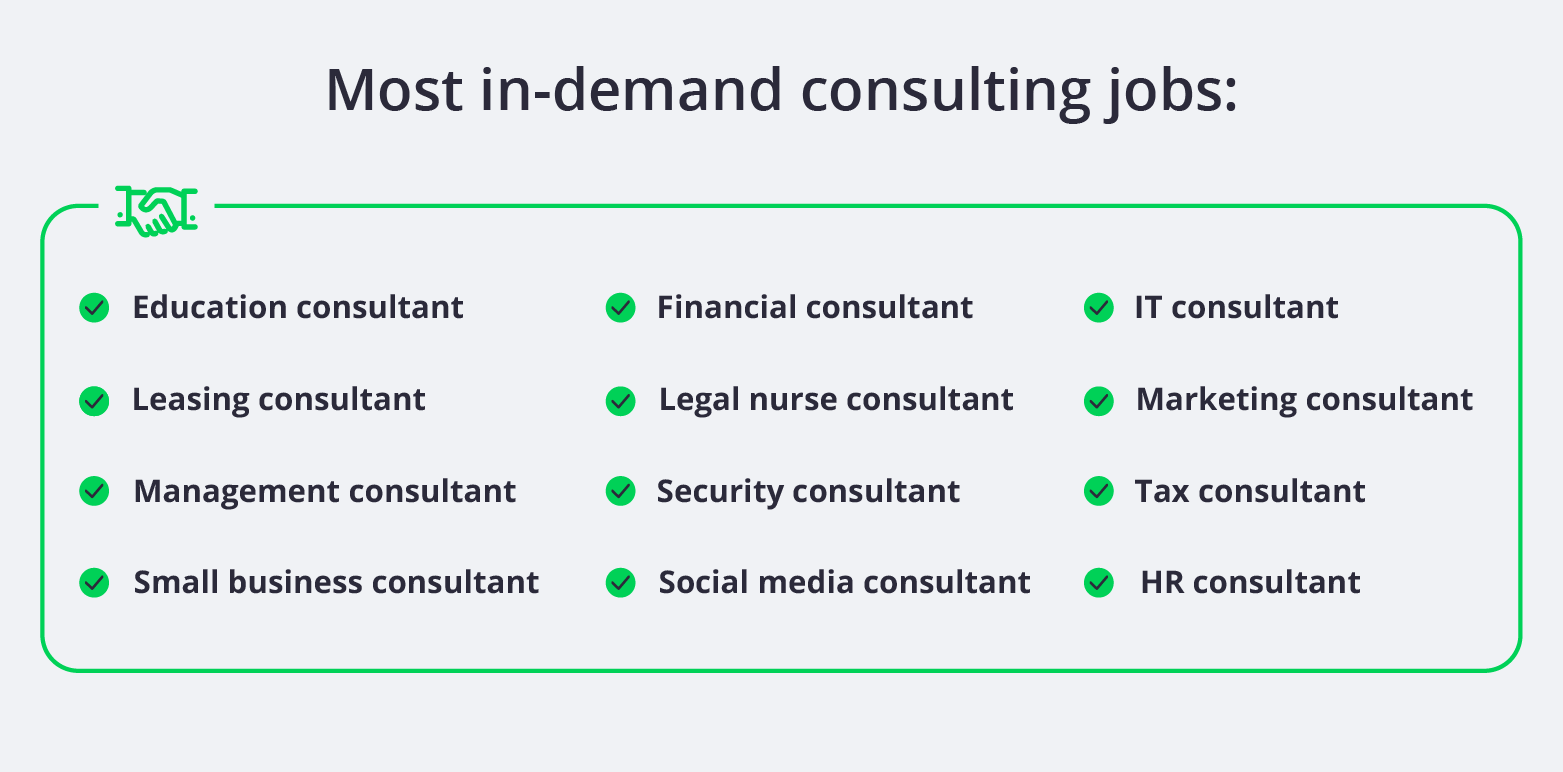 6. Management consultant
Businesses hire management consultants to help identify ways to increase profits, reduce waste, and streamline operations. This role might include problem-solving to overcome business challenges, evaluating staffing needs, and developing strategies to improve operational efficiencies and business results.
7. Tax consultant
A tax consultant is different from a financial consultant, though there is some overlap. A certified public accountant (CPA) or accountant works with individuals or businesses to manage filing taxes and IRS requirements for employees. A tax consultant, on the other hand, is typically an expert on tax laws, and works with larger portfolios to help clients reduce their tax burden. A tax consultant may recommend placing money in funds or accounts to maximize financial returns and minimize tax liabilities.
8. Social media consultant
Marketing pros with a proven track record of creating successful social media strategies may be interested in social media consulting. While being an influencer is helpful, social media consulting is all about teaching your clients strategies and best practices to grow their audience, increase engagement and web traffic, and improve conversions.
9. Leasing consultant
Interested in the real estate market? Larger companies that own a variety of apartment complexes and commercial spaces often turn to leasing consultants to show the property to prospective renters, process paperwork associated with applications and background checks, and negotiate terms for commercial spaces. You might continue to work with the renter once the lease is signed as a liaison between the renter and the owner for any issues that arise with the property.
Compare business insurance quotes for consultants
10. Education consultant
If you have a background in education but don't want to spend your career in the classroom, pursuing a role as an education consultant might be a good fit. Education consultants often develop curriculums and work with educators and administrators to train staff, enhance educational experiences, and improve outcomes like test scores.
11. Small business consultant
A small business consultant has responsibilities similar to a management consultant, but is an expert in entrepreneurship. Small business consultants focus on the unique challenges that come with operating a small business. These businesses often have limited internal resources, so they may seek guidance from an outside consultant to help develop special programs and streamline operations.
12. Security consultant
There are hundreds of disciplines within the security industry, and plenty of opportunity for you to leverage your law enforcement background or other experience as a security consultant. If you've been trained as a police officer, homeland security professional, or have another traditional security background, you could consult with businesses on all types of risk management. This might include how to protect against fraud, workplace violence, natural disasters, and other emergencies. If you have IT expertise, there's also a huge demand for cybersecurity professionals.
You may also like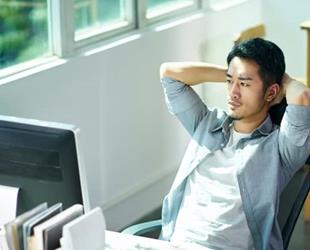 6 common risks for consulting firms
Data breaches, unhappy clients, and income uncertainties can happen to any consulting business. Learn how you can limit your risk if these scenarios ever play out at your company.
Go to article
Protect your consultancy firm with commercial insurance
Regardless of your industry, as a consultant, you will likely advise clients on strategies to minimize risk. But you should also consider your own risks and protect yourself with consulting business insurance.
The type of insurance coverage you'll need will depend on the type of consulting you'll do and the unique risks for your specialty.
Most businesses purchase general liability insurance for protection from common risks such as slip-and-fall accidents and damage to client property.
Professional liability insurance (also known as errors and omissions insurance, or E&O) can protect you from legal action if a work mistake negatively impacts your client's business. For example, a research consultant might provide a client with incorrect data that sets them off track, so the client sues.
Cyber liability insurance is an increasingly popular coverage for businesses that handle sensitive electronic information.
Consultants that work with high-value equipment should also consider commercial property insurance, or a business owner's policy (BOP) that combines property insurance with general liability coverage. You can also look into workers' comp, fidelity bonds, and commercial auto insurance.
Complete Insureon's easy online application to compare quotes for consulting business insurance from top-rated U.S. carriers. Once you find the right policy for your small business, you can begin coverage in less than 24 hours.