How to become an IT consultant and start your business
Learning how to become an IT consultant can provide numerous opportunities for IT professionals who are interested in starting a business.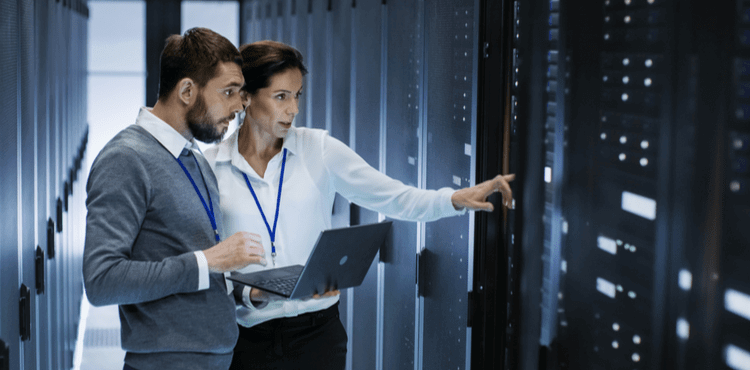 If you have considered becoming an independent IT consultant, now could be the perfect time to explore a new career opportunity. Small businesses currently employ nearly half of the U.S. workforce, and many of those companies hire IT consultants since they can't afford to hire a full-time IT team. Larger companies also often rely on IT consultants and contractors to complete a variety of projects.
IT consultants have one of the most in-demand consulting jobs in America. Consider these factors before you start your consulting business:
What does an IT consultant do?
An IT consultant handles anything from computer repairs to management and maintenance of large networks. IT consultants can generally be categorized into three specialties:
Project management
Maintenance and repair
Security
However, an independent IT consultant can have numerous other niche specialties.
IT project management consultant
Business owners and managers look to project management IT consultants to provide answers and solutions for their problems. Your potential client has an idea, but he or she doesn't know how much it will cost or what it would involve. Your job is to fill in the blanks and possibly manage the operation. You might need to provide a cost analysis and a project scope with details on your IT solutions. You could also be tasked with managing the team and tracking benchmarks once the project is underway.
Maintenance and repair consultant
A maintenance and repair IT consultant provides support for hardware or software issues on individual machines or for larger networks. Smaller and mid-level companies often have consultants on retainer for this type of work, so they can respond quickly to problems that disrupt normal business operations.
IT security consultant
IT security consultants, also called cybersecurity consultants, are becoming increasingly important as cyberattacks target all types of businesses and municipal, state, and federal government organizations. These consultants often work on the front lines of cybersecurity and provide advice and solutions for companies to protect their digital assets. You could be asked to build firewalls, install virus protection, and make sure networks are safe from hacking attempts. If a data breach does occur, you could be asked to create and execute a response and recovery strategy.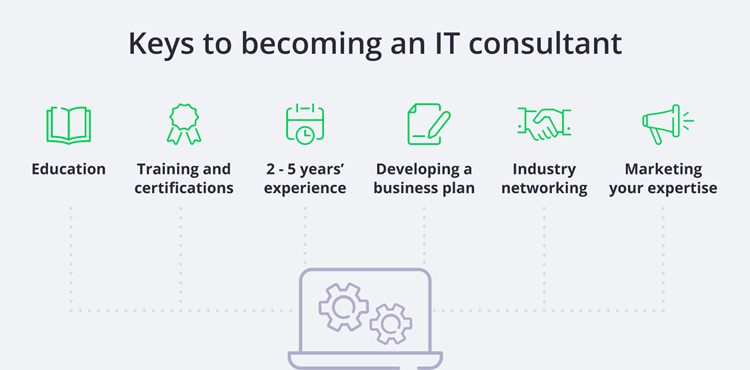 What skills does an IT consultant need?
IT consultants typically have a bachelor's degree in computer science, information technology, electrical engineering, or a related discipline. However, plenty of IT professionals have taken other paths using online resources, specialist training, and certifications.
Regardless of how you develop your IT expertise, it's important to have a strong foundation in the fundamentals of programming, databases, and networks. New technology and potential threats to your clients continuously evolve, so it's crucial to stay updated on recent changes. That means not just knowing what's changing, but also how it will affect your clients.
Trade journals and websites can be a valuable resource in continuing to develop your expertise. IT conferences can also be an invaluable resource for staying at the cutting edge of the industry, developing new skills, meeting like-minded professionals, and growing your client base.
Gaining IT experience
Once you have developed your expertise, you need experience. Multiple small business groups recommend two to five years as a computer support specialist, IT trainer or IT technician before going out on your own and exploring IT consultant opportunities.
That doesn't just give you time in the field; you'll also develop contacts in the industry, similar to going to conferences. Plus, it shows clients that you have hands-on experience providing solutions for real-life situations similar to what they might be experiencing.
If you're certified, that shows clients you're an expert in that specialty. For example, being certified as a Microsoft Office User Specialist or an Apple Certified Support Professional could set you apart from other IT consultants competing for operating systems jobs.
Building an IT consulting business
Starting an IT consultant business also requires an entirely different set of skills beyond your expertise. If you previously held a full-time job, the business you worked for most likely hired people who were responsible for accounting, compliance, and office management. As an IT consultant, all of those responsibilities fall on your shoulders until you expand your team.
An important step on your path to becoming an IT consultant is deciding your business classification – sole proprietor vs. LLC or corporation – and how you will pay taxes to the IRS. It's essential to keep track of all forms required to register your business and handle sales tax, as well as your own income tax forms.
You'll also need to consider your expenses and revenue to make sure that your business is viable.
Do you prefer a storefront office or to operate out of your home? Working from home will eliminate additional overhead. But then you will have to decide how to market your IT consultant business and budget for advertising, including buying a domain name and setting up your website. All of this sets up your brand and how it will be viewed by potential clients.
These details should be established with your IT consultant business plan before you take on your first client. Learn more with Insureon's article on how to start an IT business.
Once you've established expenses and put together a budget, you need to determine your salary. According to PayScale, the average IT consultant salary in 2023 is $83,559. The website also lists an IT consultant hourly rate at $32.61. Your rate could be higher or lower, depending on expenses, the services you provide, and the cost of living in your market.
The site cautions that it's best to typically use an hourly rate when working with long-term clients. A fixed fee works best only when you have a well-defined project with a start and completion date and tasks that will not change from start to finish.
Protect your business with IT consulting insurance
Growing your IT consultant business
After the foundational elements of your business are established and you are putting your business plan into action, you'll need to find clients to grow your business.
An easy first step is to update your resume and post it on job sites. Keep it no longer than one page, and focus on highlighting your work experience in information technology. Some customers looking for IT consultants will find you on these sites, but more often than not, you'll be the one doing the searching. Type keywords into the job site's search engine, and see what jobs are out there. Use "consultant," "freelance," and keywords that you specialize in.
You should also reach out to your network and people you know in the industry. They can tell you about companies, small and large, looking for independent IT consultants.
You may also like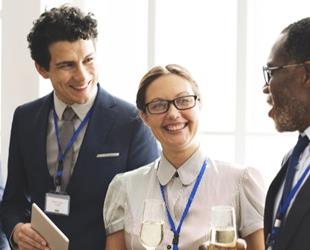 The 10 best small business networking groups
Success in business has a lot to do with who you know. Building relationships and partnerships with the right people is critical to the growth and success of your small business.
Go to article
IT consultant insurance provides protection and advantages
IT consultant business insurance has two major benefits: It protects your business investments, and it can help you find more clients.
Having IT consultant insurance shows potential clients that you are serious about protecting your business and their sensitive information. Many clients might also require specific policies, such as technology errors and omissions insurance or general liability insurance, to protect their business in case you make a mistake or cause damages that could impact them financially. Other consultants on competitive bids could be at a disadvantage if they don't already have an active policy.
Those same policies – along with cyber insurance, fidelity bonds, and other small business insurance – can protect your business from devastating financial losses if you are named in a lawsuit.
Complete Insureon's easy online application to compare quotes for IT consulting business insurance from top-rated U.S. carriers. Once you find the right policy for your small business, you can begin coverage in less than 24 hours.
You may also like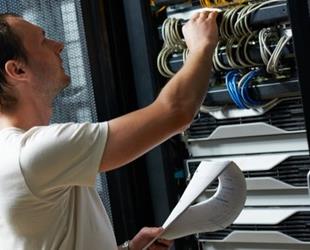 8 tech E&O claims examples
Miscommunication, data breaches, and poor business protocols can lead to costly lawsuits for information technology consultants. Reduce your risk by protecting yourself with errors and omissions insurance (E&O) that covers these common claims.
Go to article