5 things to know about commercial building insurance this hurricane season
Commercial property insurance policies often exclude coverage for property damage caused by hurricanes and other extreme weather events. To protect your property against hurricane damage, utilize these five insurance tips.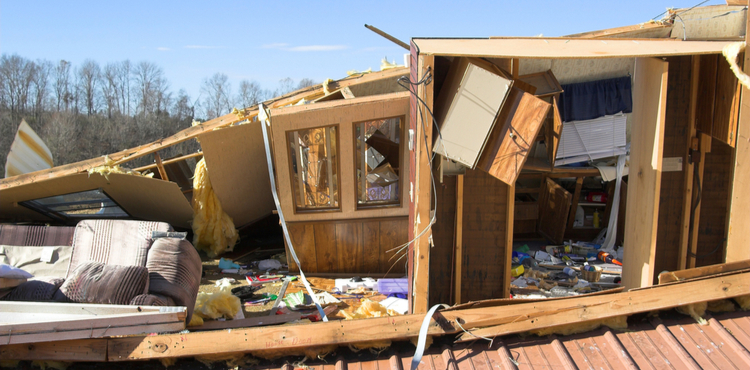 If your business is located on coastal united states, the risk of a hurricane is often a concern. According to the National Hurricane Center, hurricane season usually goes into full swing from:
June 1 to November 30 for the Atlantic
May 15 to November 30 for the Eastern Pacific
During these timeframes, you could be in trouble if a big storm hits. Though commercial building insurance – also called commercial property insurance or business hazard insurance – can help pay to repair or replace damaged physical property, there are some limitations. For starters, if you have a standard commercial building insurance policy, it probably can't help you when a hurricane floods your building and all its contents.
Let's look at five key factors to keep in mind about commercial building insurance so you can adequately prepare for the uncertain months ahead.
1. Commercial building insurance has some standard exclusions
No matter how extensive your coverage may be, every policy has exclusions (events or circumstances it can't cover). If you truly want peace of mind, you have to give yourself the opportunity to learn what your coverage can and can't do.
Commercial building insurance can typically cover losses or damages caused by:
Fires
Theft
Vandalism
Windstorms
However, standard property insurance policies generally do not cover hurricane, earthquake, or flood damage unless they have the appropriate riders. We'll explore some relevant riders in more detail later.
So, standard commercial building insurance is essential for safeguarding your business property, but it alone won't protect you from hurricane damage.
2. Commercial building insurance is necessary whether you rent or own your business property
If you own the building, you definitely want to insure it (and your mortgage may require you to carry commercial building insurance). If you rent, your landlord will likely include an insurance requirement in your lease. But don't think of the requirement as a burden. Your commercial building insurance can cover:
The office building you own
Furnishings
Fixtures
Equipment
Inventory
Supplies
Some highly specialized or expensive gear may need to be scheduled separately, but your insurance agent can walk you through that.
The main difference between a commercial building insurance policy for owners and renters is that instead of insuring the building, a renter's policy will only need to insure the building's contents – the items you depend on every day to get your work done.
3. Home-based business owners shouldn't rely on homeowner's or renter's insurance
Homeowner's policies can be finicky when it comes to insuring business gear. Many exclude coverage for commercial property altogether unless you add the appropriate rider.
However, homeowner's riders often don't offer as much coverage as a commercial property policy. If an entire portion of your house is dedicated to your business, it may make more sense to purchase a standalone commercial building insurance policy.
4. It matters whether you have replacement value coverage or actual cash value coverage
You may have the option to insure your business property at its replacement value or actual cash value. The difference is that replacement value coverage can help you replace your property at today's prices, whereas actual cash value coverage takes depreciation into account. Replacement value coverage costs more but it also pays out more in the event of a claim.
5. To address hurricane season concerns, you need commercial building insurance riders
If your business is near the coast, talk to your agent about adding a hurricane insurance or flood insurance rider to your commercial building insurance policy. This rider can help pay for losses or damages caused by water entering your building.
As an additional safeguard, you may want to explore a business interruption insurance rider that can help you pay for ongoing expenses when a hurricane keeps your business from operating. You can often get this coverage if your purchase your commercial building insurance through a business owner's policy. This insurance package typically bundles property insurance, general liability insurance, and business interruption insurance together at a reduced rate for qualifying businesses.
Get small business insurance quotes from trusted carriers with Insureon
Complete Insureon's easy online application today to compare quotes for commercial property insurance and other kinds of insurance from top-rated U.S. carriers. Once you find the right policy, you can begin coverage in less than 24 hours.