Copyright infringement insurance: A must-have for small businesses
Many large companies aggressively protect their trademarks with legal teams. Fortunately, small businesses can rely on general liability insurance if they accidentally infringe on another business's trademark.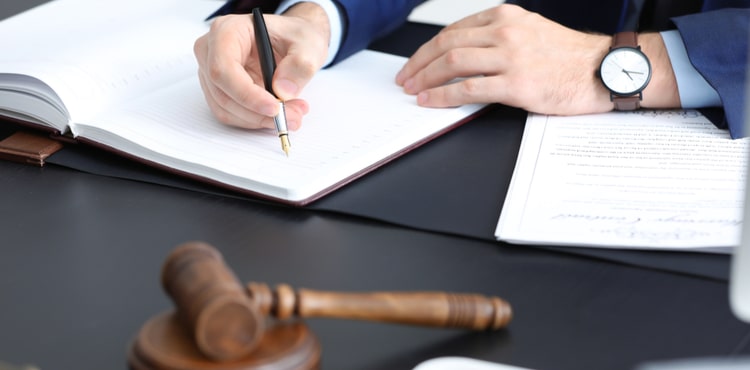 Being on the wrong side of a copyright infringement lawsuit could cost your small business thousands of dollars in legal fees, rebranding expenses, and confiscated materials.
Fortunately, your general liability insurance policy will likely cover all of your expenses if another company accuses you of stepping too close to their trademarked name, branding, or products.
When do copyright infringement lawsuits occur?
Copyright infringement lawsuits occur when you use another company's trademarked intellectual property (or something substantially similar to it) to promote your own business. This work could include:
Company and product names
Branding — including logos, color schemes, and web design
Slogans and taglines
Social media posts
However, determining what is substantially similar to another company's work is often unclear. This could lead to a new small business picking a company name or logo that they believe to be unique. But an established company watching trademark applications may claim that the new company is actually committing intellectual property infringement.
Many copyright infringement claims come from large companies attempting to protect their brand after spending many years and millions of dollars building itself up. These companies have the resources and legal teams to closely monitor trademark and copyright applications, while also searching for new businesses that have similar names, logos, or other identifiers.
Large companies aren't the only ones that could file a lawsuit against you for trademark infringement. Small businesses may be even more negatively affected by someone stealing their trademarked work than big businesses. Therefore, they could also file a copyright or patent infringement lawsuit to protect their intellectual property rights.
Lawsuits from small businesses are less common, however, as they have fewer resources to proactively seek out companies who may be venturing too close to their brand.
How does general liability protect small businesses against copyright infringement lawsuits?
General liability insurance provides coverage for:
As a commercial general liability insurance policyholder, you'll be protected from a copyright infringement lawsuit under your policy's advertising injuries clause, which includes coverage for:
A copyright infringement lawsuit could cost tens of thousands of dollars if the case drags on for a long time. If the court finds you guilty, your small business would likely be on the hook for both parties' court and attorney fees, as well as payment for damages. You'll also be told to cease using the offending work and turn over any company property that includes it.
Fortunately, your general liability policy covers all your legal defense costs and other expenses up to your policy limit. However, most policies only cover unintentional copyright infringement. If the court determines that you purposely used another company's trademarked work, your insurance policy may not cover the lawsuit, leaving you to foot the bill.
Compare small business insurance quotes from top U.S. companies
If you own a media business, you need more than general liability insurance
If you run a media business, you'll need to buy additional business insurance coverage to protect yourself from copyright infringement lawsuits.
General liability insurance for media companies — such as publishers, advertising agencies, and online publications — comes with exclusions for any coverage for advertising injuries.
Business liability coverage is meant to cover events that are incidental to your business. Since your media company could commit an advertising injury as part of its typical operations, you'd actually need a special type of professional liability insurance (also called media liability insurance, or errors and omissions insurance) for copyright infringement.
A media errors and omissions (E&O) policy will not only cover copyright infringement for a media business, but also claims for defamation, invasion of privacy, and similar offenses.
Compare quotes from trusted carriers with Insureon
Complete Insureon's easy online application today to compare quotes for general liability and other kinds of insurance products from top-rated U.S. insurance companies. Once you find the right policy, you can begin coverage in less than 24 hours.