Commercial auto insurance

Commercial auto insurance covers legal bills, medical expenses, and property damage if a business vehicle is involved in an accident.
Commercial auto insurance protects your IT business
An auto accident could cost your small IT business thousands of dollars, especially if another person is injured. Compare that to the median premium of about $200 per month for technology companies, and it's easy to see why commercial auto insurance is the better deal.
How does commercial auto insurance protect you?
Commercial auto insurance helps cover the cost of lawsuits, property damage, medical bills, and other expenses arising from an accident. It also provides coverage if your vehicle is stolen or damaged by weather or vandalism.
Your policy can be tailored to match your needs. For example, a network security truck driven once a week requires less coverage than a computer repair van that's driven daily.
Who needs commercial auto insurance?
Business-owned vehicles such as service vans and company cars must be covered by commercial auto insurance.
You may need commercial auto insurance if you:
Drive a vehicle exclusively for work
Transport computers or other IT equipment
Send employees on errands during work hours
State regulations determine how much coverage you need. Your commercial auto insurance must meet your state's liability insurance requirements.
Find business insurance requirements in your state
Select your state to learn about insurance requirements for your small business.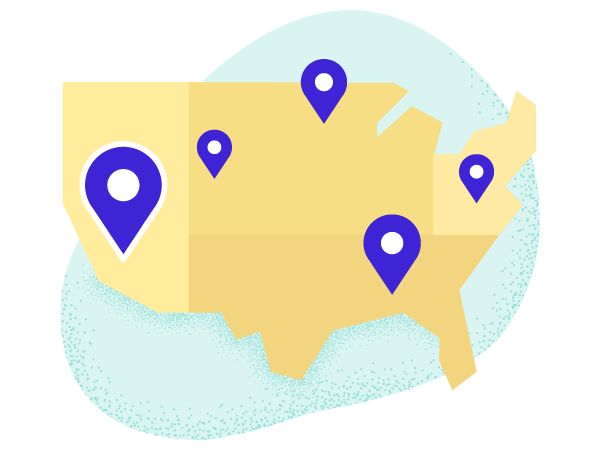 What coverage can commercial auto insurance provide for IT businesses?
Legal expenses
If your web design company or other IT business is sued over an accident, legal defense fees can add up quickly. Commercial auto insurance covers attorney's fees and related expenses.
Medical expenses
If an accident injures the driver of your company vehicle or a passenger, your policy can cover the cost of medical care.
Collision
Collision coverage pays for damage to your technology company vehicle, regardless of fault.
Uninsured motorists
This coverage pays for damage caused by drivers who don't have insurance.
Non-collision damages
Comprehensive insurance covers non-collision damages, including vandalism, theft, and fire.
Compare insurance quotes for your technology business
Personal vehicles may need additional coverage
Commercial auto insurance only covers business-owned vehicles, but sometimes employees drive their own cars for work errands. Personal auto policies almost always exclude coverage for business use.
Hired and non-owned auto insurance provides liability coverage for IT consultants and other tech professionals who get into an accident while driving a personal vehicle to conduct company business. It also covers leased and rented vehicles.
Other important policies for a technology business
While commercial auto insurance is a must-have for companies that own a vehicle, technology business owners should also consider:
General liability insurance: This policy can cover expenses related to client injuries and property damage, along with advertising injuries like slander. Technology businesses can often bundle it with property insurance for savings in a business owner's policy.
Technology errors and omissions insurance: This policy is critical for IT consultants and other technology experts. Also called professional liability insurance, it covers lawsuits related to work performance, such as a mistake that causes a client's server to crash.
Cyber liability insurance: While technology E&O covers third-party cyber liability, you may want to invest in first-party cyber liability insurance to protect your own company's data, such as clients' credit card numbers.
Fidelity bonds: IT companies are often privy to sensitive client data. This means an employee could jeopardize your business by engaging in unlawful access, theft, or fraud. Fidelity bonds safeguard your business against employees who engage in certain criminal acts.
Workers' compensation insurance: Most states require technology businesses with employees to purchase workers' compensation. This policy covers medical bills and partial lost wages from work-related injuries and illnesses.
Get free quotes and compare policies with Insureon
Are you ready to safeguard your IT company vehicle with commercial auto insurance? Complete Insureon's easy online application today. Once you find the right policy, you can begin coverage in less than 24 hours.
Compare commercial auto insurance quotes
Save money by comparing insurance quotes from multiple carriers.