Business owner's policy

A business owner's policy (BOP) bundles general liability insurance with commercial property insurance. It typically costs less than if the policies were bought separately.
Why do cleaning businesses need a business owner's policy?
A business owner's policy includes general liability insurance, which is often the first policy that cleaning businesses need. General liability coverage provides protection against lawsuits and accidents that might otherwise financially devastate your business. It's required for most commercial leases.
A BOP also includes commercial property insurance, which protects your cleaning equipment and other business property from damage and theft.
A business owner's policy can help cover the costs of:
Lawsuits related to third-party customer injuries or property damage
Lost or stolen business equipment
Damage to cleaning equipment, any commercial space you rent or own, and other business property
Lawsuits related to libel, copyright infringement, and other advertising injuries
Commercial cleaning often involves industrial cleaning and waxing equipment that would be expensive to replace and could cause substantial damage if used improperly. That's why this policy is vital for professionals like house cleaners, janitors, carpet cleaners, and window cleaners.
Customize a BOP to fit your business
Cleaning service professionals can work with an insurance agent to tailor a BOP to meet their specific needs. Consider adding a business interruption insurance endorsement on your policy, which can cover operating expenses and lost income if your business is forced to temporarily close due to a covered event, such as a fire.
Small, low-risk businesses usually qualify for a BOP. That might include:
Compare business owner's policy quotes for cleaning professionals
What coverage can a business owner's policy provide for a cleaning business?
Customer injuries or property damage
The general liability portion of a business owner's policy can pay for medical bills, legal costs, and other expenses related to third-party injuries or property damage, such as:
Accidental damage caused by your cleaning crew
A homeowner tripping over cleaning equipment used by your staff
A client injury at your office
Advertising injuries
The general liability portion of a BOP also protects cleaning services against advertising injuries, including:
Defamation, including libel (written) and slander (spoken)
Copyright infringement
For example, if you say something negative about a competitor's work at a networking event and are sued for slander, general liability insurance could help pay the legal costs.
Damage to your cleaning equipment and other business property
The commercial property insurance in a BOP protects:
Business equipment, such as vacuums, shampooers, ladders, etc.
Office furniture and fixtures
The building, if you own it
If your cleaning equipment is stolen or a fire breaks out at your business, your business owner's policy will help you recoup your losses by paying for replacement items or repairs.
Temporary closure
If your business is forced to close temporarily, it could be devastating. Business interruption insurance can protect your business from the financial hit of a forced closure by paying for lost revenue, rent, payroll, and other operating expenses.
For example, if a windstorm causes a leaky roof that results in damage to your cleaning equipment, business interruption insurance can pay for day-to-day business expenses until the equipment is repaired. That gives you the time and money you need to recover without going out of business.
Speak to a licensed Insureon agent to add business interruption coverage to your BOP.
Other important insurance policies to consider
Cleaning professionals face unique risks, especially since your work involves physical labor. Beyond a business owner's policy, these policies are recommended for cleaners:
Workers' compensation insurance: This policy is required in almost every state for cleaning businesses that have employees. It can cover medical costs for work-related injuries and illnesses, such as exposure to harmful cleaning agents.
Commercial auto insurance: This policy can pay for property damage and medical bills resulting from an accident involving your company vehicle.
Commercial umbrella insurance: This policy provides additional coverage for liability claims that exceed policy limits on your general liability, commercial auto, or employer's liability insurance.
Janitorial bonds: These are a type of surety bond. They protect cleaning businesses against losses caused by an employee's dishonesty, such as theft of client property.
You may also like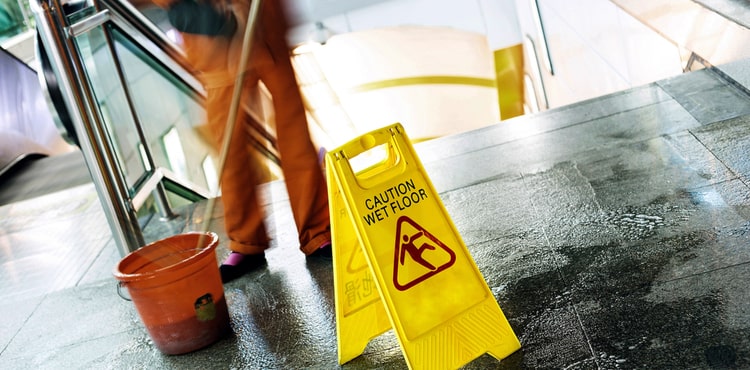 What types of insurance do you need when starting a cleaning business?
General liability insurance, workers' compensation insurance, property insurance, and janitorial bonds keep your new cleaning business safe from liabilities. Find out how each policy helps protect your bottom line.
Go to article
Get free quotes and compare policies with Insureon
Are you ready to protect your cleaning service with a business owner's policy? Complete Insureon's free online application to compare quotes from leading U.S. insurance carriers. Once you find the right policy, you can begin coverage in less than 24 hours.
Compare business owner's policy quotes
Save money by comparing insurance quotes from multiple carriers.