6 things to include in your janitorial services contract
Cleaning contracts are a great way to manage client expectations and curb delayed payment issues. Learn about the six things you should include in a janitorial services contract.
If you're just starting your small cleaning business, maid or janitorial services contracts may be far from your mind. After all, you're still trying to attract clients right now – the legal stuff can wait, right?
Actually, cleaning contracts are an important part of keeping clients happy, and retaining their business. That's because written contracts:
Bind professional relationships
Define each party's obligations
Manage client expectations
Standardize how you handle clients
In particular, cleaning contracts can help your maid or janitorial business avoid common pitfalls in your industry, such as disputes over what cleaning duties you'll do, how often you'll provide those services, and how and when the client should pay you.
But what should your contract include? You'll need a lawyer's help in drafting boilerplate client contracts, but let's review some basic components of an effective cleaning contract. A boilerplate janitorial services contract usually addresses the following points.
1. Basic information for both parties
Your contract should list the following details about your business and your client:
Names
Addresses
Contact information (email and phone numbers)
2. Scope of services
Consider this section the muscle of your contract. The more detailed it is, the better you can manage client expectations. After all, you don't want your client to assume you'll clean out the gutters and wash the exterior windows if you only offer interior home cleaning.
Remember that when clients know what to expect of your cleaning services, they are less likely to sue you over misunderstandings. This is to say: spend some time on this section, and consider specifying:
Where work will be done
Be sure to detail what areas your business is responsible for cleaning and what it won't clean.
Your work schedule
Define how long each cleaning session will be, how many times a month you'll clean, and what time and days you'll be at the client's location. If holidays are excluded, specify that here.
Cleaning duties
Itemize this task list so your client can clearly see what you will and won't do. Be sure to clarify which tasks are daily, weekly, or monthly.
Compare cleaning business insurance quotes from top U.S. carriers
3. Supply list
This section should specify whether you or your client is responsible for supplying paper goods, trash liners, etc. If it's you, be sure to state when and how you should be notified about restock needs and the price for this service. This is especially important for cleaning businesses that service hotels and commercial office buildings.
4. Renewal and termination clause
If you work with homeowners and smaller business clients, a long-term contract may be a little daunting to them. You might consider using renewal and termination clauses if:
You want your contracts to run month to month
You want to give your business and the client the opportunity to walk away so long as 30 days' notice is given
This can help you avoid getting stuck with demanding or problematic clients.
5. Payment details
Don't want to chase your clients around to remind them that their payment is due? Then make this section airtight. Be sure to spell out:
Payment amount for the services outlined in the scope of services section
Payment due dates
How you will bill for your services (e.g., submit an invoice twice a month)
How you prefer to be paid (e.g., check or credit card)
6. Dispute resolution
Here is where you might need a lawyer's help. Have a legal professional outline how to handle a dispute over your services or the fulfillment of the contract. For example, your attorney might include:
Action steps for how to handle an issue over your services
This might require that a client inform you about an issue before hitting you with a lawsuit out of the blue.
An arbitration clause
This requires both parties to resolve their dispute through the process of arbitration. Unlike a lawsuit where both parties go to court and a judge decides on an issue, arbitration is where you and the client present evidence to an impartial third party called an arbitrator, and the arbitrator makes a binding decision on the issue. Though this process still requires attorneys, it's much faster and cheaper than traditional litigation.
Lastly, don't forget that in order for a contract to be binding, both parties have to sign the agreement. To learn more about cleaning contracts, check out the article, "8 tips for writing a cleaning service contract."
You may also like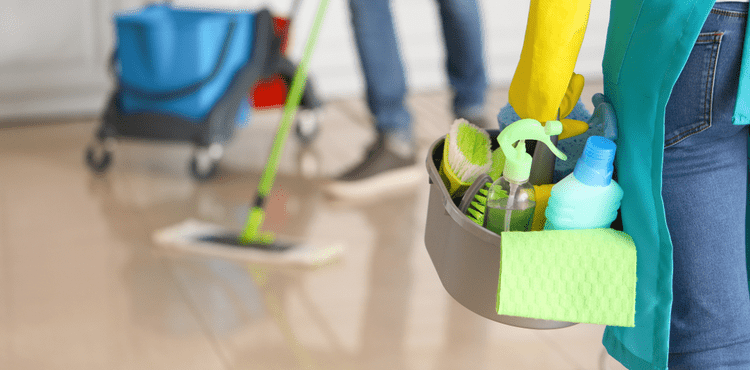 4 steps to get your cleaning business bonded and insured – and how much it costs
Getting your cleaning business bonded and insured can lower risks and help you grow your business. Learn what you need to do, and how much it will cost you.
Go to article
Compare quotes from trusted carriers with Insureon
Complete Insureon's easy online application today to compare insurance quotes from top-rated U.S. carriers. Once you find the right policy for your small business, you can begin coverage in less than 24 hours.