Workers' compensation insurance

Workers' compensation insurance covers medical costs and lost wages for work-related injuries and illnesses. This policy is required in almost every state for businesses that have employees.
Workers' compensation protects employees at your real estate office
Whether at the office or on-site at a property, your employees are susceptible to work-related injuries. The cause could be as simple as moving heavy furniture or tripping on an uneven step. Even a minor injury can result in medical bills and time taken off work. Workers' compensation insurance provides coverage in three primary areas:
Employee medical expenses
Employee injury lawsuits
Compliance with state laws
What coverage can workers' comp insurance provide for real estate agents?
Employee medical expenses
When an employee is injured, your real estate business could be held liable. Workers' compensation insurance helps cover:
Medical bills, such as emergency room costs
Ongoing care, including physical rehabilitation
Missed wages during recovery
Death benefits for fatal incidents
Employee injury lawsuits
If one of your employees claims that an unsafe work environment or your negligence led to an injury, you could face a lawsuit. Employer's liability insurance, typically included in workers' compensation, can help cover expenses related to lawsuits. That includes:
Attorney's fees
Court-mandated judgments
Settlements
Witness fees
Compare workers' compensation insurance quotes for real estate professionals
How much does workers' comp cost for real estate businesses?
The amount you pay for workers' compensation is a specific rate based on every $100 of your business's payroll. Your premium is determined by the type of work done by your employees (classification rate), your experience modification rate (claims history), and your payroll (per $100).
The formula is:
Classification rate x Experience modification rate x (Payroll / 100) = Premium
State laws set workers' compensation requirements for real estate businesses
In most states, real estate businesses must provide workers' compensation insurance as soon as they hire their first employee. Without this policy, you could face fines or even jail time.
Each state creates its own laws for workers' compensation requirements. For example, every real estate business in New York must carry workers' compensation for its employees – even part-time workers. However, Alabama businesses are only required to carry workers' compensation when they have five or more employees.
While self-employed or independent contractors, sole proprietors, and partners don't have to carry workers' compensation insurance, you can purchase a policy to protect yourself, too.
Find workers' comp requirements in your state
Choose your state to learn about workers' compensation insurance requirements for your small business.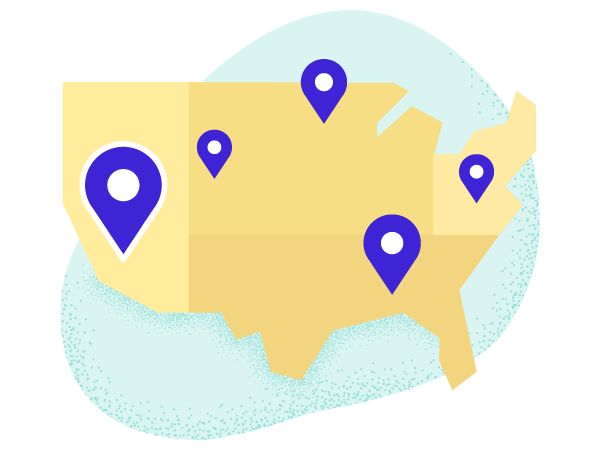 Monopolistic state funds
In certain states, real estate businesses must purchase workers' compensation insurance through a monopolistic state fund. Those states are:
If you purchase workers' comp through a monopolistic state fund, it may not include employer's liability insurance. However, you can purchase it from a private insurer to fill this gap in coverage.
Lower workers' comp costs with risk management
Even office workers are at risk for an injury. They could slip on a wet floor or trip over a power cord. If an employee is injured on the job, it could lead to an insurance claim and a rise in your premiums.
Whether you are a real estate agent or broker or a commercial landlord, you can mitigate risk by providing safety training and eliminating hazards such as loose rugs, clutter, and dim lighting. Taking these steps could reduce workplace injuries along with insurance rates.
Other important policies for real estate professionals
While workers' compensation insurance protects your employees and to some extent your business, it does not provide complete protection. Accidents can happen in any real estate profession. Other policies to consider include:
Business owner's policy: This policy combines general liability insurance with commercial property insurance, typically at a lower rate than if the policies were purchased separately.
Commercial auto insurance: This policy covers business-owned vehicles. It typically pays for accidents and damages related to theft, weather, and vandalism.
Errors and omissions insurance: Also called professional liability insurance, this policy can cover legal fees of lawsuits related to a real estate professional's business decisions.
Get free quotes and compare policies with Insureon
Are you ready to safeguard your real estate business with workers' compensation insurance? Complete Insureon's easy online application today. Once you find the right policy, you can begin coverage in less than 24 hours.
Compare workers' comp insurance quotes
Save money by comparing insurance quotes from multiple carriers.