Commercial auto insurance

Commercial auto insurance covers legal bills, medical expenses, and property damage if a business vehicle is involved in an accident.
Commercial auto insurance protects the vehicles you depend on
Whether meeting with clients, scouting properties, or driving prospective buyers to showings, real estate agents drive… a lot. Driving creates a huge risk for small businesses. Commercial auto insurance can help cover accidental damage or bodily injury caused while driving a business-owned vehicle.
This policy can help pay for:
Auto liability coverage
Medical bills
Physical damage and collision coverage
Uninsured motorist coverage
Who needs commercial auto insurance?
Company-owned vehicles must be covered by commercial auto insurance. State regulations determine how much coverage you need. Your commercial auto insurance must meet your state's liability insurance requirements.
Find business insurance requirements in your state
Select your state to learn about insurance requirements for your small business.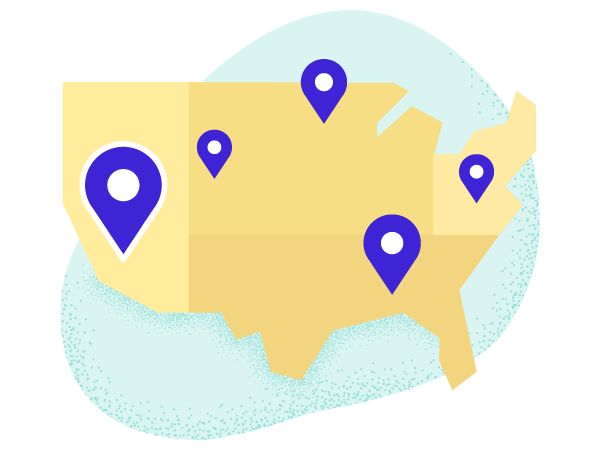 What coverage can commercial auto insurance provide for real estate professionals?
Auto liability coverage
If an employee gets into a car accident while driving a business vehicle, commercial auto insurance can help pay for damages. These include:
Repair costs for the other person's damaged vehicle or property
Legal expenses if you're sued over the other driver's injuries
Medical bills
In the event of injury, commercial auto insurance can cover medical expenses for yourself and others, regardless of who's at fault in the accident. This can include:
Medical expenses if you're injured in an auto accident
Medical expenses for occupants in your vehicle
Physical damage and collision coverage
If a tree branch lands on your parked truck and shatters the windshield, or a vandal breaks a window in your van, commercial auto insurance can pay for repairs. It can also cover:
Theft
Vandalism
Certain weather events
Impact with another object
Uninsured motorist coverage
Even though it's required by law, not all drivers carry insurance. When uninsured motorists cause accidents, they may not be able to cover damages. Commercial auto insurance safeguards you from having to foot the bill. It can help pay for:
Your bodily injuries
Damage to your car (depending on your policy and state)
Compare commercial auto insurance quotes for real estate professionals
Personal vehicles may need additional coverage
Commercial auto insurance only covers business-owned vehicles, but sometimes employees drive their own cars for business errands. Personal auto policies almost always exclude coverage for business use. Hired and non-owned auto insurance provides liability coverage for real estate agents, property managers, and others who get into an accident while driving a personal vehicle to conduct company business. It also covers leased and rented vehicles.
Other policies for real estate businesses to consider
While commercial auto insurance covers risks related to driving, it does not provide complete protection. No matter your field of expertise – whether you're a property manager or a commercial landlord – accidents can happen. Other policies to consider include:
Business owner's policy: This policy combines general liability insurance with commercial property insurance, typically at a lower rate than if the policies were purchased separately.
Cyber liability insurance: This policy helps real estate businesses survive cyberattacks and data breaches by paying for recovery expenses and other associated costs.
Errors and omissions insurance: Also known as professional liability insurance, this policy can cover legal fees of lawsuits related to your business decisions.
Get free quotes and compare policies with Insureon
Are you ready to safeguard your real estate business with commercial auto insurance? Complete Insureon's easy online application today. Once you find the right policy, you can begin coverage in less than 24 hours.
Compare commercial auto insurance quotes
Save money by comparing insurance quotes from multiple carriers.