Serve flaming shots? You might get burned
If a flaming drink injures your customer, your bar will take the heat – and your insurance company might not cover you for it. Discover whether or not your business insurance covers "risky activities" like flaming shots.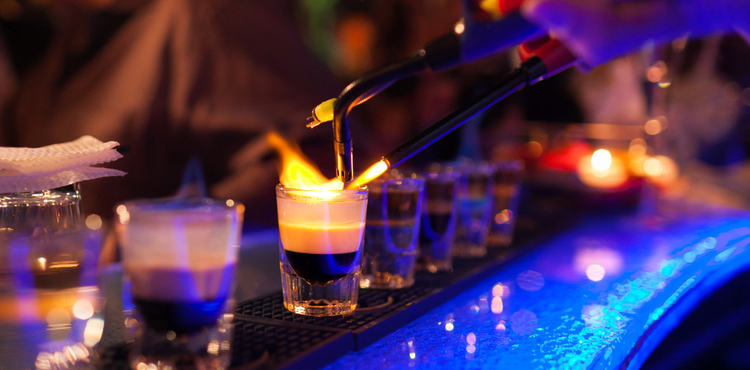 People have enjoyed the benefits of both fire and alcohol for thousands of years. It's no real surprise that we eventually combined the two. While no one can say for sure who first decided to set a drink on fire, a bartender's guide dating back to 1862 contains a recipe for a flaming cocktail called the Blue Blazer, according to Wikipedia.
The problem for your bar is that anytime you introduce fire and alcohol, you run the risk of someone getting burned. Literally.
Alcohol plus fire sometimes equals lawsuits
As reported by the Tampa Bay Times in 2008, a woman sued the Green Iguana Bar & Grill in St. Petersburg, Florida, for serving her a flaming shot of Bacardi 151-proof rum. She claimed she suffered third-degree burns and sued the restaurant for $15,000 to cover her medical expenses and lost wages.
The Daily Mail reports that another young woman in Manchester, England, was rushed to the hospital with burns to her face and chest after a flaming cocktail allegedly "exploded" in her face. And in Russia, a woman's face was set on fire when a flaming cocktail demonstration by a bartender went horribly wrong, according to the Tribunist.
When your bartenders play with fire, the potential always exists for someone to get hurt. Let's see how your liability insurance may – or may not – apply to a case like this.
Does insurance cover lawsuits related to drinks deliberately set on fire?
As a bar owner, you probably know about the liability you have for serving alcohol. You may even have insurance to cover that risk. But when it comes to injuries caused by flaming beverages, that protection may not apply.
According to an article in Property Casualty 360, the premises liability portion of your general liability insurance policy may exclude risky activities (like flaming shots). The only way to be certain that your general liability covers injuries related to flaming drinks is if it is specifically stated in your policy.
Your bar could be covered for this particular risk if you have liquor liability insurance, depending on the policy. If someone sues over a flaming drink injury, liquor liability insurance may cover the claim if it offers on-premises coverage. If you only have off-premises coverage, you will likely pay for your legal expenses out of pocket.
Compare insurance quotes from trusted carriers with Insureon
Complete Insureon's easy online application today to compare quotes for general liability, liquor liability, and other kinds of business insurance from top-rated U.S. carriers. Once you find the right policy, you can get coverage in less than 24 hours.