Do these 4 things before changing your restaurant's menu
Changing your restaurant's menu can be a pivotal decision for the success of your business. Consider these four items before making the leap.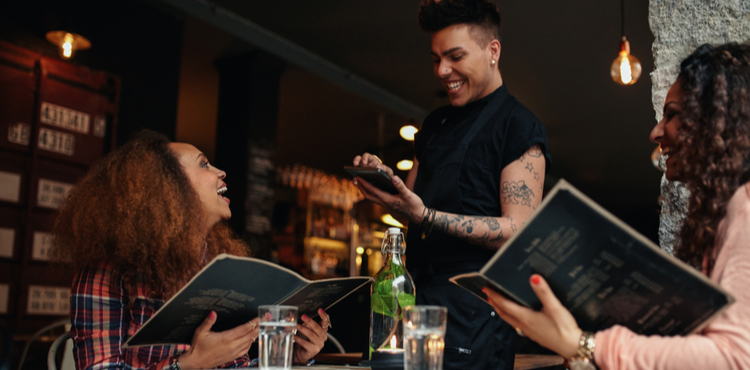 When was the last time you updated your restaurant's menu? If it's been a while, you may be ready for a revamp, especially if you want to rebrand your restaurant, streamline your kitchen operations, cut food costs, keep pace with evolving tastes.
Whatever the reason for the change, as a small restaurant owner you want to do it well. Otherwise it may cost you business. Let's review four things to consider when updating your menu and how restaurant insurance can help you manage potential risks.
Choose your menu design carefully
You want your menu to convey your restaurant's theme. For example, if you own a diner, you may want a menu with a fun, retro feel. But a romantic French bistro might be better served by a menu with a more sophisticated look. Keep your theme in mind when you pick colors and fonts, too.
Next, you want to make your menu easy to read by choosing a design that is clean and simple, avoiding overly stylized or small print, and keeping descriptions short and to the point.
Granted, you want to make menu items sound appetizing. But too many words or too much jargon can cause the average diner to lose interest.
Finally, be mindful of what you name each dish. As we explain in "How items on your menu could get you sued," sometimes what you think is a generic term has actually been trademarked. Use it and you may end up in court. Fortunately, general liability insurance typically covers the cost of a trademark infringement lawsuit.
Set prices wisely
Choosing the right price for each dish isn't a guessing game. You need to evaluate several factors, starting with food costs. Some ingredients, such as fresh Maine lobster and locally sourced ingredients, cost more to procure. Your prices need to reflect that.
You also want to factor in overhead costs, such as salaries, rent, utilities, insurance premiums, kitchen equipment, and marketing expenses.
There is also a psychology behind setting menu prices. For example, customers expect to pay more for a sophisticated dining experience. Set your prices too low and customers may wonder if you're skimping on quality. Try to align your prices with the perception you want customers to have of your restaurant.
Prep your customers for menu changes
Rather than blindsiding regulars with menu changes, start publicizing them a month or two in advance. You might try touting the changes with an insert in your current menu, posting the changes on social media, and encouraging wait staff to talk about the changes with customers.
Some customers may still get upset, especially if their favorite dish doesn't make the cut. This makes it important to highlight how the changes will improve their dining experience. For example, a streamlined menu makes the kitchen more efficient and gets food to the table faster.
Prices increases can cause negative reactions, too. Train staff to talk about the reasons behind an increase, which may include offering higher-quality ingredients, hiring more experienced cooks, or featuring more organic options.
One way to get regulars on board is to host a sneak preview of the new menu. Invite your most loyal customers and let them know how much you appreciate their business. Making them feel valued may help overcome any reluctance they have about the changes.
Risk manage your menu
A menu overhaul is also a good time to make sure you are managing your food safety risks. These can include noting potential allergens on your menu, adding consumer advisories when appropriate, and offering alternative ingredients for allergy sufferers.
You may want to be particularly careful if your menu includes options for customers with specific dietary needs. For instance, if you claim an item is nut free, you want to minimize cross-contamination by using separate cutting boards and pans when preparing it. But you may also want to check your restaurant insurance for product liability coverage. It can cover costs if a patron has an allergic reaction after eating your food.
Offering gluten-free and allergen-free option may sound like a hassle, but it might be the right thing to do.
Compare quotes from trusted carriers with Insureon
Complete Insureon's easy online application today to compare insurance quotes from top-rated U.S. carriers. Once you find the right policy for your small business, you can begin coverage in less than 24 hours.