Commercial umbrella insurance

Once a policy's limit is reached, commercial umbrella insurance provides additional coverage for liability claims made on general liability, commercial auto, or employer's liability insurance.
Umbrella insurance boosts your coverage limits
The costs of a lawsuit against your cleaning business can quickly add up – even to the point where your insurance coverage isn't enough to cover it. Commercial umbrella insurance, similar to excess liability insurance, can pay for claims that exceed the limit on your liability policy.
The policy can boost the coverage limits of your:
Most cleaning businesses purchase umbrella insurance to satisfy client contracts that require policy limits higher than $2 million.
How does umbrella insurance work for cleaning businesses?
Umbrella insurance activates when the limits are exhausted on the underlying policy.
For example, say your employee fails to use a wet floor sign after mopping a client's floor. Your client slips and falls, suffering a serious head injury that leaves them unable to work for months. The client sues you for $2.5 million in damages.
If your cleaning business has general liability insurance with a $2 million per-occurrence limit, that policy would cover the first $2 million. Then your umbrella policy would kick in to cover the remaining $500,000.
Compare commercial umbrella insurance quotes for cleaning professionals
What coverage does umbrella insurance provide for cleaning businesses?
A commercial umbrella liability policy simply mirrors the coverage of the underlying policies, which may include:
General liability coverage
Umbrella insurance/excess liability insurance provides coverage after your general liability insurance reaches its policy limit. It can help cover legal costs related to:
Customer slip-and-fall injuries
Customer property damage
Advertising injuries, such as slander and libel
Copyright infringement
This policy will also cover claims on the general liability portion of a business owner's policy (BOP), which bundles general liability insurance with commercial property insurance at a discount.
Commercial auto insurance
The cost of a car accident involving multiple vehicles can go sky high if the other drivers sue for damages.
Umbrella insurance covers liability claims that exhaust the limits on your commercial auto insurance. It also extends coverage on hired and non-owned auto insurance for cleaners who drive their own vehicles for work purposes.
If you or one of your employees gets into an auto accident, it can cover legal costs related to:
Injuries caused to others
Damage to another person's vehicle
Other third-party property damage
Employer's liability insurance
Cleaning involves physical labor, which is why umbrella insurance is a recommended policy for professions like house cleaners, janitors, and window cleaners. If one of your employees blames an injury on a lack of proper equipment or other negligence, they could sue.
When an employee lawsuit over an injury escalates and exceeds the limits on employer's liability insurance (usually included in workers' compensation insurance), umbrella insurance kicks in to cover the costs. It adds an extra layer of protection to your existing coverage.
Umbrella insurance does not cover:
Professional liability lawsuits
Property insurance claims
Expenses covered by the underlying policy
Employee discrimination lawsuits
Other policies for cleaning and janitorial professionals to consider
In addition to umbrella insurance and its underlying policies, cleaning professionals should also consider:
Business owner's policy: A BOP bundles general liability insurance with commercial property insurance. It costs less than buying the policies separately, but not all cleaning businesses are eligible.
Janitorial bonds: Janitorial bonds might be required by your clients. They provide reimbursement if one of your employees steals from a client, or is accused of theft. These bonds are also called employee dishonesty bonds.
You may also like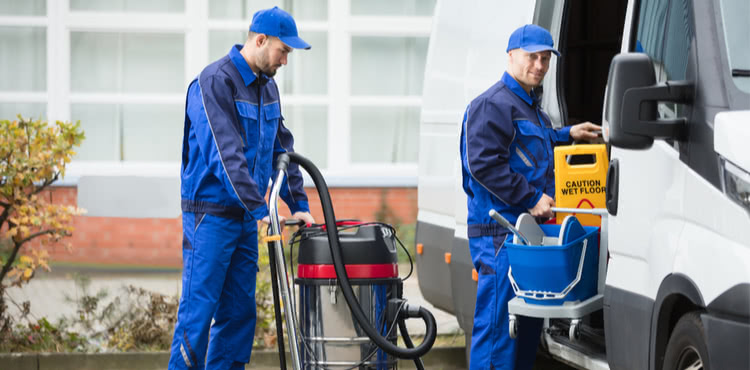 What to know about cleaning business licenses and bonds
Your cleaning business may need licenses, bonds, and commercial insurance to operate legally. While it might seem like a lot, these added forms of protection can provide peace of mind for your business and help you secure clients.
Go to article
Get free quotes and compare policies with Insureon
Are you ready to safeguard your carpet cleaning, house cleaning, window cleaning, or other cleaning business with commercial umbrella insurance? Complete Insureon's easy online application to compare quotes from top U.S. carriers. Once you find a policy that fits your needs, you can begin coverage in less than 24 hours.
Compare commercial umbrella insurance quotes
Save money by comparing insurance quotes from multiple carriers.