What kind of liquor liability insurance do I need?
If you're the owner of a restaurant or bar, learn whether or not you need liquor liability coverage and if so, what it covers.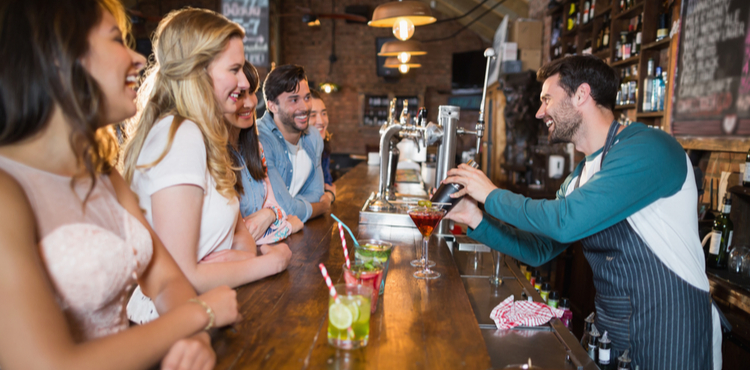 According to Insurance Journal, owners of bars and taverns often buy less liquor liability insurance than they need, which makes them highly vulnerable to financially devastating lawsuits. Here's your guide to making sure your liquor liability coverage is adequate to protect you against the specific risks your restaurant, bar, or nightclub faces.
What does liquor liability insurance cover?
Liquor liability insurance protects business owners against the costs of liquor-related incidents. For example, if a drunk patron starts a fight, drives home, or falls over and injures himself or another patron, any affected party could sue your establishment for damages.
A robust liquor liability policy will protect you by:
Paying for the legal costs associated with defending yourself against the charges
Paying for any settlement or judgments you are found liable for covering
In the absence of adequate liquor liability insurance, however, you'll be on the hook for all those expenses. This can be overwhelming for restaurants and bars, because attorney's fees alone can easily climb into the tens of thousands of dollars.
Who needs liquor liability insurance?
Your liquor liability needs will depend on the type of restaurant or bar you operate and the laws where you live. Some states require liquor liability insurance for every establishment that sells and serves alcohol; others do not. Generally speaking, you should consider investing in a liquor liability policy if you…
Live in a state that requires you to have this type of policy
Sell or serve alcohol at your establishment
Have a BYOB setup that allows customers to consume alcohol on your premises
An insurance agent familiar with your state's laws can help you determine your exact coverage needs.
What protections should my liquor liability policy include?
If people are drinking alcohol at your establishment, liquor liability insurance is probably a good idea. But not all policies are created equal. Coverage offered might include any of the following:
Lawyers' fees for defending your business against liquor-related lawsuits
Damages for which you're found liable in court
Coverage for incidents that occur off your business premises (a car accident caused by a driver who became intoxicated at your establishment)
Coverage for bartenders who drink on the job
Coverage for assault and battery, in case of fights that occur among patrons or between a patron and bouncer
Coverage for mental damages, which some plaintiffs might seek following a traumatic incident of violence at a bar
Coverage for specific incidents (sexual assault, stabbings, shootings, etc.)
Your agent can help you determine which of these coverage areas are most important for your business and find you a policy that provides adequate protection.
Compare quotes from trusted carriers with Insureon
Complete Insureon's easy online application today to compare insurance quotes from top-rated U.S. carriers. Once you find the right policy for your small business, you can begin coverage in less than 24 hours.