Your restaurant's eating contest may not be worth the risk
Before you host an eating contest, be sure to consider your potential liabilities as a restaurant owner. By managing these liabilities with good procedures and effective insurance coverage, you can keep contest participants happy and safe.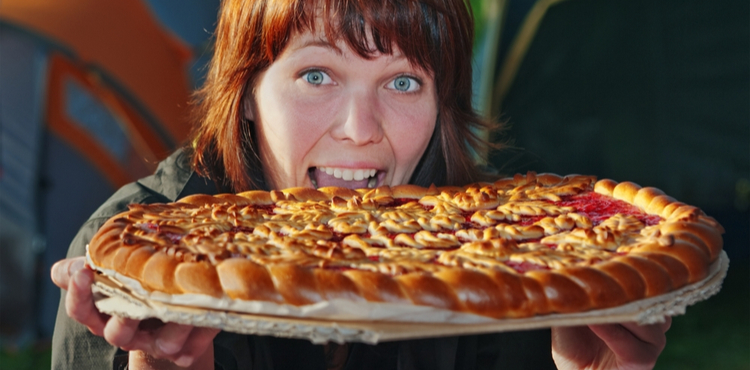 An eating contest can be a fun and lucrative way to generate publicity for your restaurant. Take Nathan's Famous International Hot Dog Eating Contest. It helped turn a small hot dog stand in Coney Island, New York into a franchise with locations spanning the globe.
As entertaining as they might be, eating competitions also come with some serious risks that your restaurant liability insurance might not cover. Let's take a look at a few of the liability issues associated with eating contests so you can decide if this promotion is appropriate for your restaurant.
Eating contests increase risk of injuries, even death
In the race to clean their plates the fastest, competitive eaters have been known to:
Bite their fingers
Cut their fingers
Become physically ill
Sometimes competitive eating can even turn fatal. According to an article in Eater Denver, a Colorado man recently died attempting Voodoo Doughnut's eating challenge – consuming a half-pound doughnut in less than 80 seconds. He choked and later died of asphyxia.
Serving food to the public is already risky. The frenzy of an eating contest only increases the chance of a tragedy happening at your restaurant.
Eating challenges aren't the only way restaurant owners can end being responsible for a patron's injury. Read "Serve flaming shots? You might get burned" for more information.
Even if contestants sign a waiver, you can still be held liable
Requiring participants to sign waivers before participating in an eating contest or challenge is a good idea. It shows that you are taking the event seriously and trying to warn entrants of the hazards. Unfortunately, waivers don't necessarily absolve you of liability should you wind up in court.
That's because waivers aren't automatically ironclad, according to another article in Eater Denver. For example, a lawyer could argue your waiver's wording wasn't clear so participants weren't fully informed about the dangers.
Sources in the article go on to say that courts often determine waivers are unenforceable when:
Alcohol is involved
No one secures permits or inspections
Minors participate
Even if you consult a lawyer and take steps to ensure the safety of contestants, you can still be held liable based on where you live. Judges may look to prior lawsuits for guidance when deciding if your waiver is enforceable.
Your restaurant liability insurance may not cover eating contests
Restaurant liability insurance policies can cover a lot of things that might go wrong at your restaurant. For instance, general liability insurance typically covers third-party claims, such as a customer's:
Foodborne illness
Injuries
Property damage
Let's say a customer sues your restaurant over an injury they suffered during your eating competition. Because it's a customer injury, your restaurant's general liability insurance may pay the claim.
But then again, it may not. Sometimes restaurant insurance policies exclude risky activities, like eating contests. That's why you should check with your insurance company to find out if you're covered before you host an eating competition.
The good news? If you're covered, your insurance company typically pays for the injured contestant's medical bills, as well as your legal costs should they sue.
When run safely, a successful eating contest can draw patrons to your restaurant for years to come. Just make sure you have the right restaurant insurance coverage in place first.
Compare quotes from trusted carriers with Insureon
Complete Insureon's easy online application today to compare quotes for general liability and other kinds of business insurance from top-rated U.S. carriers. Once you find the right policy, you can get coverage in less than 24 hours.