Why your camera gear isn't covered by your homeowner's or renter's insurance
Many professional photographers are surprised to learn that their camera gear is not covered under homeowner's or renter's insurance. Learn why your camera gear may not be covered and what you can do to protect it.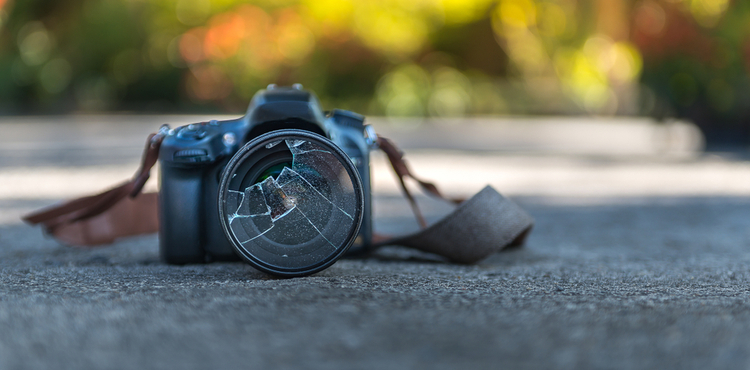 Whether you're a serious hobbyist or a professional photographer, you want to protect your camera gear. That stuff's your livelihood, and you've probably spent multiple years and thousands of dollars amassing a reliable collection of equipment.
When looking for camera insurance, however, many photographers and videographers mistakenly assume homeowner's insurance is good enough. It's not hard to see why: homeowner's and renter's insurance cover items in a person's home. Cameras are items that people keep in their homes. Ergo, cameras should be covered by their personal policy, right?
But here's the kicker: homeowner's and renter's policies often exclude items from coverage if they're used for business purposes. If you're a professional photographer who stores everything at home, this means you're on your own if your camera, lenses, lights, and other business property are stolen or destroyed. And if you're like most photographers who carry a camera everywhere they go, standard property insurance won't cut it, either – that policy only protects gear in a specific place.
So how exactly are you supposed to insure your camera and other photo or video equipment?
Inland marine insurance: coverage for gear on the go
Here's your answer: purchase an inland marine insurance policy tailored for photo and video professionals. Though the name is a little confusing, inland marine insurance can actually do a whole lot more than any homeowner's policy as far as protecting your cameras, lenses, lights, electronics, additional photo-video gear, and electric viewfinders and rigs.
Basically, it's a type of property insurance designed to cover items in transit. The name has carried over from the days of yore when the policy was first used to insure goods being shipped by sea, then later for goods moving inland by wagon and rail.
Today, businesses rely on the policy to insure property that travels with them. In other words, if you're a photographer or videographer who often lugs expensive, heavy gear to wherever the action is, this policy may be a good fit.
Unlike regular property insurance, inland marine coverage goes wherever your insured property goes. Whether you're out in the stormy field or working the crowd at a wedding reception, your gear is covered against theft, fire, and wind damage.
When shopping for inland marine insurance, have your agent review the specifics of the coverage. Particularly expensive pieces of equipment may need to be scheduled separately, so don't assume everything is covered by a standard policy. When in doubt, ask questions!
What about commercial property insurance?
If you own or rent a studio, you probably want commercial property insurance, too. In fact, you may be required to have a policy in order to sign a lease. This policy can cover equipment that stays in the studio, such as computers, light fixtures, camera stands, and more. It can also cover the physical building itself, as well as furniture, decorations, and business supplies.
Is your studio in your house? Again, don't assume a homeowner's policy can insure your business assets. An agent can write up a property insurance policy for your home-based studio so a fire, tornado, or break-in doesn't leave you empty-handed.
Compare quotes from trusted carriers with Insureon
Complete Insureon's easy online application today to compare quotes for inland marine and other types of insurance from top-rated U.S. carriers. Once you find the right policy for your small business, you can begin coverage in less than 24 hours.