How to find your first clients as a marketing consultant
The consulting market is crowded, so you'll need to be strategic to find your first clients.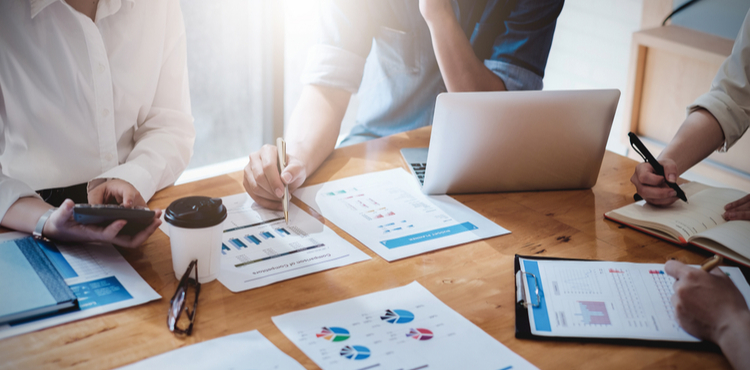 It's estimated that the consulting market is between $130 billion and $150 billion per year, which means there's plenty of demand for the services of a professional marketing consultant. Still, the market is crowded, and you'll need to be strategic to find your first clients.
Consider these tactics for growing your marketing consultant business:
Who is your ideal client?
The role of a marketing consultant is to develop brand strategy and acquire clients. However, your first client is yourself. While it seems logical to take any client who is willing to use your services to get your business started, doing so can hurt your business in the long term.
Instead, look at where you want to be and who your ideal client will be once your business is established. If you specialize in a particular industry, now's the time to prepare. Don't take on any client just for the sake of having more work. Showing results from an accounting firm client won't necessarily demonstrate to a prospective medical client that you can effectively market in the healthcare space.
Be selective and consider your own marketing strategy, what kind of clients you want to attract, and where you can find them.
Networking is a crucial first step
Networking is essential for finding early clients as a marketing consultant. Once you've determined your target industry, look for worthwhile networking events and reach out to professional and personal contacts who could use your services.
Ask your friends. Your friends and former co-workers are a great source of information for potential clients, especially if you know people within the industry you are targeting.
Attend alumni and community events. Your college or grad school website probably lists alumni events. Connect with other alumni to build professional relationships and potential client leads. If you're active in another kind of organization, attend those events, too. You're more likely to get work or a referral from someone if you share common ground and a personal connection. If you're in a smaller town, organizations like the chamber of commerce might hold networking events.
Network online. Sites like LinkedIn, Meetup, and Eventbrite are a good starting point for finding an event based on your location and industry. Joining Facebook groups and following industry professionals on Twitter can also be a good way to connect with other professionals and grow your marketing consultant business.
Create a website and portfolio
Your website speaks volumes about who you are. It's an opportunity to showcase your skills, knowledge, and expertise. Create your own marketing content with industry trends, research, and recommendations to showcase your professional experience. It's time-consuming, but it's also the most tangible thing you can provide to a prospective client if you don't have any previous projects to share.
Your website should include information about the marketing consultant services you provide, your background and experience, and contact information. Eventually, you'll be able to add a portfolio that showcases your successes.
Use your first client to get more clients
Referrals and word-of-mouth are the best advertising a marketing consultant can have. Once you've completed your first contract, see if the client is willing to write a testimonial for your website or be a reference. Stay in touch after the project has concluded. Whether that means an annual holiday card or the occasional email to check in is up to you, but leave the client ready to recommend you to someone else.
Protect your business with insurance
Protecting yourself with small business insurance safeguards your business and shows potential clients that you take risk management seriously. For example, cyber insurance can illustrate to your clients that you are prepared to respond and take action if your project becomes the target of a cyberattack.
Professional liability insurance can protect you and your clients from financial loss due to work mistakes or missed deadlines, and general liability insurance provides important protection for advertising injuries, including copyright infringement, libel, and slander.
Compare quotes from trusted carriers with Insureon
Complete Insureon's easy online application today to compare insurance quotes from top-rated U.S. carriers. Once you find the right policy for your consulting business, you can begin coverage in less than 24 hours.