Your workers' comp risk may be higher than you think
Workplace injuries can happen when you least expect it, even if you're not in the construction industry. Keep your employees and business safe with proper precautions and workers' comp insurance.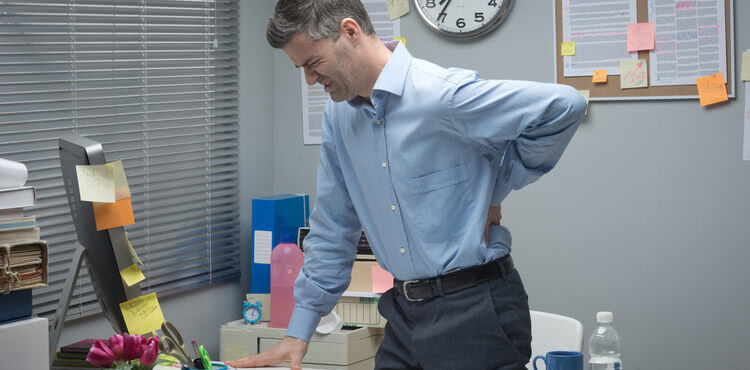 When most people think about workers' compensation insurance claims, they imagine a construction worker dropping a sledgehammer on his foot. The image has merit, but it misses how much risk there is in other professions. Common workplace accidents include a barkeeper tripping over a misplaced keg, a nurse straining her back moving a patient, an office worker slipping on slick tile, and a store stocker dropping a box on a coworker's head.
Workers' comp claims can arise in almost any profession, and according to Insurance Journal, "struck by object" injuries are among the most common and most costly small business claims. Fortunately, that and other types of workplace injury risks can be managed through sufficient insurance coverage and safety measures.
Workers' comp in the workplace: A necessary safeguard in most states
Workers' compensation can cover the injuries and illnesses your employees may suffer because of the work they do. Typically, the policy can help pay for medical bills, lost wages, and disability pay (if the employee ends up unable to work).
Most states require businesses to carry workers' comp insurance for their employees, but some small business owners carry the coverage for themselves, too. That way their income is protected if a workplace accident keeps them from working. You can learn about your state's requirements in our guide "Workers' compensation laws by state."
Carrying workers' comp is a sensible move for anyone working in an industry that's physically demanding, such as construction, manufacturing, agriculture, forestry and fishing, and transport and storage.
However, workers' comp may also cover repetitive motion injuries, such as carpal tunnel, and illnesses that come from exposure to workplace toxins, which means even seemingly safe office environments benefit from the coverage.
Pro tip: Different professions have different workers' comp class codes, which denote risk and policy price. Classify your employees properly to ensure you don't pay too much or too little for your coverage.
How to manage workplace injury risks with safety measures
Consider the risks your employees face. Many hazards depend on your industry, such as open flames in a restaurant or chemicals in a nail salon. Others stem from your particular business practices.
Once you identify your risks, you can develop procedures to make your workplace safer. For example, you may want to:
Require employees to secure tools and equipment not in use.
Limit access to work areas to essential employees only.
Learn how to handle and dispose of chemicals properly.
Regularly inspect tools and machinery.
Keep a maintenance log.
Make employees wear safety goggles, hard hats, and reflective vests when necessary.
Select an employee to be the point person for safety procedures.
Visit OSHA's Compliance Assistance Quick Start tool to learn about your industry's safety regulations. You can also check out the National Safety Council's Workplace Safety Training site to get more ideas on how to make your business safer.
Compare quotes from trusted carriers with Insureon
Complete Insureon's easy online application today to compare insurance quotes from top-rated U.S. carriers. Once you find the right policy for your small business, you can begin coverage in less than 24 hours.