Risk management check-in for food banks and other charities
Even food banks and other charities need insurance to protect their employees and volunteers and help their organization thrive. Learn about the insurance coverage guidelines your nonprofit should be following to manage risks.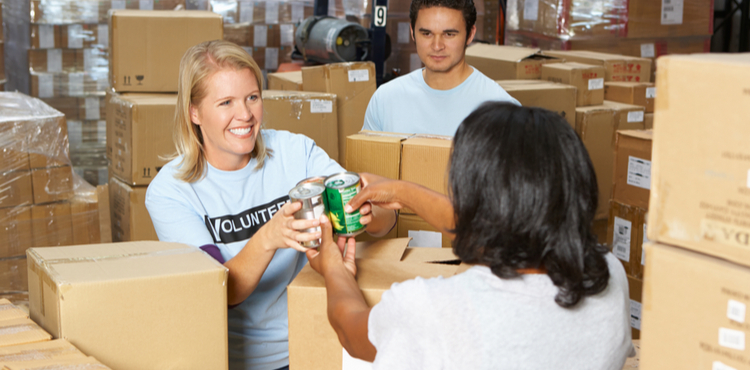 With the holiday season in full swing, food banks and other charities can expect greater donations, larger numbers of volunteers, and an influx of those who rely on the kindness of others to make it through these cold, bitter months. Yes, with Christmas songs playing from every department store, people are reminded of what's really important: giving back after giving thanks for what they have.
Your food bank should be on the lookout for even larger numbers of visitors this season, since there's been a decrease in government food stamp assistance. According to recent figures, a family of four can expect a decrease of $36 per month. Greater numbers of those in need means your food bank will be forced to either make smaller food baskets or cut off those in need when food runs out. Considering that food banks provided more than 37 million people with food in 2010 – a number that's expected to rise given government cuts – it's important that you understand the risks your organization faces and the best ways to prevent them from undermining the work you do.
Here's an overview of some of the risks food banks safe and how you can manage them to help your operation thrive.
Are your volunteer workers subject to state workers' compensation laws?
Workers' compensation insurance can be expensive for food banks and other charities. And it's true that while volunteers can be protected under workers' compensation insurance, not all states require that you carry it for your volunteers.
We understand, though, that your goal is to make sure that the people who help make your food bank a success know that when they volunteer their services, they don't have to worry about an accident causing them a debilitating injury.
Two common situations that trigger a need for workers' compensation insurance in much of the country are when volunteers are treated as employees (scheduled shifts and lunch breaks) and if your volunteer workers receive any type of compensation, such as a stipend of food vouchers. In these cases, most states require that your food bank cover them with workers' compensation insurance.
Is your D&O insurance up to date?
We've covered the importance of carrying directors and officers insurance for nonprofits before, but with the end of the year (and peak charity season) approaching, we want to make sure that your food bank's directors and officers are protected by an up-to-date D&O policy.
The situations you have to look out for the most are those in which your food bank is hit with a lawsuit that requires compensation be made should you lose the suit. This could rear its head in the form of a misappropriated funds claim (but only if the accused are not guilty of a crime). In years past, this was the most common claim that triggered coverage for directors and officers insurance.
Should you be unlucky enough to get hit with a claim like this without D&O insurance coverage, your board members will have to pay for their legal defense out of their own assets. In reality, your nonprofit will have a very difficult time securing qualified board members if it doesn't provide the basic protection of a D&O policy.
Do you have a special event coming up?
Perhaps you're planning a big food drive before Christmas, or have a meal planned for New Year's Day. If so, you want to limit your exposure to lawsuits by carrying special event insurance for your food bank.
As outlined in the post "Special event insurance for nonprofit organizations," carrying special event insurance will protect you from paying out of pocket for property damage and bodily injury occurring to or on your site.
Compare quotes from trusted carriers with Insureon
Complete Insureon's easy online application today to compare insurance quotes from top-rated U.S. carriers. Once you find the right policy for your small business, you can begin coverage in less than 24 hours.