Why canceling business insurance may cost more than keeping your coverage
Dropping your business insurance may seem like an easy way to trim your budget during a temporary shutdown, as many businesses experienced during the COVID-19 pandemic, but you may pay a high price in the long run.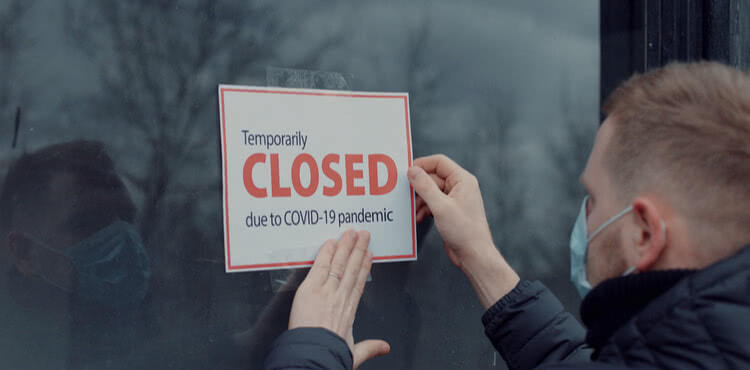 The COVID-19 pandemic temporarily shut down many "non-essential" businesses, and it had a substantial impact on business revenue. If you were one of these business owners, you probably were looking for ways to cut expenses.
Canceling one or more of your insurance policies while your business is closed might seem like a smart financial decision. After all, why pay for general liability insurance when there's no chance a customer can slip and fall at your shuttered business?
But before you do, you need to know the risks. Canceling insurance can cause more problems than it will fix. And the short-term savings can wind up costing you far more in the long run.
Your business insurance likely doesn't cover losses resulting from the pandemic, unless you previously purchased a communicable disease rider. But it does continue to protect your business from other losses.
Here are a few of the risks you could face if you cancel your business insurance coverage. You can also watch our short video on the risks of canceling business insurance.
You probably won't get a full refund, and you'll end up paying more for new coverage
Insurance carriers won't allow you to temporarily suspend policies and restart them later. If you cancel your insurance today, you'll have to purchase new coverage when your business reopens.
Insurers view businesses with gaps in coverage as bigger risks. Canceling your insurance means that you'll likely pay higher premiums when you apply for new coverage.
And don't count on getting a full refund if you cancel before your policy expires.
Many insurance providers include "minimum earned premium" clauses in policies. If your policy has one, you'll still have to pay a percentage of the total premium if you cancel coverage.
You could lose business licenses and permits
At a minimum, your state or city likely requires you to have a business license.
Certain industries such as construction also require special permits.
Usually, businesses must have general liability or workers' compensation insurance policies in place before a license or permit will be issued.
If you cancel these insurance policies, you risk having your licenses and permits revoked. Getting them back can be expensive and time-consuming, and there's no guarantee you'll succeed.
For instance, cities and counties typically issue a limited number of liquor licenses. A restaurant owner who cancels insurance could end up losing that license to a competitor.
When closure orders are lifted, you want to be licensed and ready to re-open immediately.
Compare business insurance quotes online.
You'll be on the hook for damaged or stolen property
Businesses are always in danger of theft and vandalism. With closed and unattended storefronts, these risks multiply.
Unfortunately, burglars and vandals aren't likely to obey shelter-in-place orders. Even with many business owners boarding up vacant storefronts to protect their property during the shutdown, damage and theft can still occur.
If you have a storefront or office, you probably have commercial property insurance. Most landlords require businesses to carry it before they'll rent to you.
If you cancel your commercial property insurance, you'll have to cover the costs to repair or replace damaged or stolen property.
You may have to pay for the costs of a car accident
Many small businesses are now offering or expanding delivery services. If you're one of them, the odds just went up that you or your employees will have a car accident on the job.
Personal auto insurance usually doesn't cover accidents that happen while driving for work. That's why you shouldn't cancel your commercial or hired and non-owned auto insurance policies.
Commercial auto insurance pays for property damage, medical bills, and legal costs resulting from accidents in a company-owned vehicle.
Hired and non-owned auto insurance covers accidents that happen when employees drive their own cars while working. This policy also protects rented vehicles.
If either of these are canceled, you might have to pay out-of-pocket for medical costs or damage resulting from an accident. And you won't be protected if you're sued by the other driver.
You could default on your loans or lease agreement
If you're like many small business owners, you depend on financing. Whether it's a mortgage or a loan for equipment, your lenders probably require you to carry insurance.
If you temporarily drop your insurance coverage, you may find yourself in default, even if you're current with payments.
Defaulting on your mortgage could lead to foreclosure and leave you without a place of business. If you default on loans for equipment or other property, the lenders could repossess them.
Your landlord could even terminate your lease if you don't maintain the required insurance.
Check the fine print of your lease and loans for the business insurance requirements before you cancel any policies.
Consider options like coverage adjustments rather than canceling insurance
While it's unclear when your business might be able to resume normal operations, it will happen. If you cancel insurance to save a few dollars now, it could end up costing you time, money, and hassle down the road.
Instead, consider these options.
Contact your insurance agent to discuss adjusting coverage or premium payments. If you're projecting lower revenue, you may be able to modify your premiums for certain policies.
If you're considering a change, act quickly. Rates are likely to increase, so now is the time to find the best quote and lock in your rate. Insureon's friendly insurance experts are happy to discuss your options and help find the right coverage for your business.
Complete Insureon's easy online application today to compare quotes for business insurance from top-rated U.S. carriers. Once you find the right policy for your small business, you can begin coverage in less than 24 hours.