Chike Uzoka's tips and tricks to freelance success
Speaker and business coach, Chike Uzoka, created a rewarding career by freelancing. He shares his story as well as tips on how to succeed as a freelancer.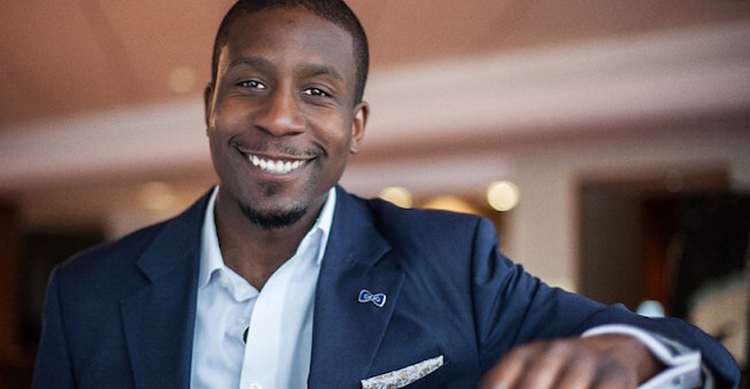 Chike Uzoka is an entrepreneur, business coach, author, and speaker. He is founder and CEO of Valentine Global, a consulting firm specializing in entrepreneurship workshops and business boot camps.
A first-generation Nigerian born in Queens, New York, Chike Uzoka graduated from New Jersey Institute of Technology with a degree in IT. After graduating, he worked at New York Life, Merrill Lynch, and then JP Morgan Chase. Uzoka decided to leave Wall Street behind and make a change in his life. A self-described "people person," Uzoka started freelancing in 2010 after he conducted a business workshop for school kids. The requests kept coming and Uzoka never looked back.
Uzoka shares how he got his start and success as freelancer and offers tips for tackling common freelancer problems. The interview has been edited lightly for length and clarity.
Why did you start freelancing after that first workshop?
I knew that I was passionate about teaching children of color about entrepreneurship, but I wasn't sure where it would take me. After the first workshop, I was referred to other schools and organizations to host similar workshops.
As I did more, someone asked what my rate was. I had no clue! Everything I had done was pro bono at that point. After calling my friend Tiffany "The Budgetnista" Aliche for advice, I told them I was budget-friendly. That was what they needed to hear. They asked if $1,000 was enough for an hour-long session, to which I quickly said yes without a second thought.
What's the first step you took to get your freelancing business off the ground?
Because organizations I worked with were referring me, I first set up a website, and I used my name for the domain name. This way, no matter what I ended up doing, people could find me using my name. I had business cards printed before my site was even live. I wouldn't suggest that though. Business cards are cool, but they don't translate into revenue. Having a place online where people can see what you do and book you generates revenue.
How did you promote your work?
I showed schools and organizations how I could work with them to tailor a class or course to fit their needs. This approach still works great because all the clients I work with have different time frames, objectives, audiences, and budgets.
How do you tackle these common freelancer problems…
Client miscommunication?
"Documentation beats conversation" is something my barber used to say all the time and I'm glad he did. I have a request form that new clients complete after our initial conversation. The form details everything – what they're looking for, when they need it, how much they're willing to spend, etc. Making clients do that part of it helps minimize miscommunication.
Attracting clients with minimal experience?
Confidence helps with this. I've been exposed to several opportunities that I wasn't really ready for, yet I still said yes. I knew I could work it out with time. If I had said no, clients would find another person to do it. Life can't always wait for you to "be ready."
Competition for services?
There will always be competition, especially when you teach business and money. My competitive advantages are 1) my ability to relate to my audience like few others can, 2) custom workshops and courses, and 3) my ability to work with many different types of clients.
Time management?
In terms of getting something to a client or having a client remit payment, I don't miss deadlines. I use Wunderlist (now Microsoft To Do) to help me manage deadlines and to-dos. I finish most of the things I need to do by 8 a.m., which is when most folks are just getting up. By then, I'm usually working out and eating breakfast. Get at least three to-do items scratched off your list before 8 a.m. and the rest of the day will go great. That momentum helps tremendously.
Budgeting and finances?
My amazing girlfriend Joy has helped me with budgeting and keeping track of my finances; she has a spreadsheet for everything! She helps non-profits with financial management at www.JoyLindsay.com. Plus I've had a lot of help from The Budgetnista.
Have you ever taken a break from freelancing for a full-time job or another project?
Since 2010, Valentine Global, LLC has been my main source of income. I have applied to jobs where I thought I would have done great things, but in my sister's words, "You're unemployable now – you've been an entrepreneur for too long." She may have said it in jest; I'm starting to believe it though.
Looking back, what would you do differently?
I would've started sooner and asked to be paid sooner.
Do you have freelancer insurance? Why?
Yes. From my early days at New York Life, I believe insurance is important to CYA (Cover Your Ass-ets). We live in "litigation nation" where folks can get sued over anything and everything. It is sad how that's become a solid business model for some.
What are your freelancing plans for the future?
You know, I'm not sure. Opportunities keep presenting themselves. Ultimately, I'd like to create a minority student venture fund and create a worldwide network of youth social innovation hubs – that much, I do know.
3 tips for freelancing success
Whether you're an aspiring freelancer or struggling freelancer, Uzoka offers these three tips for finding your feet:
What you love doing and what you're good at isn't always the same thing – find out where that connection is.
Use what you love doing and you're good at doing to solve problems in the world.
Solve enough problems and the money is sure to flow your way.
Compare quotes from trusted carriers with Insureon
Complete Insureon's easy online application today to compare insurance quotes from top-rated U.S. carriers. Once you find the right policy for your small business, you can begin coverage in less than 24 hours.