How to find clients if you're an IT freelancer
The life of an IT freelancer offers flexibility and independence. However, IT freelancing can also be challenging, especially when it comes to finding new clients.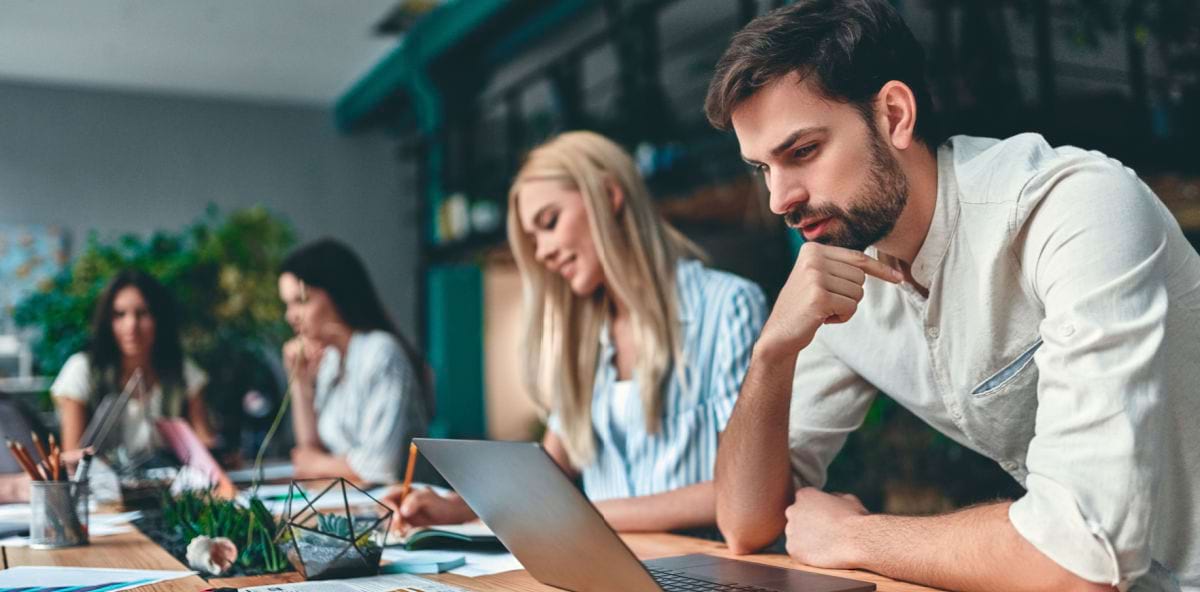 Whether you're a computer repair technician, software developer, or IT consultant, having the technical skills to do your job is only half the battle. To succeed, you'll need to market your business and secure clients. That means building a website, networking, and exploring a variety of options to reach people who might benefit from your services.
Let's take a look at how you can find ideal customers who are looking for an information technology (IT) freelancer.
Create a professional website
Without a website, how will people find you? Although you can use social media and freelance platforms, such as Upwork or Freelancer, to reach potential clients, having a website will allow you to connect with people who aren't on those platforms.
Establishing an online presence allows you to showcase your skills, services, and completed projects to prospective clients. It's also an opportunity to show off any certifications or awards you received, which will help you stand out from your competitors.
Be sure to include your contact information, social media accounts, and whether you prefer to work remotely, locally at customer sites, or both. Don't forget a call to action that encourages potential clients to contact you for more information.
Website platforms you can leverage
The good news is you don't have to be a web developer or graphic designer to set up your website. You can use website builder platforms, such as WordPress, Weebly, and Squarespace, which offer step-by-step directions to help you get the job done.
How to promote your website
There's a variety of ways to promote your website and your business. You might include a blog or news page on your website, where you post information on industry topics and trends.
You could promote this on social media, and use guest posts where you cross promote businesses by posting content to each other's websites. Additionally, using search engine optimization (SEO) will be important with whatever content you put on your website. This will help your search engine rankings.
Protect your IT freelance business with the right insurance
Questions? Schedule a call.
Network, network, network
If you've worked in IT for a few years, you've likely made some connections, including former employers and co-workers. They might be willing to spread word of your business to their friends and colleagues. You should also look beyond your immediate circle of business connections to friends, family, and acquaintances.
Join niche organizations
In-person IT networking groups, such as those listed on Meetup, are effective ways to meet people who might need your services or who could introduce you to their connections. Seek out technology industry groups and network with their members via social media and in person.
Once you join, you can check their membership directories and job boards, as well as attend meetings, forums, and webinars as a way to make connections and search for new customers.
Here are a few IT organizations that could help you find new clients:
Networking events
Nothing beats a chance to meet prospective clients face-to-face and make a connection. Check with your local chamber of commerce and other business organizations to look for networking opportunities among businesses in your area.
You can find additional opportunities through LinkedIn and online search engines. There are numerous companies and nonprofits whose purpose is to hold and promote in-person networking events.
Also, consider networking events in other industries where people might be looking for tech freelancers.
Conferences and meetings
Conferences and tradeshows are another good way to meet your target audience, connect with decision-makers, and look for your ideal clients.
You can also take networking up a notch by offering to speak at events or conferences where attendees might need your services, or at local events for business owners, such as chamber of commerce meetings.
Attending or speaking at events helps you demonstrate your expertise, put your name in front of prospective clients, and potentially land new gigs.
There are a few popular conferences and meetings that many tech businesses look to attend when possible, including:
You may also like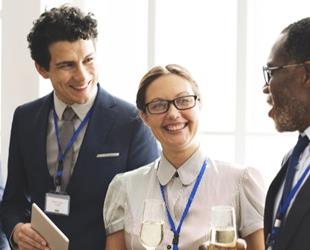 The 10 best small business networking groups
Success in business has a lot to do with who you know. Building relationships and partnerships with the right people is critical to the growth and success of your small business.
Go to article
Referrals from previous clients
Once you've acquired some satisfied customers, you can reach out to these clients and ask for a referral. In turn, tell your clients you'd be happy to send any customers their way if you come across anyone who might need their goods or services.
You can also ask customers for an endorsement you can post to your website and social media, while offering to post links to their businesses as well.
If any of your customers are willing to make short video testimonials about your work, you could post this to your website and other social platforms, such as YouTube.
Cold emails
There are scores of email templates available online you can find with a quick Google search. However, don't just cut and paste someone else's template and put your name on it.
You might draft different versions of your own email to send, using a variety of tones and styles with different subject headers. By keeping track of how people respond, you can get an idea of which approach works best.
Between LinkedIn, company websites, and search engines, it should be fairly easy to find a list of companies you'd like to do business with, along with some information on who the best contact within a company would be.
If it's a small tech startup, you might want to reach out to the head of the company, either by email or cold calling them. With midsize and larger organizations, you might look for IT specialists within the company you can reach out to.
Grow your email list
Collecting email addresses can be a useful way to make contacts and spread the word about your business. Though, it's important you do this the right way — rather than irritating people.
If you have a blog or a newsletter where you talk about your business and topics of interest within your industry, you could ask people if they want to receive email notifications.
Asking is a crucial step. Even if you just intend to send news about your business and new products or services, make sure you get someone's permission before you start sending out mass emails. Otherwise, you could wind up turning them off and ending up in their spam folder.
One way to cover this would be to include a checkbox or a link at the bottom of your emails for people to click on if they're open to receiving email updates from you.
Keep in mind, if you sound like someone who just wants to sell a product or service, you'll likely turn people away.
Use social media platforms
LinkedIn, Facebook, YouTube, and other social media platforms can be a powerful way to spread the word about your business and make connections. This is especially true if you join LinkedIn and Facebook groups, where you can share your knowledge and make connections.
Keep your LinkedIn profile up to date
Many companies and recruiters search LinkedIn looking for IT freelancers to hire. Make sure you're connected with current and former businesses, colleagues, and friends. You can search LinkedIn based on geographic location, the schools you've attended, and the places you've worked.
Ask former employers, colleagues, and clients who are connections to write recommendations you can display on your profile page. Potential clients who view your profile can read these recommendations to see what others say about your work.
Any posts or comments you make on these forms should focus on sharing your IT expertise and industry knowledge. These could be either written or video commentary, with a focus on important topics relevant to potential clients.
Keep in mind, if you sound like someone who just wants to sell a product or service, you'll likely turn people away.
It's essential to update your LinkedIn profile regularly. It should include a professional photo, a summary of your most important and relevant skills, work samples, achievements, certifications, and awards. You can also list each of your clients and the work you did for them. And be sure to update this list frequently, so it contains your most recent clients.
By posting comments and engaging with other people, you can spread awareness of your business and let people know you're open to new business opportunities.
Include a link to your profile, email address, and website on your social media profiles, so it's easy for people to find out more about your business.
Explore other social media platforms
In addition to LinkedIn, promoting your IT freelancing business on other social media platforms, such as Facebook, Twitter, and Instagram, increases your chances of reaching potential clients. If your IT skills are a good fit with video, consider releasing a series of short instructional how-to videos on YouTube, such as a series on computer repair. Or, if you're a website designer, you may decide to create an Instagram account featuring your most eye-catching designs.
You might also try reaching out to other IT freelancers on social media platforms whose skills differ from yours. Then when you find a lead that's not quite right for you, you can share it with the appropriate freelancer, who will likely do the same for you.
Get a remote work certification
There are many online courses where you can earn your Remote Work Professional certificate. Earning this certificate gives you a credential you can post on your website, LinkedIn profile, and other places to let potential customers know that you follow the best practices for working remotely.
For example, Purdue's Center for Regional Development offers a certification course online. Purdue's month-long course is designed to give remote workers, freelancers, and entrepreneurs the skills they need to work remotely from home.
Protect your IT freelance business
While a career as an IT freelancer can be exciting and gratifying, it's not without its risks. Each new client comes with a new set of challenges and liability exposures.
For example, if a client hires you as a network security contractor or to implement a customer relationship management system, you could be held accountable if the client suffers a data breach.
With the right IT business insurance policies, you can protect your business from unnecessary risk. Here are the types of insurance most IT freelancers consider:
General liability insurance
General liability insurance covers common business risks such as customer injuries, damage to a customer's property, and advertising injuries. It's often the first insurance policy purchased by a new business owner.
Cyber liability insurance
Cyber liability insurance, also known as cybersecurity insurance, covers the high costs of data breaches and cyber attacks. It helps you pay for customer notifications, credit monitoring, legal fees, and fines.
Errors and omissions insurance
Errors and omissions insurance (E&O) covers your legal costs if a client sues you over claims your work was inaccurate, late, or never delivered. It's also known as professional liability insurance.
Technology errors and omissions insurance
Technology errors and omissions insurance (tech E&O) combines errors and omissions coverage with cyber liability insurance. It's usually less expensive than buying these policies separately.
Workers' compensation insurance
Workers' comp insurance covers medical costs and lost wages for work-related injuries and illnesses. It's required in most states for businesses with employees, but also recommended for freelancers, as personal health insurance won't cover work-related injuries.
Commercial auto insurance
Commercial auto insurance covers legal bills, medical expenses, and property damage if a business vehicle is involved in an accident. Most states require this coverage for vehicles owned by a business.
Hired and non-owned auto insurance
Hired and non-owned auto (HNOA) insurance covers personal, leased, and rented vehicles used by your business. Your personal auto insurance is unlikely to cover you if you're in an accident on a work-related errand, which is why you may need additional coverage.
Fidelity bonds
Fidelity bonds are often required in contracts with customers, especially if the contract is with a government entity, such as your local school district. These bonds can reimburse a client if one of your employees commits fraud, theft, or forgery against them.
Get quotes from trusted carriers with Insureon
You may also like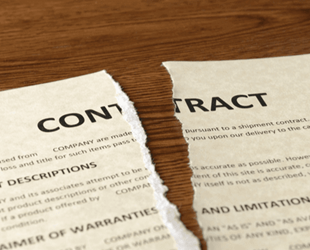 Does business insurance cover breach of contract?
Any business could face a breach of contract lawsuit. Here's how to avoid breach of contract accusations, and how insurance can protect you if you're sued.
Go to article
Mike Mosser, Content Specialist
Mike spent several years as a reporter and editor covering politics, crime, and the world financial markets. He's worked for several newspapers, a financial newswire, and a monthly magazine. As a copywriter, Mike has produced SEO-based content, marketing, public relations, and advertising work for a variety of companies.