How to get more holiday season photography clients
The holidays are an opportune time for photographers to grow their business with family portrait sessions, charity events, holiday photography workshops, and partnerships with local businesses.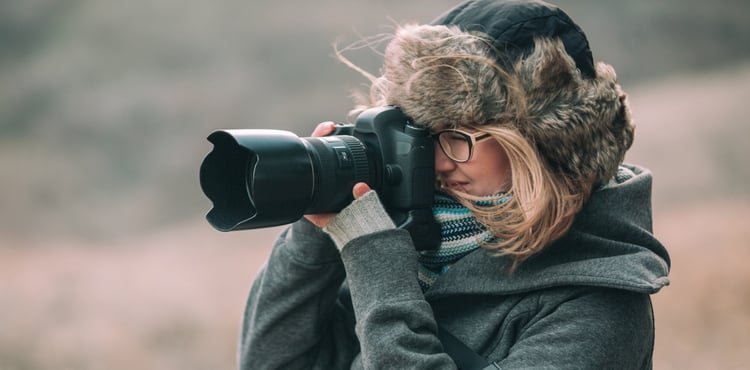 With the holidays in full swing, your clients are likely focused on either cruising the mall or shopping online to find that perfect gift. Your photography business can attract their attention by offering family portrait sessions, donating services, hosting a holiday photography workshop, or partnering with a local business.
1. Help families get together with a group portrait
Texts may be fine for birthday wishes, but when it comes to the holidays, a lot of families still prefer the personal touch of sending a physical card. Holiday photo cards are an easy way to show loved ones how their family has grown over the year, especially if they have young children.
Make sure your customers know you can help them create the perfect greeting card with your portraits. Consider creating a holiday marketing campaign that:
Offers a discount on photo greeting cards when customers purchase a family or pet portrait session
Highlights the props family members can use (think ugly sweaters and reindeer antlers)
Freebies are also a big draw this time of year, so you might host a giveaway on your website. For example, you can offer a free portrait package contest for those who sign up for your newsletter. You'll gain email addresses for everyone who enters the contest, and you can put those valuable marketing leads to work next year.
The holidays bring families together, but your business can help them preserve memories for generations to come. Make sure your marketing campaign speaks to that message.
Pro tip: Find out how your photography business liability insurance can help you handle advertising mistakes and client injuries.
2. Donate a portrait session
Consider donating a portrait session for a charity or nonprofit that has an event in the next few weeks. You'll help out your community and gain valuable exposure for your business. Plus, hello tax write-off!
For inspiration, check out this fashion photographer who photographs rescue dogs to help them get adopted.
3. Host photography workshops
Anyone armed with a smartphone can snap a picture, but most don't know how to compose the perfect shot. Consider offering classes to teach people how to take better pictures. You could even tailor these workshops for specific audiences, such as…
Business owners who want to master the art of showcasing their products on Instagram or Facebook
New parents who want to chronicle their child's life
Budding amateur photographers who want to learn the ins and outs of lighting or photo retouching
If your website has a blog, post some photography tips there, too. If your site provides useful content on a regular basis, it can boost your search engine ranking and make you more visible to prospective customers.
4. Partner with a local business
Don't have a lot of money to spend on marketing? Try collaborating with another business in your area to get a promotional boost.
Let's say there's a gourmet food shop in your town that hosts a holiday cookie decorating class for kids. Contact the storeowner and offer to come and take photos of each child posing with their masterpiece. Just be sure to:
Request that your business is mentioned in any promotions for the event.
Ask if you can bring some of your marketing materials to hand out.
Give parents the chance to order professionally retouched versions of the prints.
Offer a discount on a future portrait session.
A promotion like this won't cost much more than a few hours of your time, but it could end up netting you several future customers down the road.
Want more photography business tips? Check out our article "6 Twitter accounts for photographers to follow."
Compare quotes from trusted carriers with Insureon
Complete Insureon's easy online application today to compare quotes for general liability and other kinds of business insurance from top-rated U.S. carriers. Once you find the right policy, you can get coverage in less than 24 hours.